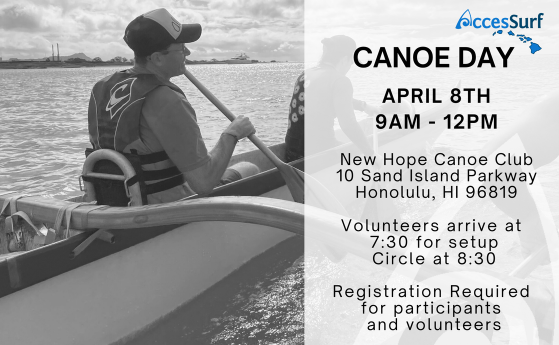 SATURDAY THE 1ST IS "DAY AT THE BEACH" (WHITE PLAINS)
SATURDAY THE 8TH IS 'CANOE DAY'
& WEDNESDAY THE 19TH IS 'WOUNDED WARRIOR DAY'
Come and join us for our Canoe Day on Saturday April 8th!
Mahalo Honolulu Pearl and New Hope Canoe Club for supporting us and continuing what Hawai'i Adaptive Paddling Association (H.A.P.A.) started!
Where: New Hope Canoe Club
10 Sand Island Parkway Honolulu, HI 96819
The day will go as follows:
Volunteers arrive/ Setup- 7:30
Circle- 830 (training will take place prior to the circle)
Program start- 9am-12pm
Session 1- 9:00-10:30
Session 2- 10:30-12
Pre-registration is required for participants and volunteers.
April 1st is Day at the Beach!
We are ALWAYS in need of surf instructors! Register today!
April 19th is Wounded Warrior Day at the Beach
Calling all Active Duty service members and veterans with a disability! Join us for a day of surfing!
We know weekdays can be hard for most people, but we can always use help with Surf Instructors as well as set up and tear down!
No Programs in May!

We will not have DATB or WWDATB for the month of May!

We will be running the

Hawai'i Adaptive Surfing Championships!

We are however looking for volunteers for this event running from May 7-13.
For more information about AccesSurf Hawai'i, visit acceessurf.org
To create an ocean of possibilities for those with disabilities, please make a donation.
Copyright (C) 2023 AccesSurf. All rights reserved.
You are receiving this email because you opted in via our website.
Our mailing address is:
AccesSurf
PO Box 15152
Honolulu, HI 96830-5152