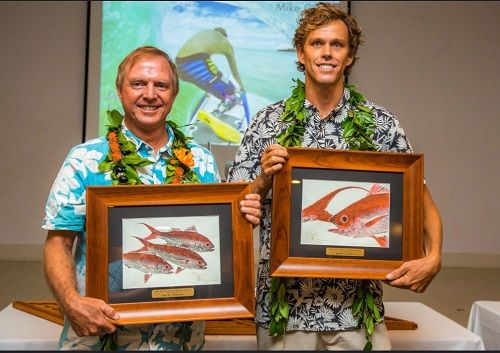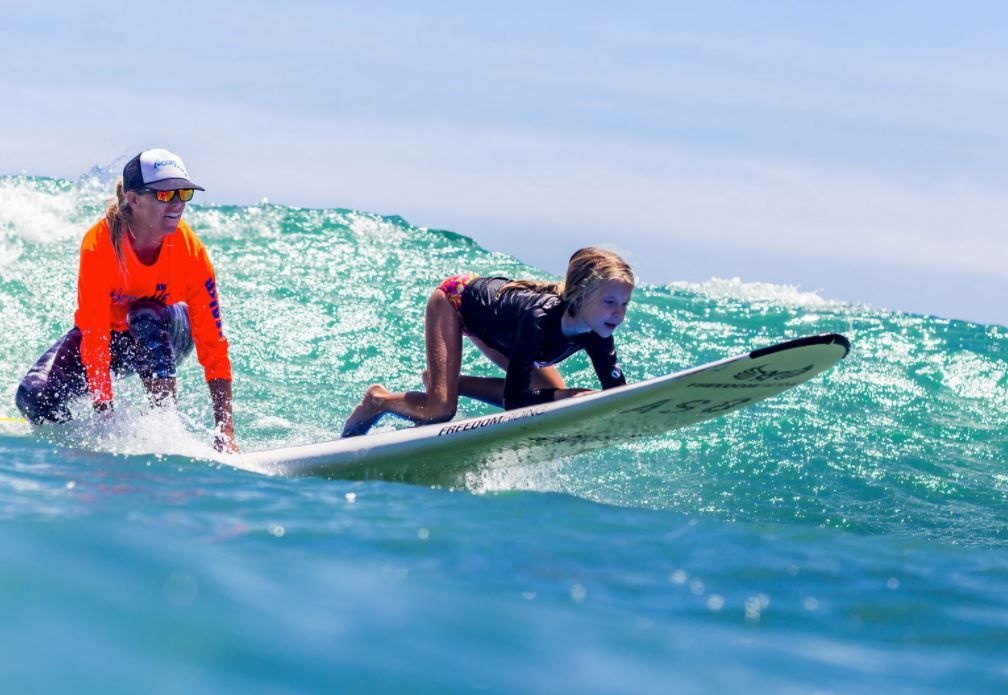 Getting up…for an 'Ocean of Possibilities' at the 2017 Annual Awards Fundraiser
HONOLULU – (October 5, 2017) AccesSurf yesterday held their annual 'Ocean of Possibilities' awards honoring extraordinary people who give back to the community centered around the ocean. Beau Hodge and Mike Coots were the 2017 Honorees.  The event took place at Natsunoya Teahouse and also served as a fundraiser for AccesSurf.
"We are thankful for Mike and Beau's tremendous dedication to giving back to the community," said Cara Short, AccesSurf executive director. "Together these individuals continue to bring much-needed awareness to the advancements of adaptive surfing, accessibility and ocean preservation "
About Mike Coots
Mike Coots is being honored for his contributions as a shark advocate and adaptive surfing. After losing his leg in a shark attack when he was 18, Mike made it his life's mission to be a voice against harmful practices that are threatening all shark species. Coots was born and raised on Kauai where he lives today. He owns and operates his own commercial photography company and is well-known an international figurehead for adaptive surfing and his role as an ambassador for groups such as the Pew Environment Group working to ban shark finning and shark culling practices.  Mike utilizes his talent as a photographer to bring awareness to both his work as a shark advocate and role as a world leader with adaptive surfing on   Instagram.

About Beau Hodge
Beau Hodge is being honored for his contributions to AccesSurf and his advocacy for accessibility and adaptive surfing. Hodge moved to Hawaii 1971 and currently lives in Hawaii Kai. Hodge spent years as City and County lifeguard and on public radio. He is best known for his 30-year career as sports event announcer in Hawaii and around the world for the ASP, the ISA, the AWSP, in South Africa, Australia, ESPN, FOX International, SKY Sports, the APP World Tour, the Eddie Aikau at Waimea Bay and the WSL.
To view photos from the event: click here.
About AccesSurf
Established in 2006, AccesSurf empowers individuals with physical and cognitive disabilities through accessible water programs. In following the spirit of Duke Kahanamoku, AccesSurf continues to be a pioneer in the advancement of adaptive watersports, ocean recreation, and therapeutic instruction for participants throughout the state of Hawai'i and worldwide. To become a participant, volunteer or learn more visit www.accessurf.org. Follow on social media: Facebook @accessurf and Instagram @accessurf_hawaii. Interested in supporting AccesSurf events like this? Email Emily@accessurf.org to volunteer or learn more.
Contacts
Cara Short
cara@accessurf.org
808-748-1820
Breana Grosz
bgrosz@taubman.com
808-265-1317