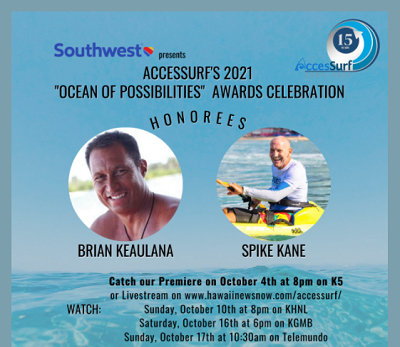 This years "Ocean of Possibilities" award celebration will Premiere as live telecast on October 4th!
Catch our premiere on K5 at 8pm or watch on
www.hawaiinewsnow.com/accessurf
Can't make it? Set your DVR's to record our program or catch our re-runs!
ACCESSURF UPDATES FOR ROCTOBER!
Day at the Beach is BACK!
We are excited to be hosting Day at the Beach again!
Unfortunately, we are still unable to run programs at White Plains at the moment so October's DATB will be at Ali'i Beach Park!
Space will be limited due to the states regulation on group sizes. Both participants and volunteers will be required to pre-register.
**If you would like to volunteer but have not been to a DATB before, you will be required to attend a "Volunteer Training" over Zoom.
How can you support AccesSurf?
For the month of September, you can donate at Foodland or Aloha Gas Station!
We also are accepting auction items for our Ocean of Possibilities fundraiser till the end of the month.
Our ENTIRE merchandise stock is 45% off! Click 
here
 to automatically get 45% off now!