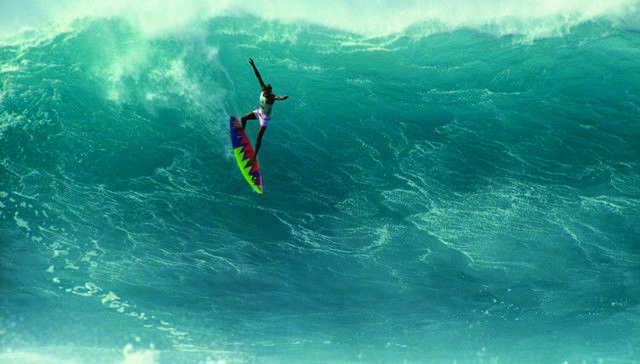 Shaun Tomson's 1983 Zig Zag Gun gets exact replica
Surf Culture and history pay it forward.
Tomson & Barnfield collaborate on classic board 
Surf News Network, 6 March, 2015. Santa Barbara – Former Banzai Pipeline Masters winner and best-selling author Shaun Tomson collaborates with Hawaiian shaping master Bill Barnfield to produce an exact replica of his 7'7" 1983 Zigzag Hawaiian Gun, designed specifically for riding the Pipeline, the world's most dangerous wave.
The board was painstakingly recreated from recently rediscovered design templates by Barnfield, and features an airbrushed design by the original artist Suzi Gillette. Photographer James Cassimus will be supplying an 18" x 24" aluminum print of his iconic photo of Shaun and the board in action at the Pipeline.
100% of all proceeds of the auction will benefit the Santa Barbara Boys & Girls Club for their event on 14 March 2015.
Tomson said, "I have been on the board of Boys & Girls Club in Santa Barbara for a number of years now, and since this year's theme was "Back to the 80s", I thought that a recreation of my classic old board might be a great fundraiser. Photographer James Cassimus captured a moment in time that is frozen forever in my memory. I looked over the edge on that beast of a wave and thought I was going to die, but went anyway. It was one of the most radical drops of my life."
The board and print will be offered on EBay with a starting bid of $1,000.
Shaun Tomson won surfing's World Championship in 1977, the Banzai Pipeline Masters in 1975, and has been listed as one of the most influential surfers of the century. He graduated from the University of Natal with a business finance degree, is currently completing a Master of Science in Leadership, and co-founded two popular surf apparel brands in the 1980s and 90s – Instinct and Solitude. Tomson authored Surfer's Code and The Code – The Power of "I Will" and produced the award-winning documentary Bustin' Down the Door. Tomson is a Board Member of the Santa Barbara Boys & Girls Club and a past member of the Surfrider Foundation Board. A motivational speaker on leadership and a business consultant, he currently lives in Santa Barbara with his wife, Carla, and son Luke.
Bill Barnfield is regarded as one the world's premier surfboard designers and shapers, having created equipment for many of the world's best surfers, from the mid '70s through the '80s. Bill's athletic interests have spanned a broad spectrum of multi-sport activities, including surfing, motorcycle trial riding, and mountain biking. He lives with his wife Wendy on the North Shore of Oahu in Hawaii, and is the owner of Raging Isle Surfshop in Hawaii, a premier surf and sports store. He still meticulously creates each surfboard by hand, working on every aspect of manufacture from shaping to fiberglassing, a rarity in the modern era of mass production.
Boys & Girls Club of Santa Barbara is open to children ages 6-18. Hours of operation are from 2:00 pm to 7:00 pm Monday through Friday, and on Saturdays from 10:00 am to 2:00 pm. Administration hours are from 8:00 am to 5:00 pm Monday through Friday. Membership fees are only $30 per calendar year. Our mission is to inspire and enable all young people, especially those who need us most, to reach their full potential as productive, caring, responsible citizens.