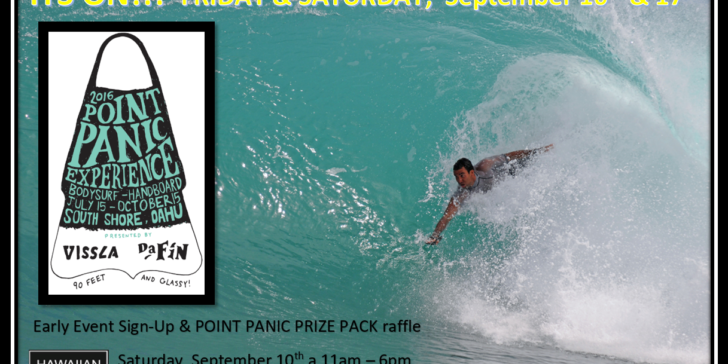 ITS ON! (see heats below) 
Body surfing Div Full.
The Point Panic Bodysurfing/Handboarding Experience FRI-SAT, September 16th-17th
KAKA'AKO, OAHU – Vissla, DaFin and Hawaiian South Shore are proud to announce the 2016 Point Panic Experience will be held on Friday & Saturday, September 16th & 17th at the Point Panic Bodysurfing area in Kaka'ako Waterfront Park.  The event will be launched with an early registration giveaway raffle of five Point Panic Prize Packs at Hawaiian South Shore located at 320 Ward Avenue in Honolulu, Hawaii on Saturday, September 10th from 11am-6pm.  All entries received at Hawaiian South Shore on Saturday, September 10th will be eligible for the raffle.  Only 40 spots are available in each of the Open Bodysurfing and Open Handboarding divisions.  Each competitor will have the opportunity to surf twice in each division they register for and receive a special limited edition event shirt for their participation.
This will be the 8th consecutive year a bodysurfing event will be held at Point Panic.  Past Point Panic Bodysurfing Champions include Kai Santos, B.K. Holt, Sean Enoka, Mark Cunningham, Mike Stewart (2x) and Kaneali'i Wilcox.  Friday, September 16th will feature bodysurfing and Saturday, September 17th will feature handboarding with an award ceremony to be held later Saturday afternoon for both divisions.  Prizes and trophies will be presented to the top 4 wave riders in each division.  The top 2 competitors in the bodysurfing division will have their names engraved on the perpetual trophy.
Kanekoa Crabbe:Event Director
2016 Point Panic Experience
HEAT 1
ALEX PAIAINA
WYATT YEE
JORGE GAGO
MATT SOLOMON
JEFF DEVINS
HEAT 2
BRETT BECHERT
LOHIAU COFRAN
TAYLOR CHAR
CHRIS MOORE
SEAN ENOKA
HEAT 3
MACKENZIE YOSHIDA
KAI SANTOS
MICHAEL LORNE
DYLAN HIGGINS
MARVIN HESKETT
HEAT 4
KANALOA BISHOP
JIM BEATON
PETE REA
DANE GODDARD
SANJA DU PLESSIS
HEAT 5
EKOLU GUERRERO
CHRISTOPHER KALIMA
JEFF MIDDLETON
KEONI WATSON
ROBIN MO'E
HEAT 6
ROLAND MATIAS
KAEO AWANA
BRIAN PHILLIPS
CAB BABER
KANEALII WILCOX
HEAT 7
KICHO NAGATA
MARK CUNNINGHAM
ROY WALLACE
BRUCE CHAPIN
MELVIN KEAWE
HEAT 8
B.K. HOLT
DEREK WONG
JIM BEATON
KEALII PUNLEY
MINDY WALLACE