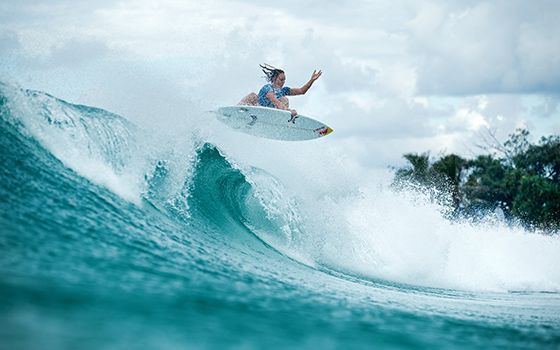 Mens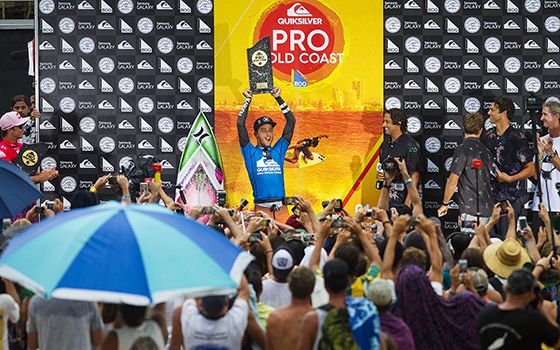 Toledo, Moore bag big wins at Quiksilver & Roxy Pros
2015 Quiksilver Pro Champion Filipe Toledo © WSL/Kirstin
Quiksilver & Roxy Pro Gold Coast
Presented by BOQ
World Surf League Men's & Women's World Tour  event
Snapper Rocks, Queensland
28 February – 11 March 2015

Mens Final heat hi lites
High-scoring final rounds in better surf at the Quik/Roxy Pro Gold Coast
Surf News Network, 12 March, 2015. Filipe Toledo and Carissa Moore dominated their finals at The Quiksilver and Roxy Pro Gold Coast today.
The opening stop on the Samsung Galaxy World Surf League (WSL) Championship Tour wrapped up today just under the waiting period wire, with contestable surf at Snapper rocks providing just enough energy for an absolutely action-packed afternoon of surfing.
The day began with the ladies, as Snapper began to come alive.
Rookie Tatiana Weston-Webb and Tyler Wright were both looking loose and lively in their Quarter- and Semifinal heats, but it was perrennial performer Stephanie Gilmore and Hawaiian Carissa Moore who delivered the goods.
In all of her heats, Gilmore was composed but lively, streaking through the shoulder-high rights with her signature grace, rythm and flow. But Gilmore's delicate touch was no match for Moore's powerful, top-to-bottom explosiveness.  With just minutes left in the Final, Moore would leave Gilmore comboed, running down the clock.

Carissa Moore © WSL/Kirstin
After a particularly eventful previous day, the gents showed up ready to put in work, as an evenly matched 4×4 Brazil vs. Australia Quarterfinal draw was greeted in the water by improving conditions as the day unfolded.
Of the four Aussies (Bede Durbidge, Taj Burrow, Julian Wilson, and Mick Fanning), only Wilson would move on to the semifinals, alongside Adriano De Souza, Filipe Toledo, and Miguel Pupo. (Though the round's highlight came in heat 2, where Wilson and Burrow would square off in what ended up being and absolute slugfest, the two putting everything they had into brutal turns and committed moves above the lip. WIlson opened the heat with a 9.77, and put it away in the closing minutes with a 7.67.)
Wilson would follow his Quarterfinal win with last-minute heroics against Migeul Pupo in the Semis, with Wilson needing a 6.11 at the .20 second mark and delivering a heat ending mic-drop air reverse as the buzzer sounded.
But Wilson would meet his match in 18-year-old firecracker Brazilian Filipe Toledo.

Filipe Toledo © WSL/Kirsti
Surfing in the first final of his CT career, Toledo was positively ruthless in the incosistent surf, hucking himself over/under and through lips, pushing turns with every ounce of his 150lbs.
After two excellent waves—which saw Toledo throwing everything but the kitchen sink at the small surf—Toledo would snag an inside gem from under Julian's priority and drop a perfect 10 to close the event. Not a bad way for the young Brazilian to start a year.
"I'm so happy," said Toledo after the win. "Only God and my family know how hard I've battled for this, and worked for this over the last months. And the training paid off."

Carissa Moore © WSL/Cestar
Quiksilver Pro Gold Coast Final Result:
1: Filipe Toledo (BRA) 19.60
2: Julian Wilson (AUS) 14.70
Roxy Pro Gold Coast Final Result:
1: Carissa Moore (HAW) 18.43
2: Stephanie Gilmore (AUS) 15.50
Quiksilver Pro Gold Coast Semifinal Results (1st to Final, 2nd=3rd):
SF 1: Julian Wilson (AUS) 16.26 def. Miguel Pupo (BRA) 15.60
SF 2: Filipe Toledo (BRA) 17.23 def. Adriano de Souza (BRA) 10.34
Roxy Pro Gold Coast Semifinal Results (1st to Final, 2nd=3rd):
SF 1: Stephanie Gilmore 16.26 def. Tatiana Weston-Webb 11.53
SF 2: Carissa Moore (HAW) 16.86 vs. Tyler Wright (AUS) 16.06
Quiksilver Pro Gold Coast Quarterfinal Results (1st to SF, 2nd=5th):
QF 1: Miguel Pupo (BRA) 13.79 def. Wiggolly Dantas (BRA) 13.67
QF 2: Julian Wilson (AUS) 17.44 def. Taj Burrow (AUS) 11.17
QF 3: Adriano de Souza (BRA) 15.07 def. Mick Fanning (AUS) 13.32
QF 4: Filipe Toledo (BRA) 17.34 def. Bede Durbidge (AUS) 16.23Roxy Pro Gold Coast Quarterfinal Results (1st to SF, 2nd=5th):
QF 1: Tatiana Weston-Webb (HAW) 14.23 def. Malia Manuel 11.93
QF 2: Stephanie Gilmore (AUS) 16.00 def. Silvana Lima (BRA) 14.17
QF 3: Tyler Wright (AUS) 15.33 def. Courtney Conlogue (USA) 13.40
QF 4: Carissa Moore (HAW) 17.67 def. Lakey Peterson (USA) 15.03