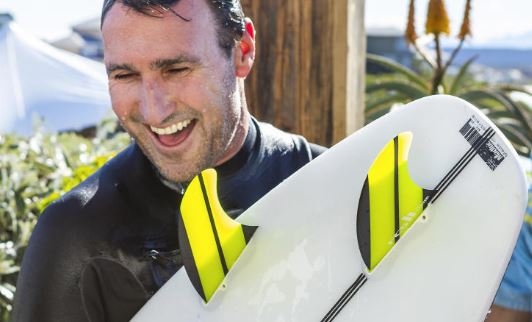 Great respect shown to Parko in this WSL story from WSL's Zander Morton
Joel Parkinson won his first Championship Tour event as an 18-year-old wildcard at Jeffrey's Bay in South Africa. Now 20 years later, he has retired from WSL competition with the Pipe Masters as his last event.
Parko is one of those rare surfers that comes along once every couple of generations to disrupt the status quo. Sure, the world had seen great style before Parko, but never had someone made it look as effortlessly radical. When Parko came onto the scene in the late '90s he was in a league of his own. The crazy things is that two decades later, he basically still is. Always replicated, never duplicated. Talk about timeless.
Retiring legend Joel Parkinson.WSL / DAMIEN POULLENOT
But before Parko rode off into the Hawaiian sunset, we wanted to hear how the 2012 World Champion influenced the generations that followed him. Below we hear from Championship Tour surfers Ryan Callinan, Griffin Colapinto, Caroline Marks, Seth Moniz and Conner Coffin.
Ryan Callinan:
Ryan CallinanWSL / DAMIEN POULLENOT
Parko's effortlessness and flow is what stands out most for me. Growing up, there was always this feeling I had of wanting to be able to do everything so well, but also make it look easy, and I think Parko is the master of that. The thing is, it's really hard to do what he does. Not many can.
His style just never goes out of style and the way he was able to keep that up for so long and never lose what he embodied has been an incredible thing to see. Also the fact that he is one of the best blokes around makes him so much more memorable. He was a legend when I started watching him as a kid and has only become more of one now, all of these years later. To me, he has gotten better over time and the more I watch him the more I appreciate what he does, both in and out of the water. Parko is forever one of my heroes.
Griffin Colapinto:
Griffin ColapintoWSL / STEVE SHERMAN
Parko has influenced me in so many ways – more than I can put into words really. But this past year, competing against him, I really started to appreciate his style and the flow he has on waves, more than ever. To surf the way he does is so hard and so technical that most people can't actually understand it.
He has also inspired me in the way he approaches contests. I really like how he isn't overly serious. He seems like he has found the perfect in between. Maybe he could have won more World Titles if he had approached the Tour in a different way, but I love how he did it the way that works for him.
But most inspiring is the way he interacts with people. He doesn't act like he is higher than anyone. He is just a genuinely humble guy. I'm really happy we got to have one year together on the CT.
For Caroline Marks: Seth Moniz: Conner Coffin: