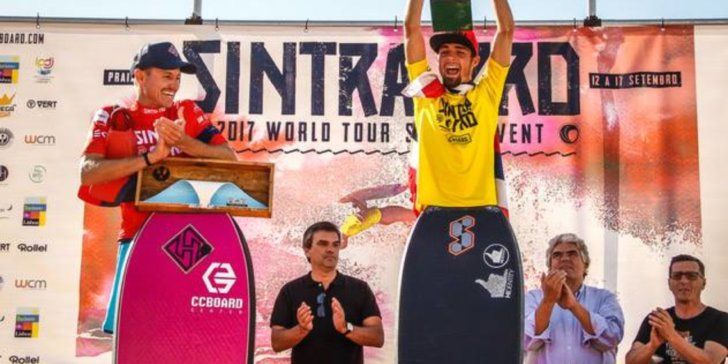 Author: Josh Burgette Kirkman 9/18 
There really is nothing quite like having that feeling you are witnessing history being written right before your very own eyes. For spectators and competitors on a windy, sun-soaked Sunday in Sintra, that was precisely the feeling they shared.
For spectators and competitors on a windy, sun-soaked Sunday in Sintra, that was precisely the feeling they shared.
The swell had subsided considerably and the wind was grooming what remained of it quite nicely. All signs that today was going to be a good day. And boy was it ever.
A New Hawaiian King
Sammy Morretino is a young Hawaiian bodyboarder who is now also a world champion. He made sure of that newfound status by beating one of the undisputed greats of drop-knee riding, Dave Hubbard.
Morretino was lethal all event, from first heat to final, and he was one of only a handful of riders in contention for the coveted DK Crown.
Dave Hubbard also looked characteristically lethal, particularly on his backside, throughout the competition. Understanding the importance and weight of every turn, and fall, Hubbard made sure that he was as clinical in the water as he is fun and cheerful on land. But in the end, it was the young, fiercely competitive Hawaiian, Morretino who would take the glory ahead of the more experienced Hubbard.
The final heat was surfed to the limits by both riders, but in the end, Hubbard was needing an excellent score to catch up with Morretino's explosive early scores, and the waves did not deliver the opportunity. As the reality of victory was understood Morretino let out a series of roars that the people of Sintra will have ringing in their collective ears for years to come. A post-final interview highlighted the heavy emotions of the moment for Morretino, who dedicated his newly captured world title to his late mother, and also dedicating it to the entire Hawaiian Islands.
The birthplace of surfing as we know has another legend to add to their history books.
"Competitive Bodyboarding IS South African" writes Kirkman
There was a certain inevitability to Iain Campbell's victory in Sintra today: 2 consecutive years' runner-up; a year's worth of podium finishes without a victory; the only 10-point ride of the competition. Every time Campbell was in a competition jersey, the result seemed assured.
Without paying a disservice to runner-up Uri Valadao, or Campbell's semi-final opponent Pierre Louis Costes, there was never a moment today where Campbell seemed to be in peril. In short, these both well-seasoned and experienced competitors (and previous world champions) never stood a chance. Like a bird of prey dive bombing from 50 meters and snatching the one fish in a thousand it had identified before descending, Campbell controlled every wave he rode, bending them to his will rather than seeming to be reacting to their pre-determined undulation.
It is unclear as to what this victory means for the world title race at this point in time, but one thing is certain: the one to snatch this title away from Iain Campbell is going to need to be super-human in their approach to the remaining 3 events on the tour, because Campbell shows no sign of fading form.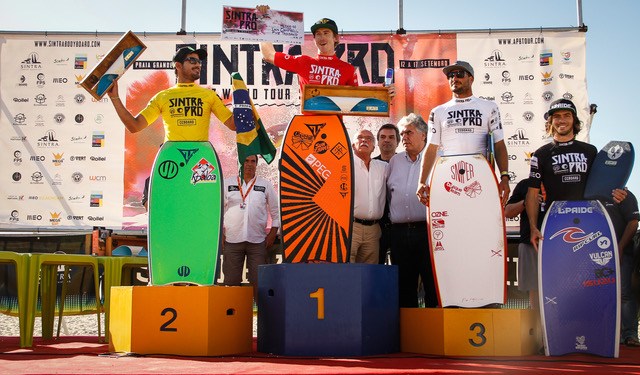 It is Never Too Late to Win – Just Ask Bruno Martin
The Pro-Junior Final was, for the most part, a pale shadow of what took place in heats previous. The waves were on the decline and the riders in the water seemed uncharacteristically out of form. The back and forth between average scores that did grow bit-by-bit throughout the heat saw leads change as many times as conditions did throughout the week of competition.
The man to watch in the final had been Tufi Fernandez of Easter Island, who is now sitting in 2nd place on the overall rankings. With Nelson Flores out of the picture, there was a chance for Fernandez to gain ground on the Chilean. But after a good start to the heat, Tufi was unable to find the waves needed to get the lead.
Yon Aimar of France held the lead in this final for the vast majority of it. Linking together great spin and roll combinations, solid rollos out of the sections he was afforded; the Frenchman was in form. Bruno Martin of Spain had been busy throughout the final also, but never really seemed a threat to the leaders, until the final 20 seconds.
Finding a rare larger set wave, and having no competitors in sight to take it from him, Bruno Martin strung together some beautiful moves and rode the wave all the way to the shore. There was a wave of uncertainty that swept across the field of competitors and spectators alike, with everyone waiting with anticipation for the score while dealing with the shock of this late charge from the Spaniard. The scores dropped, elation appeared for one, while desolation was the taste in the mouths of others.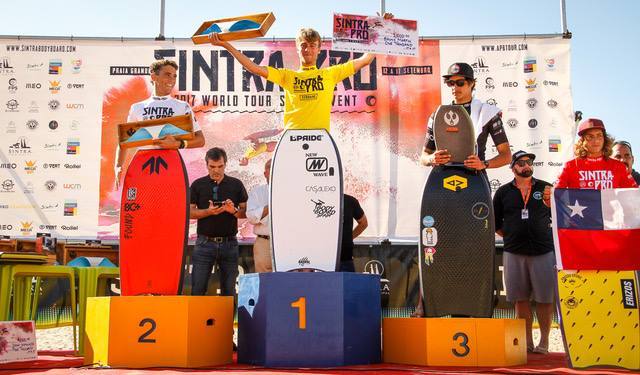 The Woman from Sagres
Joana Schenker was already a big deal in Portugal. Her riding has been known for years as being the best in the country, and her performances on the European level well-documented. She only recently graced the cover of GQ Magazine (Portugal) and had an in depth article written about abilities and opinions, so her star has been steadily rising without a Sintra Pro victory to spur it on. That has now changed.
Schenker dispatched an in-form Mayumi Tone from Japan in her semi-final to make her intentions of taking the overall victory clear from the get go. The only person standing in her way would be Canary Island sensation Alexandra Rinder.
The final between these two great riders and friends started out with an exchange of waves that had them level for most of the first half of the heat. It was only after Schenker launched a larger rollo on the outside peak on a wave that was itself much larger than anything that had come through previously that saw a gap begin to form between the two riders. Needing a near perfect 9.76 to get in front, with only 6 minutes remaining Rinder found almost that, launching a strong rollo on the outside bowl and following it with a quick spin to another finishing rollo. The judges called it a 9 and Rinder got back outside to find another, only needing a 6 to 7-point ride to steal victory. But the clock had other ideas, winding down before Rinder could get the ride that would take her to victory.
A belated Joana Schenker was chaired from the water. A victory for the ages for the woman from Sagres.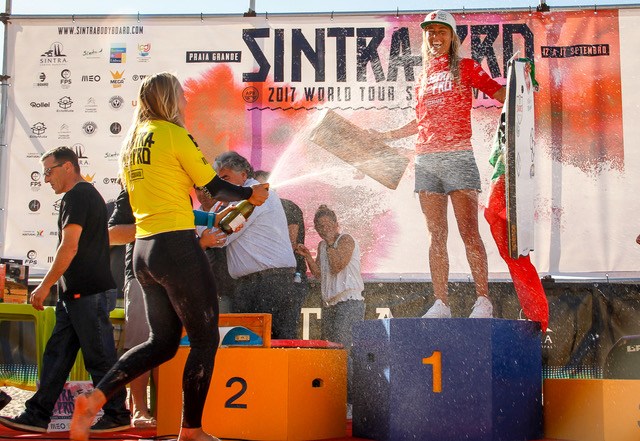 22 years of Bodyboarding's Best
The Sintra Portugal Pro celebrated 22 years of enduring prosperity for the sport of bodyboarding. Where other competitions have been unable to sustain and become distant memories of what felt like at the time great triumph, Sintra has steadily held ground in a place where the earth once shook violently to the devastation of much which stood before.
Bodyboarders from around the world made the 'Portuguese Pilgrimage' that has almost been a rite of passage to a world title for legends of the sport. Some of the greatest riders to ever compete have won this event, and for those after a history lesson, here is the long list of them:
Men's
(21st)    2016- Alan Munoz (Chile)
(20th)   2015- Pierre Louis Costes (France)
(19th)   2014- Dave Hubbard (Hawaii)
(18th)   2013- Lucas Nogueira (Brasil)
(17th)   2012- Pierre Louis Costes (France)
(16th)   2011- Uri Valadão (Brasil)
(15th)   2010- Amaury Lavernhe (Reunion Island)
(14th)   2009- Jeff Hubbard (Hawaii)
(13th)   2008- Guilherme Tâmega (Brasil)
(12th)   2007- Luis Villar (Brasil)
(11th)   2006- Uri Valadão (Brasil)
(10th)   2005- Uri Valadão (Brasil)
(9th)     2004- David Perez (Spain)
(8th)     2003- Manuel Centeno (Portugal)
(7th)     2002- Nicolas Capdeville (France)
(6th)     2001- Jason Hazle (Australia)
(5th)     2000- Paulo Barcellos (Brasil)
(4th)     1999- Philip Rodrigues (South Africa)
(3rd)     1998- Daniel Rocha (Brasil)
(2nd)     1997- Guilherme Tâmega (Brasil)
(1st)      1996- Ben Holland (Australia)
Women's:
2016- Isabela Sousa (Brazil)
2015- Jessica Becker (Brazil)
2014- Isabela Sousa (Brasil)
2013- Isabela Sousa (Brasil)
2012- Miname Hatekayama (Japan)
2011- Eunate Aguirre (Basque)
2010- Isabela Sousa (Brasil)
2009- Catarina Sousa (Portugal)
2008- Neymara Carvalho (Brasil)
2007- Neymara Carvalho (Brasil)
2006- Marina Taylor (Canary Islands
2005- Kira Llewellyn (Australia)
2004- Neymara Carvalho (Brasil)
2003- Neymara Carvalho (Brasil)
2002-
2001- Soraya Rocha (Brasil)
2000- Soraya Rocha (Brasil)
1999-
1998- Daniela Freitas (Brasil)
1997- Daniela Freitas (Brasil)
1996- Mariana Nogueira (Brasil)
There were many other noteworthy moments of this year's event:
Alex Uranga's style and power throughout the event; Tristan Roberts' death-defying rollo;
Uri Valdao's brilliance in out of control conditions. But at the end of the day, what ought to be celebrated above all other things when it comes to the Sintra Pro is the value of great
But at the end of the day, what ought to be celebrated above all other things when it comes to the Sintra Pro is the value of great organizers with steadfast vision and resolve for the sport of bodyboarding.
While the conditions in this part of the world will always be rather wild and unpredictable at times, you can always rely on the people of Sintra to welcome bodyboarding with a warm embrace and provide for the sport like few other places on earth have.
Author: Josh Burgette Kirkman