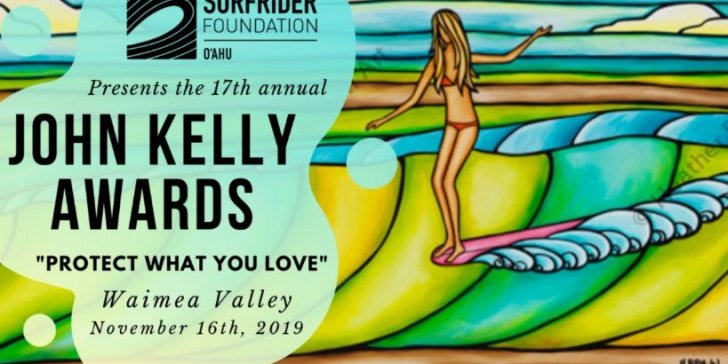 In 1964 John Kelly founded the Save Our Surf (SOS) organization that laid the groundwork for environmental organizations like the Surfrider Foundation.
Kelly, for whom the award is named, was the original recipient of the Lifetime Achievement category.
For decades, Kelly led many environmental crusades on O'ahu.
The John Kelly Perpetual Trophy is a small koa surfboard, beautifully shaped as a board from the early days of Waikiki. Sadly, John Kelly passed away in 2007, but through this annual event he will be remembered and honored by the Surfrider Foundation.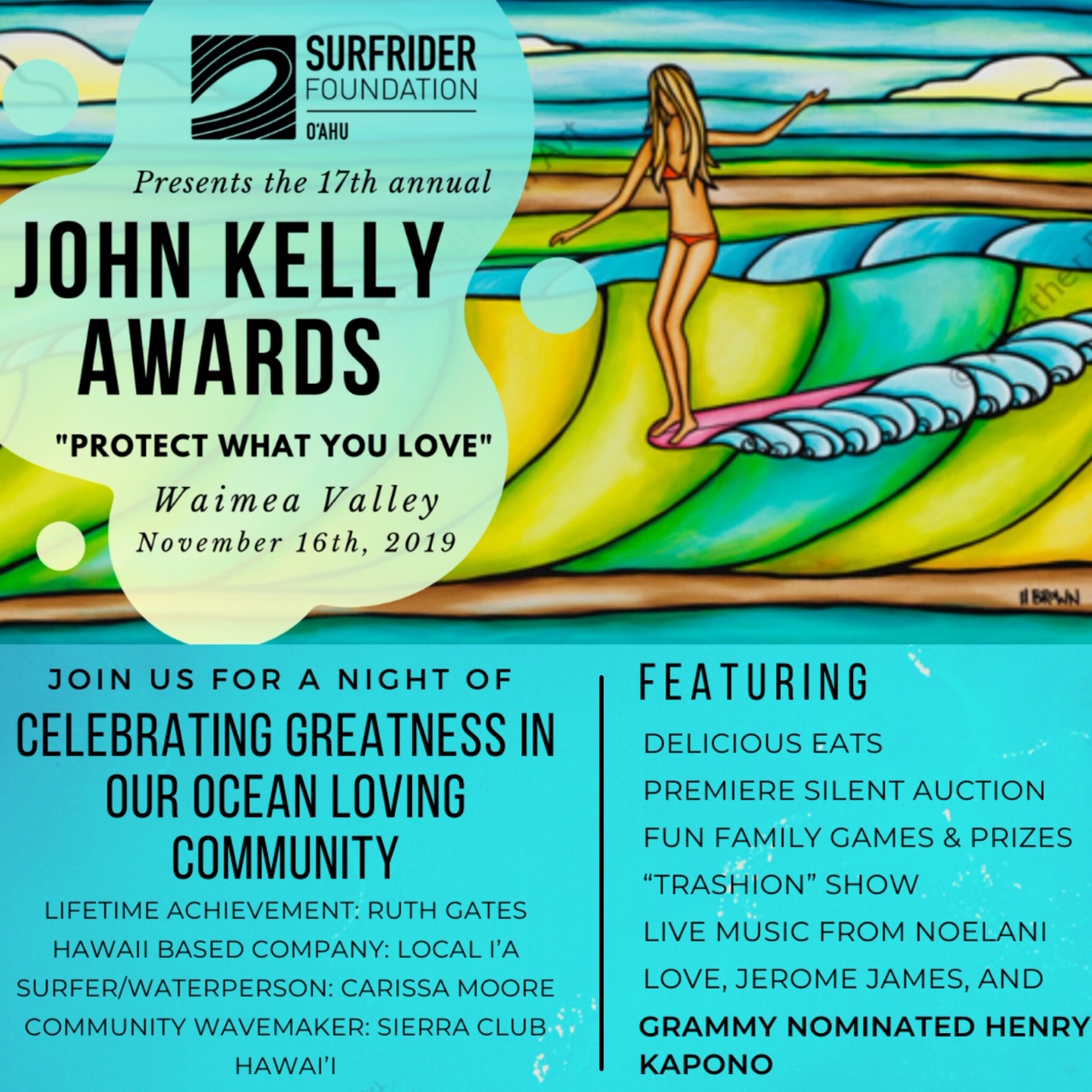 Aloha & Welcome
The John Kelly Awards at beautiful Waimea Valley on Oahu's North Shore celebrate greatness in our ocean loving community. In honoring the legacy of John Kelly our fundraiser and party are a fantastic way to celebrate our volunteers and supporters, the year's accomplishments, and kick off the Triple Crown season.
Tickets & Table Sponsorship GO HERE
Get your tickets now! Only limited tickets will be available at the door…
John Kelly Awards 2019
Saturday, November 16th Waimea Valley
6PM-10PM
Presented By: The Surfrider Foundation
Surfrider Oahu's John Kelly Environmental Achievement Awards recognize those who have made the greatest contributions towards protecting or enhancing our coastal community and environment. Join us for a celebration honoring the legacy of John Kelly through appreciation of our community heroes, a gourmet meal from Ke Nui Kitchen, a world class Silent Auction, and amazing beats from local bands.
Your support of Surfrider O'ahu allows us to continue our mission of protecting our island's oceans, beaches, and waves for generations into the future. The past few years have seen a dramatic enhancement of our programs thanks to the support of our amazing community – volunteers and sponsors like you.
Surfrider O'ahu Making Waves
+ Expansion of Rise Above Plastics with over 200 Ocean Friendly Restaurant Memberships
+ Completion of 18 ocean Friendly Gardens in 4 years
+ Trained citizens in civics & helped pass legislation on stormwater pollution, oxybenzone, climate change cesspools, smoking on beaches, fresh water security, & plastic bags
+ Currently testing over 10 O'ahu Beaches for Water Quality as part of the Blue Water Task Force Program
+ Cleaned 20,000 + lbs of debris from O'ahu Beaches