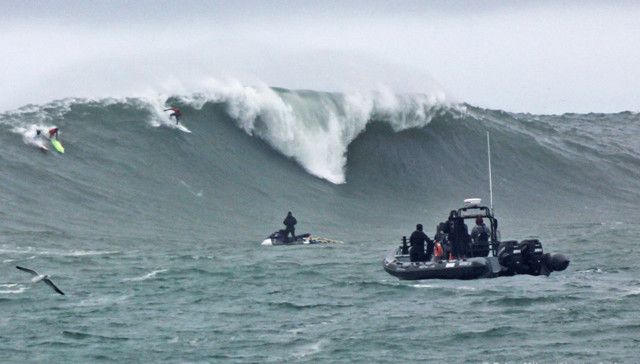 From near death and non-contention to WSL Big Wave Tour Champion 
 Surf News Network, 29 May, 2016 – The final horn of the Titans of Mavericks surf contest had sounded a minute earlier, but Greg Long wasn't going to let an expired contest clock prevent him from catching the biggest wave of the day.
Long paddled past the last two surfers in the lineup (including event winner Nic Lamb) and air dropped through the offshore spray into the most menacing wave of the afternoon. Covered by an avalanche of whitewater, Long emerged for a split second before being tossed down the face like a ragdoll over Niagara Falls.
Long didn't win Mavericks (set to air nationally May 30 at 5 p.m. PST on FOX Sports 1) on this day, but his last ride won over the crowd, his fellow big-wave competitors, and further solidified his place as one of the gutsiest big wave surfers in the world.
"Oh my goodness," Red Bull Signature Series TV announcer Mike Parsons said of the post-contest move. "Greg Long just manning up on a wave right there, on a huge wave after the heat. … Wow. What a legend."
The 33-year-old from San Clemente, Calif., went on to win the Mavericks Boldest Drop Award at Pillar Point on Feb. 12, and two weeks later was named World Surf League Big Wave Tour champion for the second time.
"I wouldn't be out there if I wasn't having fun doing it," Long said during a recent phone interview from Mexico, where he's training for the next round of big-wave events. "There are still those challenging moments, where you look at the wave and say, 'If I can push myself over that ledge, I can have a really late drop.' That was the (Mavericks) wave I was waiting for all week. It was ironic that it came after the horn, but regardless, every opportunity is a chance to learn something new and to push myself."
That perspective has changed since he last won the World Surf League Big Wave Tour in 2012, the same year he suffered a near fatal wipeout at the infamous offshore break at Cortes Bank.
Long picks his words carefully when asked about his full-time return to competitive big-wave surfing, but doesn't shy away from discussing the doubt, fear and uncertainty that flooded his psyche after a chilling four-wave hold down at Cortes Bank on Dec. 21, 2012.
"I sat for a long time, and wondered if that was it for my big-wave surfing career. Maybe I didn't have that same desire anymore," he recalls. "But deep inside, I knew it was still burning in me, and I wasn't ready to walk away from it. I just needed to be patient with the whole process, and get back to a place of confidence."
Long's "ego," as he called it, kept him competing shortly after the wipeout, but it wasn't until he took six months off before he was able to decompress and really come to grips with what happened at Cortes Bank. More importantly, it helped him realize how his approach to surfing needed to change if he was to move forward with the sport. He needed to get back to having fun again.
"For a while there, I didn't have that same inspiration to be willing to throw myself over the ledge," Long said. "It gave me time to think about what I was doing, what was working and what wasn't working in terms of surfing big waves."
Long has had some big wins under his belt: Dungeons in South Africa (2003), Mavericks (2008) and Quiksilver in Memory of Eddie Aikau at Waimea Bay (2009). But this past season, he made as many headlines, not for winning events, but for patiently waiting for and charging the biggest waves of those contests.
He then went on to win the Big Wave Tour title despite competing in only two of the three official WSL-sanctioned events: the Peah'i Challenge in Maui and Todos Santos Challenge in Mexico. With his finals appearances, Long completed the big-wave season with 21,266 points, holding off last year's champion Makuakai Rothman, who finished with 16,994 points in all three sanctioned events.
Last month, Long was also named athlete of the year by the Save The Waves Coalition, one of the many sustainable surf organizations he supports. Long has also been an ambassador for Sustainable Surf and the Surfrider Foundation.
"To see Greg Long win another Big Wave Tour title is amazing," said fellow Mavericks legend Peter Mel, also the WSL BWT Commissioner. "I was there at Cortes Bank when he experienced his near drowning. He could have easily stepped away from big wave riding at that time. To see him dedicate himself and overcome any negativity from the accident is an inspiration."
Things started to click again for Long at the Peah'i Challenge on Dec. 6, 2015. It was there, at the infamous surf break "Jaws," where Long served notice he was back with one of the deepest barrel rides ever caught on camera.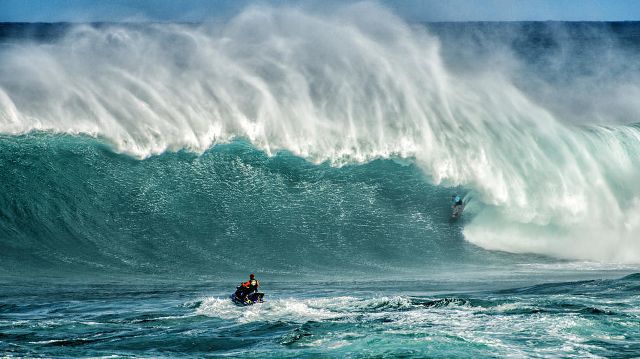 "When I paddled over to the lineup, it kind of all came back in to focus," Long said of that day in Maui. "I felt like, 'Now's the time, you're ready to step in again and go for it.' The first two waves I caught in that competition were probably the biggest waves I caught the entire winter, and that barrel was probably the biggest wave of my career."
Long's megalodon wave at Jaws was nominated for the Ride of the Year and Barrel of the Year categories at the 2016 WSL Big Wave Awards.
"Oh my God," TV announcer and Jaws legend Dave Kalama said at the time. "That has got to be one of the biggest waves ever paddled into. And then to pack it (in the barrel)? Oh my God!"
Mavericks Red Bull TV commentator Sal Masekela echoed similar sentiments on Long's grand finale after the Titans of Mavericks contest, which will be televised nationally on Memorial Day.
"WHOA!" Masekela called at the time. "Greg Long's like, 'Come on, Ocean. I'm still going.'" Long is still going all right … even after the clock reads 0:00:00.
"Going into this year, my goal was to have fun again," Long said. "I didn't care about where I finished in competitions. The one intention I had was to have as much fun as possible. This year there was a lot of giant swells, so if I wasn't 100% and I wasn't enjoying myself while I was out there, I went and did something else. And in the end, I had one of the greatest years of my life."
Brian Milne is an adventurer and AP award winning outdoors writer. His first short surf film, the El Niño Effect, is due out this spring. Learn more about the film and follow his outdoor adventures at ChasingSurf.com or connect on