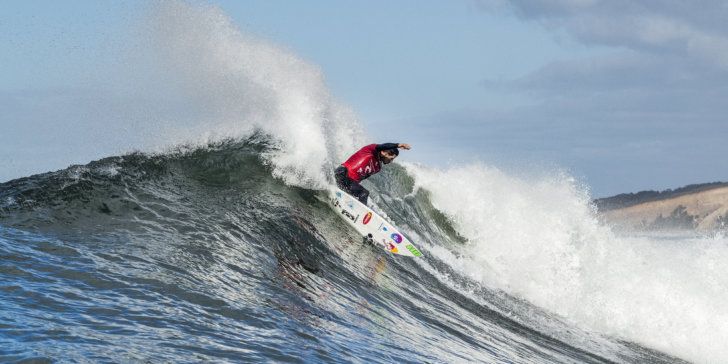 – FLORENCE SUFFERS SHOCK ROUND 3 ELIMINATION
– PARKINSON EXITS EARLY FROM 18TH BELLS APPEARANCE

– 3X WSL CHAMPION MOORE DISPATCHED BY LIMA
-PLENTY OVERHEAD SETS FOR FINALS…LIKELY TODAY
Cover Shot: CT sophomore Ezekiel Lau (HAW) advances to the Quarterfinals after eliminating two-time WSL Champion John John Florence (HAW) in Round 3 and winning his Round 4 matchup at the Rip Curl Pro Bells Beach.
 © WSL /  Cestari
Location:   
  Bells Beach, Victoria, Australia
Event window:
  March 28 – 

April 8, 2018

Today's call:
  Men's Rounds 3 (H7 – 12) & 4, Women's Quarterfinals complete
Conditions:
  4 – 6 foot (1.2 – 2 metre)
BELLS BEACH, Victoria/AUS (Tuesday, April 3, 2018) – Top seeds continue to fall at the Rip Curl Pro Bells Beach, Stop No. 2 on the World Surf League (WSL) Championship Tour (CT), after completing men's Rounds 3 and 4, and the women's Quarterfinals in four-to-six foot (1.2 – 2 metre) conditions.
Today witnessed all but three WSL Championships dispatched with John John Florence (HAW), Joel Parkinson (AUS), Adriano de Souza (BRA), and Carissa Moore (HAW) out of the draw. Now, only Mick Fanning (AUS), Stephanie Gilmore (AUS), and Gabriel Medina (BRA) represent the class of elite World Champions heading into the Final Series of the iconic Rip Curl Pro Bells Beach event.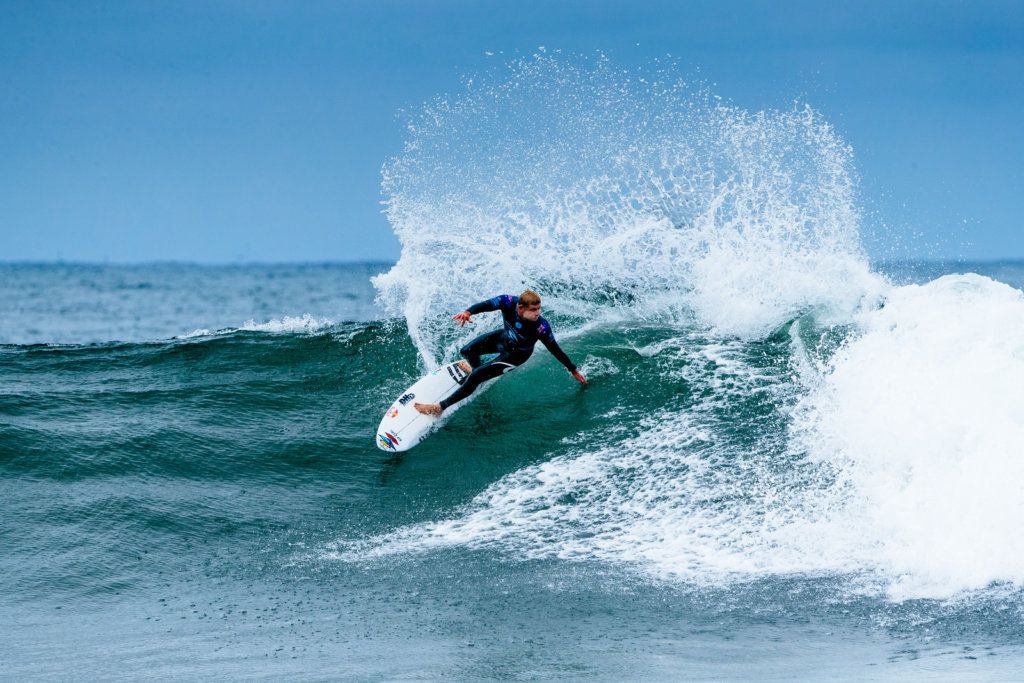 Fanning's slice of Bells.  PHOTO: © WSL / Sloane 
Two-time, reigning WSL Champion Florence is out of the Rip Curl Pro Bells Beach after losing to compatriot Ezekiel Lau (HAW) in the opening heat of the day. In Round 3 Heat 7, Lau put the pressure on Florence by jostling for position. Lau's physical assertion seemed to throw Florence off his game as he struggled to find a wave of substance. Lau, on the other hand, looked confident and powerful in that heat as well as in Round 4, where he defeated Frederico Morais (PRT) and Conner Coffin (USA).
"I'm stoked to be still going in the competition and can't wait for the Quarters," Lau said. "I wanted that heat [Round 3 Heat 7] to be at my pace and wanted to make John (Florence) feel the pressure, as you can't give a World Champion any room to move. My goal is to just keep doing big turns on big waves. I'm just tapping into what I was doing last year, and I hope I can keep a similar pace to what I had this time last year."
Last season, 25-year-old Florence locked in 3rd place results on the Gold Coast and at Bells Beach, but uncharacteristically, has yet to surpass 13th place in 2018. As the defending event winner of the next stop on the WSL CT, the Margaret River Pro, Florence is out to repeat his groundbreaking performances and reboot his World Title campaign.
"That was a tough heat, unfortunately," Florence said. "Zeke (Ezekiel Lau) surfed really well and the waves were pumping. I had to laugh a little bit when he paddled over my board. In one way it was kind of lame because it's fun to surf a heat with pure surfing and not win by sitting on someone's board, but it is a competition so maybe I'll incorporate it as a tactic next time. I'm really pumped to head back to Margaret River, the waves always fun and I have some great memories from there."
2012 WSL Champion Joel Parkinson (AUS), 36, was eliminated from the event by CT sophomore Morais, 26, in Round 3 Heat 8. The veteran struggled to complete his rides, allowing the newcomer to take the win with only mid-range scores. The three-time Bells winner who has not missed a Bells event since 2001, exits in Equal 13th place.
The upsets continued with Adriano de Souza's (BRA) elimination following Parkinson's heat in Round 3. Californian Coffin ousted the 2014 WSL Champion by just 0.2 points with a 9.83 combined score (out of a possible 20). In the year he won the World Title, De Souza earned four 13th place results, so the Brazilian could make a huge comeback at the Margaret River Pro, where he is a former event winner.
After completing Round 3, event officials decided to switch to Winkipop, the backup event site that offered more opportunity over the lunchtime hightide for men's Round 4 and the women's Quarterfinals.
Three-time WSL Champion Fanning took to the water in Round 4 Heat 2 to edge closer to a fairytale fifth Bells trophy in the last event of his competitive career. Fanning fought off stablemate Matt Wilkinson (AUS) and comeback-kid Patrick Gudauskas (USA). Gudauskas made a quick start locking in two 7.00 rides with some solid wave selection, whilst 2016 event winner Wilkinson posted a 7.50 to get the ball rolling. Fanning waited patiently and demonstrated why he is a three-time World Champion with big turns across the Winkipop walls to take the win. Fanning and Gudauskas will move to the Quarterfinals, while Wilkinson ends his Bells run in Equal 9th. Fanning will take on good friend Owen Wright (AUS) in the Quarterfinals. Fanning is now the only surfer left in the men's draw that has rung the Bell before.
"The heat wasn't too nerve-racking as I was out there with my mates," Fanning said. "I knew if I lost, at least I was surrounded by some good mates. I made that bad decision early giving Wilko (Matt Wilkinson) that wave, but I'm stoked I started to get some good waves after that. I'm really enjoying what I'm doing and getting to surf against my friends has been great. I don't mind when I go out just as long as I'm getting waves."
The last heat of Round 4 pitted dynamic Brazilians Italo Ferreira (BRA) and Gabriel Medina (BRA) against Jeremy Flores (FRA) in a high-intensity battle for a slot into the Quarterfinals. Ferreira was quick to get started with a 7.50 (out of a possible 10) off the bat. However, Medina kicked into gear late in the heat to score a 7.00 and clinch the lead. He and Ferreira took the top two progressing spots to knock out Flores.
"I'm stoked the competition is here at Winkipop," Medina said. "I really like this wave and I've been surfing here a bit in freesurfs. Winkipop is a really high-performance wave and it seems to suit my surfing. I'm feeling in good shape and my boards are feeling great, so I'm stoked to win the heat and move into the Quarterfinals."
Round 4 started with a bang as Michel Bourez (PYF) took down Wright and rookie Wade Carmichael (AUS). Bourez looked at ease at Winkipop as he ripped his way through the long walls with his trademark powerful style. A 15.77 heat total saw Bourez take the win and move straight through to the Quarterfinals along with Wright.
"The waves were really good out there and everything was feeling good," Bourez said. "I'm finally starting to get some consistency where my body and mind is feeling strong as well. I have a new mentality and fire going into this year."
The opening women's Quarterfinal saw two former Rip Curl Pro Bells Beach winners, Moore andSilvana Lima (BRA), go head-to-head in a battle to ring the Bell again. The two went score-for-score, each exchanging the lead until the dying minutes of the heat. Needing a 5.53, Lima took a wave in the final seconds of the heat to post a 7.27 and win her spot in the Semifinals. The three-time WSL Champion walks away with her second 5th place finish this season.
"I thank God that I got that wave at the end and made that heat," Lima said. "I just want to keep going in the contest and am feeling really good along with my equipment. I'm stoked to be in the semifinals. I'm loving surfing out at Winkipop as I think it's such a high-performance wave."
Johanne Defay (FRA) barely missed the mark against 2018 CT Rookie Caroline Marks (USA)in their tight Quarterfinal battle. Less than two points separated Defay from advancing past the Quarterfinals, giving Marks her first CT Semifinal appearance.
"I am really stoked," Marks said. "That was a lot of fun. I think Mike Parsons has helped me so much. In the past, I've gotten wildcards but was so nervous and flustered, but now I feel like I have all year to show what I've got. I feel like a new person this year — my surfing feels better and my boards feel great. Hopefully, I can keep it up all year. I still  have two more heats to go, so let's keep it going."
Six-time WSL Champion Stephanie Gilmore (AUS) closed out the day with a win in the final Quarterfinal matchup against Sage Erickson (USA). Gilmore handled the challenging Winkipop conditions with powerful turns and control for a 13.36 combined score over Erickson's 11.07. CT veteran Gilmore will be up against rookie Marks in the Semifinals.
"It is weird seeing all the top seeds fall but kind of awesome at the same time," Gilmore said. "You have to capitalize on these moments. The pressure is really on everyone because you have to rise to the occasion, as well. I will see what I can do with this little opportunity and try to make the most."
Tatiana Weston-Webb (HAW) continues her run at the Rip Curl Women's Pro by taking outNikki Van Dijk (AUS) in the Quarterfinals. With Van Dijk out, Victorians will have to wait another year to see if one of their own will ring the Bell, a feat that hasn't been achieved since Gail Couper did in 1976.
Event organizers will reconvene tomorrow morning at 6:30 a.m. AEDT for a possible 6:45 a.m.start.
Rip Curl Pro Bells Beach Remaining Round 3 Results:
Heat 7: Ezekiel Lau (HAW) 13.07 def. John John Florence (HAW) 9.76
Heat 8: Frederico Morais (PRT) 11.60 def. Joel Parkinson (AUS) 9.07
Heat 9: Conner Coffin (USA) 9.83 def. Adriano De Souza (BRA) 9.63
Heat 10: Italo Ferreira (BRA) 16.60 def. Filipe Toledo (BRA) 15.40
Heat 11: Jeremy Flores (FRA) 11.86 def. Adrian Buchan (AUS) 11.73
Heat 12: Gabriel Medina (BRA) 14.16 def. Willian Cardoso (BRA) 13.30
Rip Curl Pro Bells Beach Round 4 Results:
Heat 1: Michel Bourez (PYF) 15.77, Owen Wright (AUS) 12.00, Wade Carmichael (AUS) 10.60
Heat 2: Mick Fanning (AUS) 14.33, Patrick Gudauskas (USA) 14.00,  Matt Wilkinson (AUS) 13.17
Heat 3: Ezekiel Lau (HAW) 12.57,  Frederico Morais (PRT) 11.16, Conner Coffin (USA) 11.10
Heat 4: Gabriel Medina (BRA) 13.33, Italo Ferreira (BRA) 12.17, Jeremy Flores (FRA) 11.00
Rip Curl Pro Bells Beach Quarterfinal Matchups:
QF 1: Michel Bourez (PYF) vs. Patrick Gudauskas (USA)
QF 2: Mick Fanning (AUS) vs. Owen Wright (AUS)
QF 3: Ezekiel Lau (HAW) vs. Italo Ferreira (BRA)
QF 4: Gabriel Medina (BRA) vs. Frederico Morais (PRT)
Rip Curl Women's Pro Bells Beach Quarterfinal Matchups:
QF 1: Silvana Lima (BRA) 14.27 def. Carissa Moore (HAW) 12.53
QF 2: Tatiana Weston-Webb (HAW) 14.50 def. Nikki Van Dijk (AUS) 10.73
QF 3: Caroline Marks (USA) 15.10 def. Johanne Defay (FRA) 13.57
QF 4: Stephanie Gilmore (AUS) 13.36 def. Sage Erickson (USA) 11.07
Rip Curl Women's Pro Bells Beach Semifinal Matchups:
SF 1: Silvana Lima (BRA) vs. Tatiana Weston-Webb (HAW)
SF 2: Caroline Marks (USA) vs. Stephanie Gilmore (AUS)