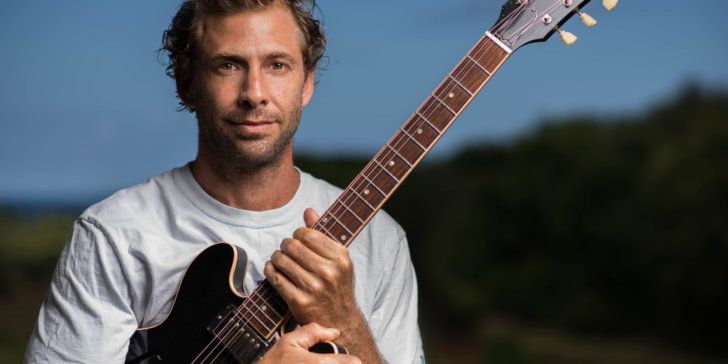 Local Surfer/Musician from Hawaii named Sashamon…..
Sasha recently got done with a Small California Tour that was a big success and booked some great shows in Hawaii this winter.
His music gets over 100,000 plays a week on Spotify and is very popular not only in Hawaii but Global Surf Culture.
Sasha took a 3 yr break to start raising his new son …it has been a real blessing for his family and now he is ready to start playing again.
Sasha has been currently working on new music and it's a perfect time to get involved this Winter before releasing it.
Friday is his performance at the 3rd Annual Bob Bash
Below is our Q&A
Thanks to our friend 'Maui Matt' Lane for hooking us up. SNN.
SASHAMON INTERVIEW

1. This break likely inspired some new music….? Yes, I have some new music I will share soon. 

2. Is that how the new project came about?

The new project is to try grow from the amazing support I have had in the past. New music is part of that and also improving the live performances.

3. A song for your son? Wife? 

I have a song for my boy I'm working on. So far it feels personal so I am working on making the personal, universal. I wrote the song "Malia"  before my better half Malia Locey and I became a thing. However serendipitous, she still wants another song or 20. So I'm working on it. The love from my family gives me inspiration and our music a purpose. The ability to relate to that kind of love and struggle in others gives art deeper meaning. I carry the love of my family up on to the stage with me and sometimes literally my 3 yr old and 7 yr old niece who got on the mic at a small gig the other night.

4.How often do you get in the water? 5. When you're not on the road? 

Lucky for me I do not need to tour too much. It's hard to leave Kaua'i. I grew up on the outer islands body boarding or surfing everyday unless it was flat and then I would go dive or skim board. My friends and I would drive around the island looking for any ride able waves we could find. Growing up body boarding was a passion. 

The Summer off 2017 was a slow summer for surf perhaps one of the slowest of my life. There were many other things on my radar. I tandem surfed with my 3 yr old a couple times recently. Hopefully we will have a good winter. Nowadays if I'm lucky I can surf 2-3 days a week. Sometimes more sometimes less. 

I mostly ride My Lost Baby Buggy 5'9 

6'2 JS Monsta 3

A 5'2 Mini Simmons

9'2 Longboard and I still like to Body board the more hollow waves that humble me.

6. Kinda a guitars you play?

I have lots of instruments as a aspiring producer. Usually I play ukulele on stage from Island Ukulele hand crafted by Skip Rapozo on Kauai is one of my Sponsors.

My go to is my Gibson 336 , G & L Bass. Takamine Steel and Nylon and a Strat.

 I basically have ukulele all over the house. I am also trying to get better with keys and drums.

7. Ever Co write? 

I get so much inspiration from everything and everyone around me. I would like to jam and write with as many people I can vibe with for all you musicians out there. One song on my older songs "Herbal Criminal" My friend actually wrote much of the lyrics. He showed me this song he had "Ganja Criminal" and I said do you mind if I change it to Herbal It was not really a co write but more like an edit. My friend Matt Yamashita did not want any credit. He is a talented story teller, videographer, and family man on Moloka'i at www.quazifilms.com

1. What's it feel like to finish a song vs creating one. 

I've got lots of ideas that never get finished. The developing of ideas and writing process spins my mind in an obsessive way. I am always moving words and melody around.

Lately I keep rewriting till I can feel the lyrics. Its hard to make a song sing. I think i have made a few that do sing, though it me many years to realize this. My only official album was actually intended as a demo. Reluctantly I released it, but i was not "finished". It was the best i could do for the moment. 

2. Are your dreams changing?

In a lot of ways my dreams have come true. Now my dream is to try and simplify my life and find a way to uplift as many people as I can. Hopefully my music will help.

3. What up in say 3-5 years?

Hopefully riding waves, releasing more music, and playing more music at cool parties around the world every now and then.

4. One of your top 5 free surf sessions or trips in memory? 

A few years ago I stayed at Teahupoo at End of the Road. Body boarded there a bunch. I was scared mostly, but caught a few over the two weeks I was there. one wave resulting in a scar on my chin.

5. What do you say to young aspiring song writers?

Learn as much as you can about all kinds of music. Try to speak from a authentic place. Study song writing of your favorites. Learn groove's and melody.

7. Training? Coaching

Growing up on Molokai, Kupuna would come sing with us as part of the States elementary schools Hawaiian Studies Program. In the 5th grade we learned to strum the ukulele. This helped me grasp music when I started learning guitar. I first picked the guitar up the summer after graduating high school. College at U.H. is where I started to study my favorite music and began my first bits of song writing as a hobby. I learned from anyone who would show me something. While exploring my pre requisite courses at UH, trying to figure out what to major in, i could see i was leaning towards the arts. I was scared of Calculus.  I was really majoring in body boarding whenever possible. It took lots of work and after five years I earned a Bachelor of Arts degree called "Music and the Arts"  UH Manoa has a create your own major program. i created a degree combining classes i was interested in ; Music, Philosophy, Poetry, Multi Media, Visual and Expanded Arts. I had this crazy dream of being a song writer/musician. I think it is almost magical how we can manifest our thoughts into reality.

8. Are you spiritual? My mom asked me when I was 13 or so do you believe in god? I said "Sure who else would make waves"

Mahalo to the creator and our ancestors. We are blessed to be alive as humans. hopefully we can help those who suffer needlessly.

9. Most inspiring surfers on tour and off?

Mason Ho and Jaime O!. I am a fan of the WSL especially when its barreling. I root for fellow Kauaian Seabass and the Hawaiians John and Zeke. Mike Stewart is also a hero of mine. All the pros and underground chargers inspire me. Ripping a wave is pretty inspiring.

10. FAVS….FOOD, MUSIC, PEOPLE  

I like fresh organic food if possible that I know where it comes from. Fresh fruits for breakfast. I love a Brazilian style lunch. Big salads, rice n beans, and barbecue. they dont seem to big on late dinners in Brasil. I appreciate most music. Pretty much anything that isn't too loud and has a decent message. My favorite is Bob Marley,Pink Floyd and The Beatles. my favorite people are those who help to make positive change in the world like Martin Luther King & Ghandi,but many do what they can.

ACCOMPLISHMENTS…. Getting interviewed by SSN!   Helping people dance. When people sing a long with a song you created that's pretty cool. My music is currently getting 100,000 spins a week on Spotify.  It is encouraging me to do more! I took 2nd in the 98′ State Champs Men's Body boarding at Alamoana bowls when I was in college. One Judge even had me in first. Jeff Hubbard won. Hes one of the best of all time.

11. Toughest Part of the Game? An Uncle said to me once. "I used to be a musician, but i was starving. he was a farmer and fisherman at the time of the story. There are lot's of obstacles in the game. I'm trying to play my own game and being a really good is the toughest part. Just believing in yourself is a challenge.

12. Who you'd like to say thanks to? There are to many people to thank. My family!  Joel Speier for inspiration back in the days when i worked Dukes Waikiki.  Kauai surfer/musicians Gabriel LaRocca and Sergio Hurtado. Braden Dias. Danny Fuller, Dustin Barca, Ikaika Kalama and Jaime o who shared my music with the surf world.

Donaery and his family for the support and encouragement when I first moved to Kaua'i. All my listeners and supporters and anyone who has ever shared and jammed my music.

13. Towed Jaws yet? I have fantasized about it, but I would die. I've grabbed a rope in smaller wave whip in's, but never really got a good one. I need more practice. i am getting more conservative in my older age but hopefully I got a little more charge in me.

14. Has Matt dropped in on you? 🙂 he betta not! haha
​
​