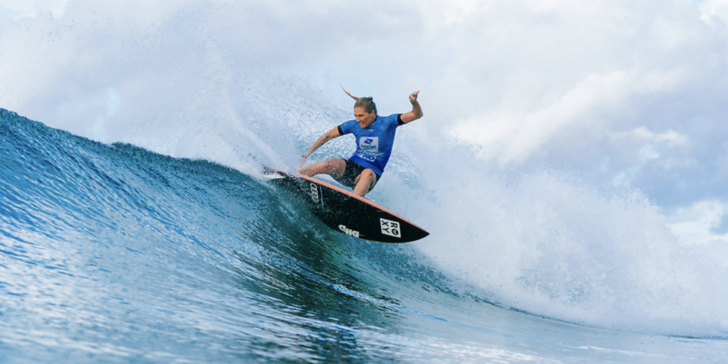 …..of Boost Mobile Gold Coast Pro Presented by GWM
Heat of the Event Thus Far: Stephanie Gilmore Overcomes Sierra Kerr at the Buzzer
Crosby Colapinto and Edgard Groggia Earn Highest Heat Totals of Round of 32
Alyssa Spencer and Francisca Veselko Start Their Qualification Campaigns Strong
Pictured:  8X World Champion Stephanie Gilmore (AUS) put on a clinic to win her Round of 16 heat today at the Boost Mobile Gold Coast Pro Presented by GWM. Credit: © WSL / Shield
SNAPPER ROCKS, Gold Coast, Queensland, Australia (Thursday, May 11, 2023) –Snapper Rocks has continued to deliver epic surf on the third day of competition at the Boost Mobile Gold Coast Pro presented by GWM, Stop No. 1 of the 2023 World Surf League (WSL) Challenger Series. Competitors in the men's and women's Round of 32, as well as Heats 1 – 4 of the women's Round of 16, were treated to clean two-to-four foot surf. The day witnessed exciting performances from some of surfing's biggest names and up-and-comers. The field is quickly narrowing as Finals Day is drawing closer.
Heat of the Event Thus Far: Stephanie Gilmore Overcomes Sierra Kerr at the Buzzer
In a battle of the old guard vs. the new, 8X World Champion Stephanie Gilmore (AUS) and young phenom Sierra Kerr (AUS) went head-to-head in the Round of 16. Kerr demonstrated her progressive approach, throwing fins-free turns and an air to post an excellent 8.43 (out of possible 10). Kerr was in the lead for the majority of the heat and had Gilmore in need of a solid score. In the last few minutes, Gilmore found the wave she was waiting for. She went to town stringing together a series of critical maneuvers to earn a near-perfect 9.33 and the heat win.
"Sierra is an awesome surfer and she's got such a long future ahead of her smashing everyone so it felt really nice to get one up on her now," Gilmore said. "That was a tough one though, she came out of the gates firing. I was looking at her going, 'go easy on me grom.' I remember being a kid at Snapper and being so confident and loving being out there with just one of my heroes. I remember what that felt like and I'm sure that's what she was feeling. At the end, I knew I had to fall back on some experience and try and do my very best rail surfing and see if that holds up."
Crosby Colapinto and Edgard Groggia Earn Highest Heat Totals of Round of 32 
Californian Crosby Colapinto (USA) put on a clinic at Snapper Rocks today, posting the highest heat total of the day for his incredible display of powerful, fins-free surfing. Colapinto's 16.60 (out of a possible 20) was too much for his opponents to hunt down, earning him a spot in the Round of 16 against Championship Tour surfer Rio Waida (INA).
"My heat yesterday took me a long time to get into rhythm so I was really focused on getting an early start today," Colapinto said. "I couldn't have hoped for a better start than that. It was so good to get good waves and have the opportunity to open up and show what I've got."
Edgard Groggia (BRA) combined powerful turns with progression at Snapper today. He earned an excellent 8.83 (out of possible 10) for a massive full-rotation air reverse, which was enough to win his Round of 32 heat. Groggia is looking for a career-best result on the Challenger Series, but he will now have to face former CT surfer Samuel Pupo (BRA) in the Round of 16.
"It feels so good to make my heat with that performance," Groggia said. "Before my first heat I was feeling really nervous but today I was feeling a lot more relaxed and I think it showed. My equipment was feeling good through my turns and it gave me the confidence to go to the air. I'm glad I landed that big air and can't wait to keep it going."
Aussie duo Mikey McDonagh (AUS) and Jacob Willcox (AUS) continued their winning streak on the Gold Coast, each booking spots in the Round of 16 with a strong showing on Day 3 of competition. Willcox will take on fellow goofy-footer Evan Geiselman (USA) while McDonagh will matchup with veteran Jadson Andre (BRA) when competition resumes.
Michael Rodrigues (BRA) continued his love affair with Snapper Rocks today, taking another heat win on his way to the Round of 16. Rodrigues looks to have bounced back after falling short of the Mid-season Cut and returning to the Challenger Series, with his stylish surfing continuing to turn heads on the Gold Coast.
Alyssa Spencer and Francisca Veselko Start Their Qualification Campaigns Strong
San Diego's Alyssa Spencer (USA) started her 2023 Championship Tour qualification campaign perfectly today, posting a two-wave total of 16.17, comfortably winning her heat. The fast goofy-footer was victorious over Vahine Fierro (FRA), Carolina Mendes (POR) and Sol Aguirre (PER). Spencer has fallen short of qualifying by only a couple of spots multiple times in the past and is hoping 2023 is her year to break through to the elite level. She progressed into the Round of 16 along with Fierro who finished in second place.
"Last year I had a pretty big shocker here," Spencer said. "I feel like I put a lot of pressure on myself and didn't surf enough waves. I didn't take advantage of surfing empty Snapper so this year I wanted to come and make the most of that opportunity and have fun. I have been here for two weeks and the surf has been pumping the whole time which has been so good. I feel like I'm having fun and feeling good and I feel like this year I'm ready."
Francisca Veselko (POR) has continued her great run of form from last season, making it through to the Round of 16 ahead of veteran Sally Fitzgibbons (AUS). The current World Junior Champion looked confident on her way to victory, taking the heat win with a score line of 14.80.
"I started that heat with a plan and it wasn't really working for me so I had to change it up and move down with the other girls," Veselko said. "As soon as I made the move I got a set wave and got a good score which felt really good. It feels good to change your tactics and see it work out."
The next call for competition to recommence will be tomorrow, Friday, May 12, at 7:15 a.m. AEST for a possible 7:35 a.m. start.
For highlights from today's Boost Mobile Gold Coast Pro presented by GWM competition, please visit WorldSurfLeague.com.
2023 Boost Mobile Gold Coast Pro pres. by GWM Women's Round of 32 Results:  
HEAT 1: Nyxie Ryan (AUS) 12.84 DEF. Stephanie Gilmore (AUS) 12.63, Pauline Ado (FRA) 9.47, Mia Huppatz (AUS) 8.57
HEAT 2: Sierra Kerr (AUS) 13.33 DEF. Nikki Van Dijk (AUS) 10.10, Ariane Ochoa (EUK) 6.67, Bronte Macaulay (AUS) 5.67
HEAT 3: Sophie McCulloch (AUS) 15.16 DEF. India Robinson (AUS) 13.77, Nanaho Tsuzuki (JPN) 10.97, Silvana Lima (BRA) 8.70
HEAT 4: Ellie Harrison (AUS) 13.86 DEF. Sarah Baum (RSA) 11.33, Macy Callaghan (AUS) 10.80, Moana Jones Wong (HAW) 7.73
HEAT 5: Francisca Veselko (POR) 14.80 DEF. Sally Fitzgibbons (AUS) 12.76, Amuro Tsuzuki (JPN) 12.67, Tessa Thyssen (FRA) 11.33
HEAT 6: Alyssa Spencer (USA) 16.17 DEF. Vahine Fierro (FRA) 12.73, Carolina Mendes (POR) 12.00, Sol Aguirre (PER) 8.23
HEAT 7: Teresa Bonvalot (POR) 11.10 DEF. Luana Silva (BRA) 10.60, Yolanda Hopkins (POR) 10.44, Zahli Kelly (AUS) 8.90
HEAT 8: Isabella Nichols (AUS) 12.86 DEF. Sawyer Lindblad (USA) 11.73, Kobie Enright (AUS) 11.57, Erin Brooks (CAN) 8.762023 Boost Mobile Gold Coast Pro pres. by GWM Men's Round of 32 Results: 
HEAT 1: Imaikalani deVault (HAW) 12.77 DEF. Evan Geiselman (USA) 12.07, Jarvis Earle (AUS) 8.73, Hiroto Ohhara (JPN) 6.94
HEAT 2: Jacob Willcox (AUS) 12.67 DEF. Adin Masencamp (RSA) 12.50, Lucas Silveira (BRA) 9.77, Frederico Morais (POR) 6.50
HEAT 3: Jett Schilling (USA) 13.27 DEF. Mikey McDonagh (AUS) 12.66, Reef Heazlewood (AUS) 12.43, George Pittar (AUS) 12.30
HEAT 4: Jadson Andre (BRA) 13.46 DEF. Joao Chianca (BRA) 12.93, Nat Young (USA) 9.37, Jackson Baker (AUS) 5.93
HEAT 5: Edgard Groggia (BRA) 15.77 DEF. Timothe Bisso (FRA) 11.94, Lucca Mesinas (PER) 11.47, Dylan Moffat (AUS) 7.94
HEAT 6: Jorgann Couzinet (FRA) 14.07 DEF. Samuel Pupo (BRA) 13.97, Ezekiel Lau (HAW) 13.30, Miguel Tudela (PER) 12.70
HEAT 7: Michael Rodrigues (BRA) 13.50 DEF. Rio Waida (INA) 13.27, Keanu Asing (HAW) 11.13, Morgan Cibilic (AUS) 10.13
HEAT 8: Crosby Colapinto (USA) 16.60 DEF. Jackson Bunch (HAW) 12.30, Mateus Herdy (BRA) 11.46, Leo Casal (BRA) 10.76

2023 Boost Mobile Gold Coast Pro pres. by GWM Men's Round of 16 Results (Heats 1 – 4): 
HEAT 1: Nyxie Ryan (AUS) 14.10 DEF. Nikki Van Dijk (AUS) 10.60
HEAT 2: Stephanie Gilmore (AUS) 17.40 DEF. Sierra Kerr (AUS) 15.26
HEAT 3: Sarah Baum (RSA) 15.33 DEF. Sophie McCulloch (AUS) 15.23
HEAT 4: India Robinson (AUS) 13.80 DEF. Ellie Harrison (AUS) 12.30

2023 Boost Mobile Gold Coast Pro pres. by GWM Women's Round of 16 Matchups (Heats 5 – 8): 
HEAT 5: Francisca Veselko (POR) vs. Vahine Fierro (FRA)
HEAT 6: Alyssa Spencer (USA) vs. Sally Fitzgibbons (AUS)
HEAT 7: Teresa Bonvalot (POR) vs. Sawyer Lindblad (USA)
HEAT 8: Isabella Nichols (AUS) vs. Luana Silva (BRA)

2023 Boost Mobile Gold Coast Pro pres. by GWM Men's Round of 16 Matchups: 
HEAT 1: Imaikalani deVault (HAW) vs. Adin Masencamp (RSA)
HEAT 2: Jacob Willcox (AUS) vs. Evan Geiselman (USA)
HEAT 3: Jett Schilling (USA) vs. Joao Chianca (BRA)
HEAT 4: Jadson Andre (BRA) vs. Mikey McDonagh (AUS)
HEAT 5: Edgard Groggia (BRA) vs. Samuel Pupo (BRA)
HEAT 6: Jorgann Couzinet (FRA) vs. Timothe Bisso (FRA)
HEAT 7: Michael Rodrigues (BRA) vs. Jackson Bunch (HAW)
HEAT 8: Crosby Colapinto (USA) vs. Rio Waida (INA)