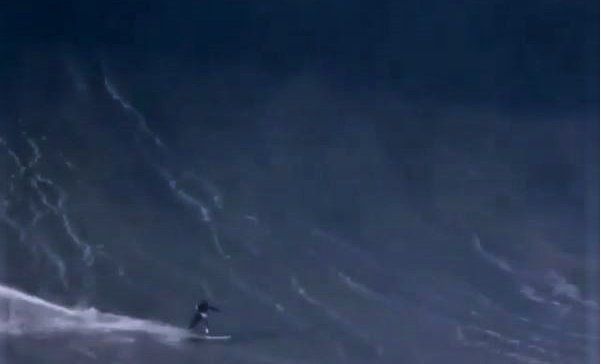 Nazaré is deceptive…where's the bottom of the wave? How Friggin' Big is that?! (yeah it won't fit on the front page…look below…plus the Instagram video).
The planet's latest addition to the outrageous array of big-wave surf venues has got the attention of every single big wave rider.
This latest capture by Diego Evaristo, of Andrew Cotton, last Wednesday could have been capturing the death of one of the legends of the sport of BIG Wave Riding.
UK's hellman tried to get under it and somehow backdoor this beast. But, it was near suicide. Note: the detonation catapulted Cotton like a canon out 30-40′!
This resulted in 'only' a broken back. Meaning 99% of the world's surfing population would never have survived such might.
Cotty told Magicseaweed: "I felt like I was floating for a few seconds. I thought, 'whoa, that's weird. This shouldn't be happening.' And then it was just like being hit by a lorry like, straight to my back. Then I think I landed on my back in the flats and then got mowed by the whitewater. Obviously pulled my vest and Hugo [Vau] came to get me. But I missed the sled, I was in so much pain, I couldn't move. Went through the whitewater, again. Hugo came around again and got me."
The jetski got smashed, too after which Cotton "just…floated in."
Cotton: "I've broken my L2 vertebrae, but it's stable and it could be way worse. The guys on the beach and Hugo were so on it. Nazaré puts lifeguards on the north beach now during big swells and they don't have to do that. They got me out of the water, stabilized me, cut my suit off, just made it so much easier. They saved my back. I am super lucky."
Diego Evaristo was filming a documentary on Garret McNamara. Via Instagram, he wrote: "Probably the heaviest wipeout I have ever caught on camera. You're a legend."
Indeed, Diego. Thank You.
And here's to your fast and complete recovery, Andrew!