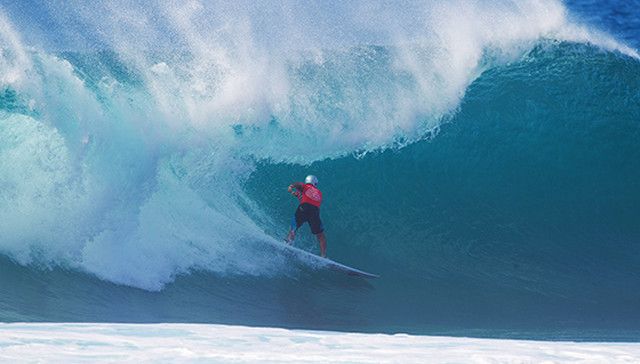 Tom Carroll © ASP/Kirstin
Heritage Heat
ASP Specialty Event
Banzai Pipeline, Oahu Hawaii
12 December 2014
Carroll bests 2000 World Champ Garcia, 1993 W.C. Ho and  87′, 90′, 93′ Runner up Elkerton.
I thought it would go to Ho or Garcia as they have so much experience out there and are younger. But, we might forget the relationship TC had with Pipe. He was the best ever seen at that point in Pipes history. He was the new Mr. Pipeline for several years. Tom has kept in shape all these years and was able to jump back on the bike. Gq, SNN.
Surf News Network, 13 December, 2014. Tom Carroll (AUS) has won the four-way Heritage Series heat over Derek Ho (HAW), Sunny Garcia (HAW) and Gary Elkerton (AUS).
The ocean had gone deceptively quiet after a full day of competition that included the Final of the Men's Pipe Invitational, Round 1 of the Billabong Pipe Masters and the Women's Pipe Invitational. But all that changed when the legends of Pipe took to the water.
Garcia, who competed in the first two events of this year's Vans Triple Crown, was the first to get his feet in the wax with a casual glide-in. With a brief lull, Pipe looked spent until Carroll dropped into a deep barrel, emerging with the spit for a 9.60. The 53-year-old, who won the Pipe Masters in 1987, 1990 and 1991, was out to prove that he still had it — and then some.
Garcia and Ho managed to keep pace with sweet barrel rides of their own but Carroll's early heroics were too much to overcome.
"It's kind of like an old friend, it's pretty nice to be out there again," Carroll said. "Being out there with just three other guys, three guys you've surfed with for a long, long time, it's just a great feeling."
The Pipe Heritage Series is the third and final heat of the series for 2014. It comes after the Occy-Curren faceoff at J-Bay and the Pottz-Gerr heat at Lower Trestles.