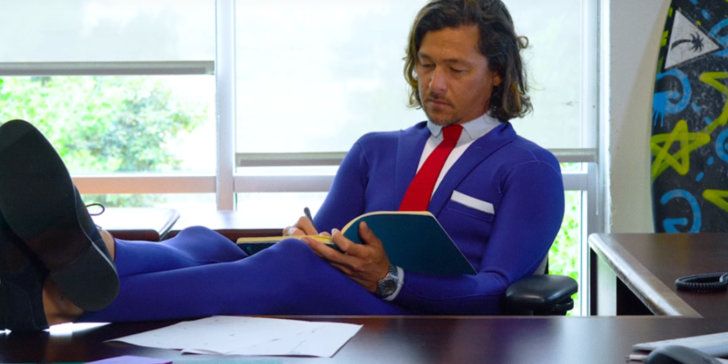 Kalani Robb: Getting down to business with 7TILL8 as they unveil the Hawaii's Surfing Legend's Custom Wetsuit
Surf News Network, 4 October 2017
7TILL8 Custom Wetsuits and surfing Legend Robb Kalani has agreed to a partnership where Kalani Robb will act primarily as the new creative director for the company. His vast experience and networks within the surfing and water community come as an integral component providing further contributions to 7TILL8's mission.
7TILL8 created an unbelievable custom wetsuit for Kalani Robb to celebrate the announcement. It is available for purchase for the public.
His primary focus will be to direct product development including, but not limited to, marketing and branding of products. "I asked 7TILL8 to make me my favorite suit into a wetsuit…and they did." Kalani Robb put 7TILL8 to their biggest challenge and in return they created a high performing suit that looks great as well.
"From my years as a professional surfer, wetsuit design has always been a priority to me. 7TILL8 is the perfect fit for me because of their knowledge in custom wetsuit designs and their ability to use the best quality and rarest materials," Kalani Robb said in a statement. "I am excited to be a part of the 7TILL8 team as Creative Director and to contribute my knowledge to their product development team. I look forward to developing products that will allow me to create unique campaigns and direct their brand towards a fun and exciting new path."
7TILL8 Custom Wetsuits is a Los Angeles based custom wetsuit company. Since 2016, 7TILL8 has dedicated their lives to handcrafting wetsuits for each individual owner. Having introduced the first-­‐of-­‐ its-­‐kind custom wetsuit algorithm, 7TILL8 blends expert craftsmanship, the latest technological advances and the rarest materials in the world to create the best product for maximized potential in the water.
7TILL8 references 'glass off", the hour before sunset when winds settle and the ocean becomes 'glassy'. This is the ideal time for surfers and divers to hit the water and perform to their best abilities without any hindrance. The 7TILL8 wetsuit strives to reduce any unnecessary distractions during this peak hour