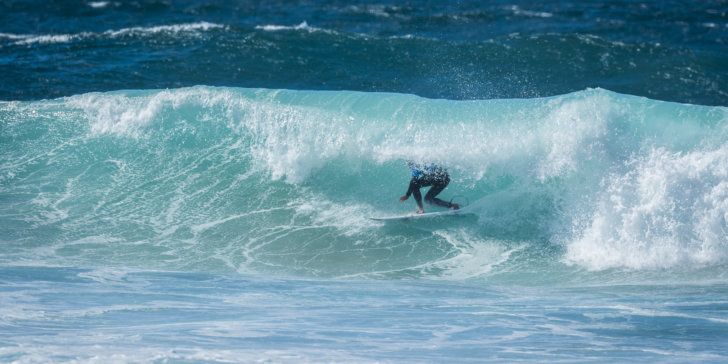 PORTUGAL TIME (10 HOURS AHEAD so EVENT BEGAN 3:30 am HI Time)
– POTENTIAL FINISH IN GOOD CONDITIONS ON WEDNESDAY
– MORE AT WORLDSURFLEAGUE.COM

Griffin Colapinto (USA) advanced into Round Five of the EDP Billabong Pro Cascais.
Credit: © WSL / Poullenot
Location:   
Cascais, Portugal
Event window:
September 26 – 

October 5, 2017

Today's call:
Men's Rd 4 H5-8 Completed
| | |
| --- | --- |
| Conditions | Solid six-to-eight foot |
EDP BILLABONG PRO CASCAIS ROUND 4 RESULTS:
Heat 5: Frederico Morais (PRT) 11.33, Tomas Hermes (BRA) 10.84, Ethan Ewing (AUS) 10.34
Heat 6: Willian Cardoso (BRA) 11.17, Leonardo Fioravanti (ITA) 10.43, Maxime Huscenot (FRA) 8.90
Heat 7: Jesse Mendes (BRA) 13.33, Ezekiel Lau (HAW) 9.97, Ryan Callinan (AUS) 9.50
Heat 8: Alejo Muniz (BRA) 10.40, Griffin Colapinto (USA) 10.00, Nat Young (USA) 8.83
UPCOMING EDP BILLABONG PRO CASCAIS ROUND 5 MATCH-UPS:
Heat 1: Stuart Kennedy (AUS) vs. Kanoa Igarashi (USA)
Heat 2: Joan Duru (FRA) vs. Deivid Silva (BRA)
Heat 3: Keanu Asing (HAW) vs. Italo Ferreira (BRA)
Heat 4: Jadson Andre (BRA) vs. Wade Carmichael (AUS)
Heat 5: Frederico Morais (PRT) vs. Leonardo Fioravanti (ITA)
Heat 6: Willian Cardoso (BRA) vs. Tomas Hermes (BRA)
Heat 7: Jesse Mendes (BRA) vs. Griffin Colapinto (USA)
Heat 8: Alejo Muniz (BRA) vs. Ezekiel Lau (HAW)
CASCAIS WOMEN'S PRO QUARTERFINAL MATCH-UPS:
Heat 1: Nikki Van Dijk (AUS) vs. Lakey Peterson (USA)
Heat 2: Sally Fitzgibbons (AUS) vs. Keely Andrew (AUS)
Heat 3: Tatiana Weston-Webb (HAW) vs. Malia Manuel (HAW)
Heat 4: Carissa Moore (HAW) vs. Sage Erickson (USA)
PRAIA DE CARCAVELOS, Cascais/Portugal (Tuesday, October 3, 2017) – The EDP Billabong Pro Cascais resumed after three consecutive lay days, at the back-up venue of Guincho. Solid surf in the six-to-eight foot range was on offer to resume the men's Round Four remaining four heats.
Local favorite Frederico Morais (PRT), 25, took out the day's opening bout with great surfing on his backhand, finding clean faces to lay down his signature power carves. The Portuguese superstar, whose heat has been postponed multiple times since the event last ran on Friday, managed to get his rhythm back as soon as the heat started and took an important win to advance into the man-on-man Round Five.
"We were really unlucky with the calls at Carcavelos cause the swell looked good for there but it kind of missed it in the end," Morais explained. "So we came back to Guincho, which is a very beautiful beach, I love it! It was difficult today with all the whitewash coming through and the big sets you take on the head but I'm very used to surf it like this so it just felt like home."
Willian Cardoso (BRA), 31, took a similar approach to riding the big walls of Guincho and let his power do the talking. World No. 30 Leonardo Fioravanti (ITA) stayed in the heat with some nice hooks on his backhand, and Frenchman Maxime Huscenot despite nailing the biggest single move of the heat, unfortunately, placed third.
Cardoso's performance in Portugal could score him a seat amongst the world's best surfers next season as with a lowest result of 650 points in his season tally, he's guaranteed a minimum of 16,000 after Cascais.
"It was a hard heat to win against Leo and Maxime, both great surfers," Cardoso said. "Both live in France and have a lot of experience in similar conditions, so I tried to do my own thing, catch a wave with some space for a good turn. I've been on tour for twelve years and somehow this season everything is working well for me, so I hope to make the finals here."
Jesse Mendes (BRA), 24, can't seem to do anything wrong this season and continued to demonstrate his total domination over the rest of the QS field, with another heat win and the day's highest heat total at Guincho. While points are at this point of the season unimportant for the Brazilian who's already secured a spot on the Championship Tour, every bit of experience will play in his favor in his rookie season in 2018.
"I've been trying to take my time and breathe in between everything, before a heat, during a heat, in between turns," Mendes reflected. "It calms your nerves and avoids getting ahead or yourself. That's the biggest lesson I've learned this year, knowing how to be calm and patient."
Former CT athlete Alejo Muniz (BRA), 27, took out the day's last heat as conditions became unruly and gale-force winds began to tear apart the lineup. Muniz spent the first half of his heat completely lost at sea, not able to put a decent score on the board, but managed to come from behind and take out one of the last qualifying spots into Round Five.
"It's an amazing feeling, I thought I had lost my heat," Muniz admitted. "I couldn't hear anything out there and no one was cheering from my crew so I didn't know the result. I tried to get that last wave from Nat (Young) but he started as well so I really had no idea what would happen. I've lost in this round of the past QS10,000 events so I'm stoked to make it through."
Conditions deteriorated to the point where contest officials had to call competition off for the rest of the day, cutting short hopes of running half of the fifth round today.
Competitors and event officials will reconvene tomorrow at the back-up site of Guincho and start either the women or men's event at 7:30 a.m for a potential finals day.
New WNW swell builds Tuesday into Wednesday with head-overhead surf for Guincho. Carcavelos picks up with waist-shoulder high surf showing for Wednesday morning. Fading swell/surf for both Guincho and Carcavelos on Thursday. Good conditions prevail each day for Carcavelos, while best conditions for Guincho will be in the first half of mornings. Surfline.
The EDP Billabong Pro Cascais 2017 runs in conjunction with the Cascais Women's Pro, stop No. 8 on the WSL Women's Championship Tour and both events are broadcast LIVE via WorldSurfLeague.com, the WSL app and on Facebook LIVE via the WSL's Facebook page.
For more information, check out WorldSurfLeague.com.
The EDP Billabong Pro Cascais 2017 is supported by the Câmara Municipal de Cascais (Cascais City Council), Edp, Billabong, Tourism Portugal (Portuguese Waves), , Jogos Santa Casa, MEO&Moche, Hertz, MEO Beach Cam and CP (Comboios de Portugal/Trains of Portugal) among others.