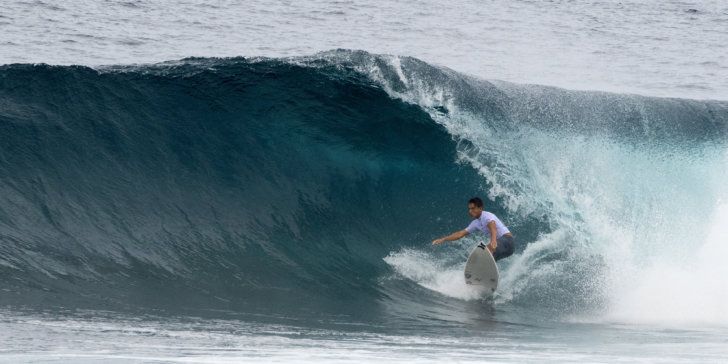 – Barron Mamiya from Hawaii slamming on the breaks….AS CLOUD 9 DISHES UP PERFECT BARRELS FOR COMPETITORS
Credit: © WSL / Tom Bennett
HAWAII also has Love Hodel, Kiron Jabour, Kaito Kino, Kaimana Jaquias, Noah Beschen…results so far below.
  LOCAL PISO ALCALA (PHL) SCORES PERFECT 10 AND HIGHEST HEAT TOTAL

Gold Coaster Nick Callister having a ball at Cloud 9 on Day 2 of the 2017 Siargao Cloud 9 Surfing Open.
Credit: © WSL /  Tim Hain 
Cloud 9, Siargao / Philippines (Monday, September 25, 2017) –   Cloud 9 in the Philippines has lived up to its reputation as one of the most idyllic locations on the World Surf League (WSL) Qualifying Series (QS) with incredible waves on Day 2 of the Siargao Cloud 9 Surfing Cup. It was a massive day of action with the contest directors utilizing the clean 3 – 5-foot barreling waves to complete 12 heats of Round Three with competitors trading huge scores throughout the day.
Local dynamo Piso Alcala (PHL) showed why he is a former event winner at his home break, posting the highest heat total of the event so far, an excellent 18.17 (out of a possible 20). Alcala's scoreline included a perfect 10.00 point ride which he earned with a long barrel ride and big air completion early in the heat.
"The waves are pumping today," Alcala said. "The tide was getting low during my heat so It was hard to pick the good waves. My 10-point ride was such a perfect wave, I couldn't believe my luck when no one else went for it. I love this event and having the chance to surf my home break with all of the international competitors. It is always hard to beat the top guys but I am confident I can go far at this event."

Piso Alcala is a legend around the Philippines and with performances like today it is not hard to see why.
Credit: © WSL /  Tom Bennett
Having already posted several wins during the Hawaiian Junior Qualifying Series in 2017 Barron Mamiya (HAW) has come to the Philippines looking to continue his form and post a solid result. He has started his campaign off well taking a win in Round Three with a heat total of 14.76. The powerful Hawaiian surfed well beyond his years threading long barrels and boosting huge airs to progress into Round Four.
"These are the best waves I've had in a contest," Mamiya said. "It's so perfect and barreling It's hard not to have fun, the waves are a lot like home in Hawaii so I feel really comfortable. I'm feeling good at the moment and am keen to keep making heats so I can keep surfing these epic waves."

Barron Mamiya from Hawaii slamming on the breaks.
Credit: © WSL / Tom Bennett
Young Gold Coaster Mitch Parkinson (AUS) is a regular at Cloud 9 having competed at the event for the last seven years. His experience at the wave paid off in a slow Round 3 heat where Parkinson found two diamonds in the rough to post a massive 17.14 heat total.
"These are the best waves I have seen during the Siargao Cloud 9 Surfing Cup," Parkinson said. "My heat was a bit slow but the waves were still incredible when they came. It reminds me of surfing at Snapper Rocks without the backwash. I haven't been competing consistently over the last few years but I love coming to this event and it's for days like today – it's so perfect."

Mitch Parkinson lining up the tube at Cloud 9.
Credit: © WSL / Tom Bennett
After a shaky start on Day 1 of Competition, 2015 Siargao Cloud 9 Surfing Cup Champion John Mark Tokong (PHL) came bursting out of the gates in Round Three. Tokong posted a near perfect 9.50 on his opening wave for a huge barrel to carve combination. The local legend waited patiently for a back up only needing two waves to win the heat.  He progresses into Round 4 with South African ripper Matthew McGillivray.
"I was not happy with my performance yesterday," Tokong said. "I know I'm better than that so it feels good to come here today and post a big score. The waves are amazing today, I think everyone is having such a good time just getting so barreled."

Local hero John Mark Tokong dominated his Round 2 heat at his home break Cloud 9.
Credit: © WSL / Tom Bennett
Nelson Cloarec (FRA) displayed immense poise in his Round Three heat win chasing a score until his final ride. Cloarec was unable to find a way to progress until the last ride of his heat opened up and allowed the Frenchman a wide tube ride and the score he needed to move into first and to Round Four.
"I'm so lucky to make this heat," Cloarec said. "The free surfs here are really hard to for practising as it is so busy. To get the opportunity to surf waves this perfect in a QS event is unreal, especially coming in peak season. I have never got waves this good in a QS so I am glad I will get the chance to surf again with only a couple of people out."
Fresh off taking out the ISA World Games, Mexican upstart Jonny Corzo (MEX) made his intentions clear with an opening heat win in Round 3. Hailing from the hollow beach breaks of Puerto Escondido in Oaxaca, Corzo is no slouch in the tube and it showed as the young natural-footer took his first WSL heat win of the year with a total of 16.37. "Coming from Puerto I just love getting barreled," Corzo said.
"I have done a few QS events this year and have not made a heat so I'm over the moon with that win. This wave is like a smaller right-hand version of Teahupoo in Tahiti – it's so sick and I'm stoked to be here."

Mexico's Jonny Corzo put on a dominant display during Round Three today.
Credit: © WSL / Tom Bennett
Another heat winner who pulled on experience in his own backyard was Nick Callister (AUS)from the Gold Coast. Callister effortlessly slid into the Cloud 9 tubes on his backhand as if it was just another day at Burleigh Point. Along with posting a near perfect 9.50, Callister also dismantled defending event winner Sandon Whittaker who was eliminated in Round 3.
"I definitely feel comfortable in right-hand barreling waves," Callister said. "It's just like surfing Snapper or Burleigh at home. This is my first time to this event and I love it, Cloud 9 is such a perfect wave and the island is beautiful. I try not to think about who is in my heat and just do my own thing, that seems to work best for me."
FOR LATEST RESULTS GO HERE
Tune in tomorrow as we look to complete Round Three and move into Round Four. The 2017 Siargao Cloud 9 Surfing Cup QS3000 will run from September 24 – 29. For more information and a live broadcast of the event, head to www.worldsurfleague.com or check the WSL App. Tune in tomorrow as we look to continue Round 2.