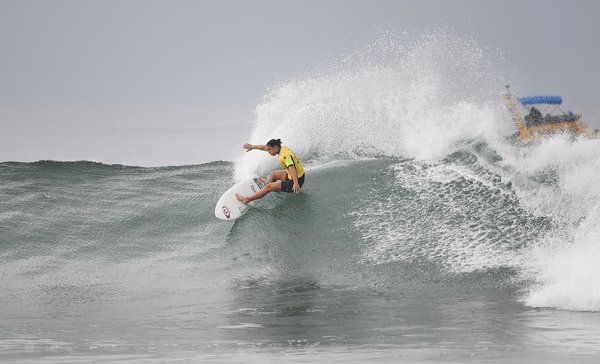 – MACY CALLAGHAN CONFIRMED AS EVENT WILDCARD
– MALIA MANUEL RETURNS TO COMPETITION AFTER FOUR EVENT ABSENCE
Reigning WSL Champion Tyler Wright (AUS) heads into the Swatch Pro as the defending event winner and World No. 1. Wright will face event wildcard Macy Callaghan (AUS) and Keely Andrew in the opening round of competition.
Credit: © WSL / Kirstin
Location:   
   Lower Trestles, San Clemente, California
Event window:
   

September 6 – 17, 2017

Today's call:
Conditions:         Upcoming
SAN CLEMENTE, California/USA (Wednesday, August 23, 2017) – The famed cobblestone break of Lower Trestles in San Clemente, California will host the world's best surfers for the Swatch Pro, Stop No. 7 of 10 on the World Surf League (WSL) Championship Tour (CT), starting September 6 and running through September 17, 2017. 
Universally-regarded as one of the most high-performance waves on the planet, it is no surprise that Trestles' past three winners have gone on to claim World Titles: Stephanie Gilmore (AUS)in 2014, Carissa Moore (HAW) in 2015, and Tyler Wright (AUS) in 2016. With only four stops remaining this season, the Swatch Pro will be crucial in the 2017 WSL Title race.
2016 WSL Champion Wright leads the Top 17 heading into the Swatch Pro, while Sally Fitzgibbons (AUS) trails closely in second and Courtney Conlogue (USA) in third. Six-time WSL Champion Gilmore has the opportunity to make a big jump up the rankings as she currently sits in the fourth spot on the Jeep Leaderboard.
Wright heads to Lowers as both the defending event winner and the Jeep Frontrunner. The Australian will battle to secure her second CT win this season and continue to strengthen her run for a back-to-back World Title. This event was critical to Wright's maiden WSL Title last season and another first-place result will have major implications on the 23-year-old's CT success.
Macy Callaghan (AUS) has been awarded the wildcard into the Swatch Pro. The 16-year-old will be one to watch in her career-first Championship Tour event when she comes up against Wright and 2016 Rookie of the Year Keely Andrew (AUS) in Round 1. Callaghan claimed the 2016 World Junior Title earlier this year and has been heating up on the Pro Junior Tour and her rookie year on the Qualifying Series. The Australian looks forward to competing against the best surfers in the world.
"I am honored and over the moon to have received the wildcard for the Swatch Pro," said Callaghan. "This year has been filled with many ups-and-downs so when I got the call up from Jessi, I literally sat there and cried. For this event, I am really focusing on having a good time and surfing the best that I can.
"I have only been to Trestles once so I am looking forward to surfing out there with only a few other girls out," continued Callaghan. "To be able to surf against the best female surfers in the world and to see what it is like to compete at the highest level will be an amazing experience! The girls on tour are amazing and so inspiring so getting to hang out with them is alway super cool!"
"I am really excited to grant the Swatch Pro wildcard to Macy Callaghan," said Jessi Miley-Dyer, WSL Women's Commissioner. "I selected Macy because she is close to qualifying for the Championship Tour and she has never surfed in a CT event. She is a future star of the sport, so I am excited that she will get to have the experience of going up against the Top 17."
Fitzgibbons, former runner-up at the Swatch Pro, will look to overtake Wright on the Jeep Leaderboard. Current World No. 2 Fitzgibbons previously earned a disappointing 13th place finish at this event in 2016 after falling to Coco Ho (HAW) in Round 2. Fitzgibbons will fight for a big comeback when she faces Ho and 2017 CT Rookie Bronte Macaulay (AUS) in Round 1.
Conlogue, current World No. 3, will take on fellow Californian Lakey Peterson (USA) and Laura Enever (AUS) in Round 1 of the Swatch Pro. Despite earning seven CT event wins, Conlogue has yet to claim a CT victory in her home state of California. Conlogue will put all on the line for the opportunity to earn her career-best result at Trestles and vault to the top of the Leaderboard.
Malia Manuel (HAW) will return to competition for the first time since the Drug Aware Margaret River Pro, where she suffered a sidelining knee injury. Manuel will be up against Sage Erickson (USA) and Nikki Van Dijk (AUS) in Round 1 Heat 6.
The event will be broadcast LIVE via WorldSurfLeague.com, the WSL app and on Facebook LIVE via the WSL's Facebook page…SPECTRUM/oc 250
For more information, check out WorldSurfLeague.com.
Swatch Pro Round 1 Match-Ups:
Heat 1: Johanne Defay (FRA), Tatiana Weston-Webb (HAW), Pauline Ado (FRA)
Heat 2: Stephanie Gilmore (AUS), Carissa Moore (HAW), Silvana Lima (BRA)
Heat 3: Tyler Wright (AUS), Keely Andrew (AUS), Macy Callaghan (AUS)
Heat 4: Sally Fitzgibbons (AUS), Coco Ho (HAW), Bronte Macaulay (AUS)
Heat 5: Courtney Conlogue (USA), Lakey Peterson (USA), Laura Enever (AUS)
Heat 6: Sage Erickson (USA), Nikki Van Dijk (AUS), Malia Manuel (HAW)