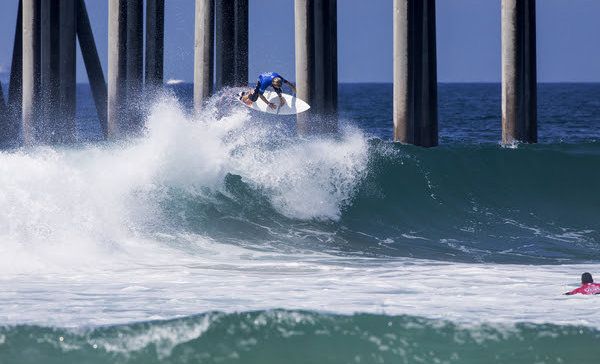 VANS US OPEN OF SURFING HEATS UP, EXCITING FINALS WEEKEND AHEAD
PAST EVENT WINNERS HIROTO OHHARA AND FILIPE TOLEDO FLOURISH
PRO JUNIOR WOMEN OPEN CAMPAIGNS WITH BIG PERFORMANCES

 CT veteran Josh Kerr (AUS) vaults through to Round 5 at the Vans US Open of Surfing Men's QS event.
Credit: © WSL / Rowland
HUNTINGTON BEACH, California/ USA (Friday, August 4, 2017) – Action continued today at the Vans US Open of Surfing with more eliminations in the Men's QS 10,000 (Rounds 3 and 4) and the Women's Pro Junior field narrowed down to the final eight competitors after finishing Round 1 and the Quarterfinals in three-to-five foot (1 – 1.5 metre) conditions in Surf City, USA.
Aerial master Josh Kerr (AUS) blasted the men's highest single-score, an excellent 9.00 (out of possible 10), against defending event champion Filipe Toledo (BRA) and Nat Young (USA) in Round 4 Heat 4. Toledo's signature air-game was on full display to match that of Kerr with a 7.33 on one maneuver. Toledo then capitalized on another solid wave to earn a 6.93 and take the win from Kerr and Young. The Brazilian's high-flying antics earned him a 14.26 (out of a possible 20) and garnered him new admirers to his already deep fanbase. With the top two competitors advancing in Round 4, both Toledo and Kerr will continue through to Round 5.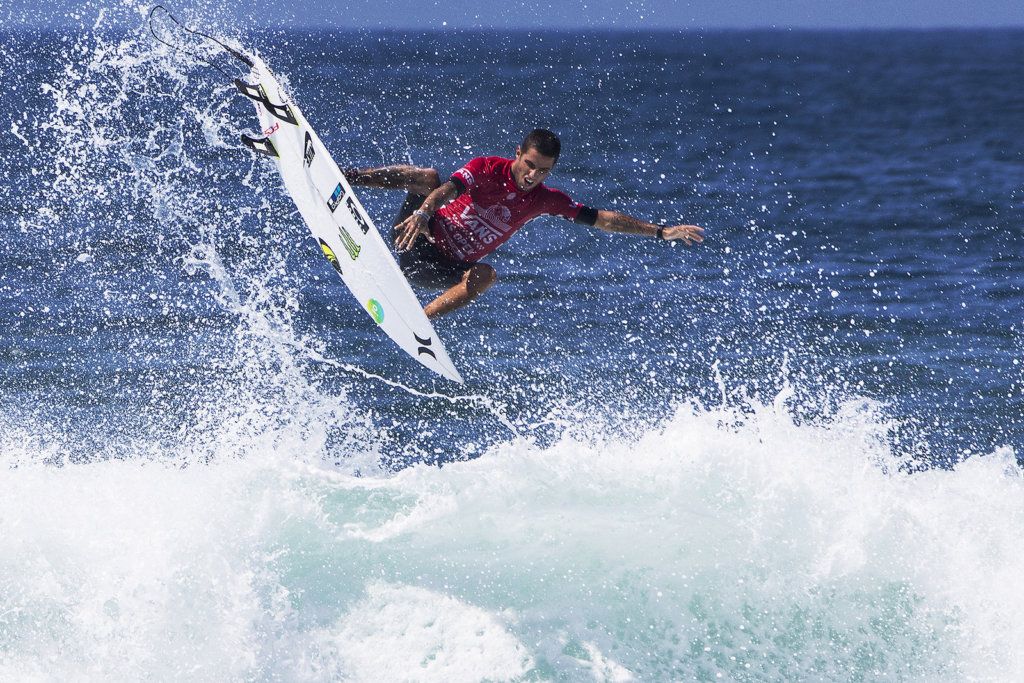 Filipe Toledo (BRA) surfing his Round 4 heat at the Vans US Open of Surfing Men's QS10,000 on Friday, August 4, 2017. PHOTO: © WSL/ Rowland SOCIAL @wsl
"The fun part about being a pro surfer is the fans and especially here in Huntington at one of the biggest sporting events in North America," Toledo said. "Coming up against Josh [Kerr] and Nat Young was a really tough one and it felt good to make it through even though Josh dropped that 9 on his first wave. I just kept my strategy and wanted to stay busy, so I'm stoked it worked. I'm feeling more confident each heat even though there's still a few rounds to go and feels good to be in the man-on-man heats now since I've gotten more used to it. Hopefully the swell hangs around a little bit and we can finish in some good waves."
The opening heat of Round 4 witnessed a clash of talent as 2015 Vans US Open of Surfing winner Hiroto Ohhara (JPN) bested hometown hero Kanoa Igarashi (USA), who will still advance to Round 5 with a runner-up finish, and CT veteran Jeremy Flores (USA). Ohhara continues to show he's a favorite at Huntington Beach with his heat win. The Japanese contender also carries a lot of pride, alongside his fellow countrymen, as they prepare for the 2020 Olympics that will exhibit surfing in his hometown.
"I really wasn't too sure if I made it and I was kind of nervous, but I heard that score from Jeremy [Flores] and knew I made it so I'm really stoked," Ohhara said. "I knew that was going to be one of the tougher heat draws in Round 4 so I just wanted to go out and try my best. I've won before here and I know if I give it my all I can battle with these guys and make it through. It'll be great having just one other guy in the water, and priority gets a lot easier, so I'm looking forward to it. To have surfing in the Olympics means everything to me because it's in my hometown in Chiba and that's really big for Japan — and really big for surfing."
Carlos Munoz (CRI) continued his brilliant run at the Vans US Open with a Round 4 Heat 5 win, but Dusty Payne (HAW) will also continue through with a second-place heat finish after eliminating Munoz's fellow Costa Rican contingent Noe Mar McGonagle (CRI). Payne also took out CT contenders Caio Ibelli (BRA) and Conner Coffin (USA) in Round 3 earlier this morning.
After an equal third at the Ballito Pro, current QS No. 4 Michael February (ZAF) is on his away to another big QS 10,000 result with a Round 4 heat win. February's positive mentality and powerful surfing on his backhand is creating problems for some of the world's best — specifically seasoned veteran Jadson Andre (BRA) and 2017 CT rookie Connor O'Leary (AUS). O'Leary will be eliminated, while February and Andre carry on into the next round.
"I'm just having fun out there and I feel like I haven't surfed this many heats in my career so far," February said. "It's been so nice being able to make heats. It's hard on the QS and sometimes because you can go without making one for so long, but it's great to just keep rolling through. Obviously surfing against the best guys in the world was a very different experience and just the waves were so good. Surfing against guys who were in World Title contention was pretty crazy and then you come back to this where everyone is super hungry and really wanting to get to that Tour."
An all-California matchup between San Clemente natives Griffin Colapinto (USA), and brothers, Patrick and Tanner Gudauskas (USA) unfolded and a tight heat ensued — only 0.97 separated all three by the end. The eldest Gudauskas, Patrick, came away with the win. Colapinto's final wave, a 3.37, was enough to solidify his spot into Round 5 over Tanner, who fell shy of the 5.97 needed on his last opportunity. Patrick's Round 3 performance was one to take note of as well as he eliminated QS No. 1 ranked Jesse Mendes (BRA).
"It was kind of funny because Tanner [Gudauskas] and I were sitting out there talking heat strategy, but we're going against each other," Gudauskas said. "At first when we started competing together we always talked about working together and all, but it can get distracting worrying about someone else. Griffin [Colapinto] is probably the man to beat on the QS right now, he's just a Top 5 kind of guy and he's just surfing incredible. I get really excited and the crowds bringing a lot of energy down here so I've just been trying to keep my headphones on and just trying to breathe. But, I'm looking forward to the next one and see how far I can go."
Tomas Hermes (BRA) snuck through to Round 3 with a buzzer-beater wave, and in Round 4, Hermes continued his heroics to earn a massive heat win over CT competitors Frederico Morais (PRT) and Italo Ferreira (BRA). With a good support system around him, the 30-year-old will be a  major threat moving forward.
"I really don't try to think about who I'm competing against," said Hermes.  "After my foot injury last year, I'm coming back totally different right now. My wife is one of the most important people in my life. She's my best friend, my coach, and she's so focused, which helps me focus that much more. It's a perfect combination and it gives me a lot of confidence in every event I compete in so I'm just really happy."
Once the men locked in their upcoming two-man, Round 5 duels, the Women's Pro Junior event got underway and upsets were scattered among the results by the day's end. Increasingly familiar faces within the international ranks continue to show their talent around the world as top seeds Leilani McGonagle (CRI) and Kirra Pinkerton (USA) were eliminated by Macy Callaghan (AUS) and Teresa Bonvalot (PRT) in their respective heats.
But, it was two-time Vans US Open of Surfing winner Caroline Marks (USA) who blasted the day's highest performance with a 9.50 single-wave score and heat total of 17.00. The 15-year-old dominated her heat today with her powerful forehand snaps and aggressive carves. Marks' style has been compared to that of former World Champion Mark Occhilupo with her deep bottom-to-top combinations and deadly backhand when it's needed.
"I'm really confident coming here after winning it twice and also not feeling any pressure because of that, but every time you compete here it's completely different," Marks said. "The wave is always different. It's challenging, which is really cool because you can win in different ways. It's fun with all the nicknames like 'Occoline' and 'Carolupo' that Damien [Hobgood] gave me and to even be compared to him is the best thing ever."
Reigning WSL Junior Champion Callaghan ripped apart the sporadic afternoon conditions with two heat wins and finds herself back into the Vans US Open of Surfing Semifinals. The Australian unleashed a brilliant Quarterfinal performance on her forehand attack to earn a solid 15.76 heat total en route to her victory. While no points are on offer for Callaghan being out of region, the world traveler is gaining plenty of experience at each stop and only making her more dangerous for years to come with the support around her.
"It's definitely different surfing here with all the crowds and I get a little nervous, but you just have to block that out," Callaghan said. "I get to travel with my mom most of the time and she's amazing with her support. I wouldn't be here without her. It's nice to have my team managers and coaches all around the world helping me out as well since I'm focusing more on the QS now and trying to qualify. This is only my second time here so I'm relying on that local knowledge from Micah [Byrne] since I didn't know much about this place which has been amazing."
Bonvalot played her role of spoiler to current No. 3 Pinkerton, but Meah Collins (USA) earned her spot into the Semifinals in the runner-up position.
Current North America Women's Pro Junior No. 3 Samantha Sibley (USA) is into her first Vans US Open Semifinal after her Quarterfinal victory along with No. 1 ranked Alyssa Spencer (USA).
The Vans US Open of Surfing will recommence tomorrow at 7:30 a.m. with Round 5 of the Men's QS event, followed by the Women's and Men's Pro Junior Semifinals and Finals.
 Reinforcing S/SSE leveling size off Friday into the final weekend of the event, as small NW windswell energy lingers. Sunday will see lingering SSE swell, small new SSW swell, and a tinge more NW windswell. Conditions remain favorable for the mornings, a light to moderate Westerly sea-breeze developing in the afternoons. Surfline.
The Vans US Open of Surfing will be broadcast LIVE from July 31 – August 6 via VansUSOpenofSurfing.com, WorldSurfLeague.com, the WSL app and on Facebook LIVE via the WSL's Facebook page. OC250.
For more information, check out WorldSurfLeague.com and for continued updates and scheduling for the Vans US Open of Surfing visit VansUSOpenofSurfing.com.
Vans US Open of Surfing Men's QS 10,000 Remaining Round 3 Results (H9-12):
Heat 9:  Jadson Andre (BRA) 11.93, Dusty Payne (HAW) 9.86, Caio Ibelli (BRA) 7.40, Connor Coffin (USA) 6.80
Heat 10: Griffin Colapinto (USA) 12.63, Tomas Hermes (BRA) 12.60, Maxime Huscenot (FRA)11.83, Mitch Crews (AUS) 11.83
Heat 11: Patrick Gudauskas (USA) 12.80, Frederico Morais (PRT) 12.53, Soli Bailey (AUS) 8.33, Jesse Mendes (BRA) 7.50
Heat 12: Italo Ferreira (BRA) 14.24, Tanner Gudauskas (USA) 12.17, Joshua Moniz (HAW) 10.76, Marco Giorgi (URY) 8.77
Vans US Open of Surfing Men's QS10,000 Round 4 Results:
Heat 1: Hiroto Ohhara (JPN) 13.80, Kanoa Igarashi (USA) 12.36, Jeremy Flores (FRA) 11.77
Heat 2: Stuart Kennedy (AUS) 13.17, Ricardo Christie (NZL) 13.07, Alejo Muniz (BRA) 11.73
Heat 3: Adam Melling (AUS) 13.60, Davey Cathels (AUS) 11.86, Evan Geiselman (USA) 7.47
Heat 4: Filipe Toledo (BRA) 14.26, Josh Kerr (AUS) 13.67, Nat Young (USA) 5.80
Heat 5: Carlos Munoz (CRI) 9.37, Dusty Payne (HAW) 9.34, Noe Mar McGonagle (CRI) 7.97
Heat 6: Michael February (ZAF) 12.04, Jadson Andre (BRA) 11.56, Connor O'Leary (AUS) 10.17
Heat 7: Patrick Gudauskas (USA) 11.00, Griffin Colapinto (USA) 10.97, Tanner Gudauskas (USA) 10.03
Heat 8: Tomas Hermes (BRA) 14.83, Italo Ferreira (BRA) 13.23, Frederico Morais (PRT) 10.50
Vans US Open of Surfing Men's QS10,000 Round 5 Match-Ups:
Heat 1: Hiroto Ohhara (JPN) vs. Ricardo Christie (NZL)
Heat 2: Stuart Kennedy (AUS) vs. Kanoa Igarashi (USA)
Heat 3: Adam Melling (AUS) vs. Josh Kerr (AUS)
Heat 4: Filipe Toledo (BRA) vs. Davey Cathels (AUS)
Heat 5: Carlos Munoz (CRI) vs. Jadson Andre (BRA)
Heat 6: Michael February (ZAF) vs. Dusty Payne (HAW)
Heat 7: Patrick Gudauskas (USA) vs. Italo Ferreira (BRA)
Heat 8: Tomas Hermes (BRA) vs. Griffin Colapinto (USA)
Vans US Open of Surfing Women's Pro Junior Round 1 Results:
Heat 1: Macy Callaghan (AUS) 10.66, Avery Aydelotte (USA) 7.33, Kayla Coscino (USA) 6.16, Malia Faramazi (USA) 3.03
Heat 2: Teresa Bonvalot (PRT) 12.67, Tiare Thompson (USA) 11.63, Emily Gussoni (CRI) 7.43, Nicole Fulford (USA) 6.67
Heat 3: Minori Kawai (JPN) 12.50, Rachel Presti (USA) 10.43, Hannah Blevins (USA) 6.33, Alexa Muss (USA) 2.50
Heat 4: Autumn Hays (USA) 14.80, Brisa Hennessy (HAW) 14.00, Molly Kirk (USA) 7.16, Sophie Falzone (USA) 6.63
Vans US Open of Surfing Women's Pro Junior Quarterfinal Results:
QF 1: Macy Callaghan (AUS) 15.76, Tiare Thompson (USA) 11.70, Leilani McGonagle (CRI) 9.70, Bella Kenworthy (USA) 9.03
QF 2: Teresa Bonvalot (PRT) 13.43, Meah Collins (USA) 10.83, Kirra Pinkerton (USA) 10.77, Avery Aydelotte (USA) 4.67
QF 3: Caroline Marks (USA) 17.00, Brisa Hennessy (HAW) 13.70, Bethany Zelasko (USA) 13.23, Minori Kawai (JPN) 7.17:
QF 4: Samantha Sibley (USA) 10.67, Alyssa Spencer (USA) 9.74, Rachel Presti (USA) 9.03, Autumn Hays (USA) 7.60
Vans US Open of Surfing Women's Pro Junior Semifinal Match-Ups:
SF 1: Macy Callaghan (AUS), Tiare Thompson (USA), Teresa Bonvalot (PRT), Meah Collins (USA)
SF 2: Caroline Marks (USA), Brisa Hennessy (HAW), Samantha Sibley (USA), Alyssa Spencer (USA)
Vans US Open of Surfing Women's CT Semifinal Match-Ups:
SF 1: Tatiana Weston-Webb (HAW) vs. Coco Ho (HAW)
SF 2: Sage Erickson (USA) vs. Courtney Conlogue (USA)