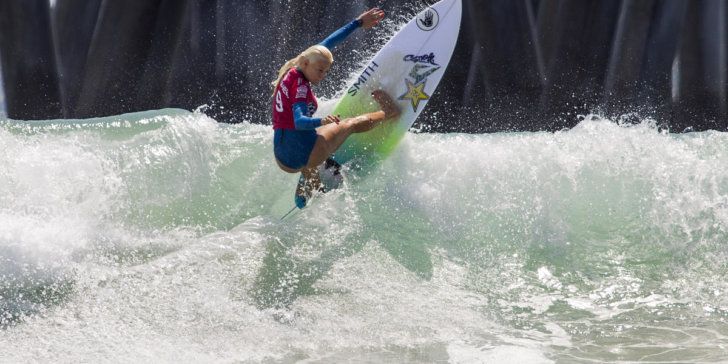 At the halfway mark for the WSL 2017, it's anyone's game.
Image: Defending Champ, Tatiana Weston-Webb winning the 2016 Vans US Open of Surfing.WSL / KENNETH MORRIS
Can Steph cement her place in the history books with her 7th trophy?
Will Tyler go back-to-back?
Could Courtney finally break her runner-up curse?
Or will Sally's hard work in the gym finally pay off?
We're halfway to finding out – and we can't wait to see what happens in Surf City.
Fantasy Geek: 2017 Vans US Open of Surfing
June 4 was the last day we got to watch the women square off in Championship Tour (CT) competition with Courtney Conlogue beating Tatiana Weston-Webb at solid Cloudbreak. After a nearly two-month break, fans everywhere are ready to tend to their Fantasy teams and make some picks again. Lucky for us, the Vans US Open of Surfing is gearing up for the best run of swell this event has seen in years.
While Tier A usually houses event favorites, Huntington Beach tends to have a mind of it's own. Of the top three seeds this year, only Sally Fitzgibbons (13.37) has an Average Heat Score (AHS) in the Top 5 of surfers currently on Tour. Stephanie Gilmore and Jeep Leader Tyler Wright fall all the way down to 8th and 10th respectively with AHS of 12.44 and 12.2.
Sitting at No.2 on the Jeep Leaderboard, Sally Fitzgibbons will be fired up heading into this next event.WSL / SEAN ROWLANDFitzgibbons does make up for whatever she lacks in AHS by leading the way in Heat Win Percentage (HWP), where she cruises at a 69 percent clip. Having won in 2011, she's one of the six women on Tour to win this event over the past six years.
While Fitzgibbons has the edge in consistency here, Wright has come on as of late with a win in 2014 and two Semifinals, in 2016 and 2013. Keep in mind she was only 17 when this event became a CT in 2011 and has clearly stepped her game up to a new level over the past two seasons, and is dominating this year with a 14.96 AHS, 12 of them being Excellent Heats (with two top scores of 8.00 or above).
Tyler Wright on her way to a Round One victory WSL / KENNY MORRIS
Catch the whole story/analysis at
WSL HERE
Then make your picks for the Girls & Guys
HERE
And just in case you missed some fun highlights of J Bay…

and this HERE will pump you up for Tahiti.
Watch all the latest surfing action of the world's best surfers in the world's best waves. Heats on demand, event highlights, and exclusive interviews, right here on the WSL's Youtube channel.
For More Visit: http://www.worldsurfleague.com/