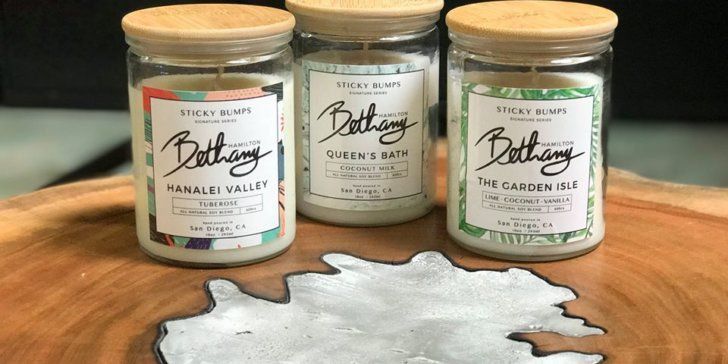 BETHANY HAMILTON IS SENDING ALOHA OUT TO THE WORLD
with Scented candle line featuring Kauai themes
Surf News Network July 25. Sticky Bumps announced this week the launch of team-rider Bethany Hamilton's new line of candles.
"We worked closely with Bethany to get the look, feel and scents of the candles to match what Bethany would have in her own home," Sticky Bumps said in a statement. "The scents we developed were with Bethany's beloved Kauai in mind. The candles are made of a 100% all-natural soy/meadow foam wax blend, are hand-poured in our San Diego factory, and the glass is totally re-usable.
The candles feature an Eco friendly bamboo lid and scents such as "Hanalei Valley" Tuberose, "Queen's Bath" Coconut Milk, and "The Garden Isle" and "Coconut+lime+vanilla" …each will transport you from anywhere in the world straight to Kauai's beaches and gardens.
"Bethany has been a member of our Sticky Bumps Family for over 10 years, and has had a signature traction pad with us since 2011. It only made sense that a signature candle line was the next step!"
Available now in our online store! HERE