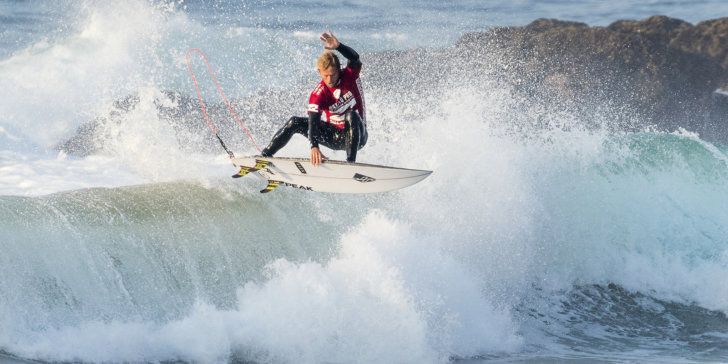 BRAZILIANS IMPRESS ON DAY 3 OF BALLITO PRO PRES. BY BILLABONG
– MICHAEL FEBRUARY ADVANCES INTO ROUND 4
– COUNTLESS TOP SEEDS BOW OUT ON DAY 3
-NAT YOUNG STAYS IN AS HE TRIES TO GET BACK ON THE WCT
-KEANU ASING LAST HAWAIIAN STANDING AS BILLY KEMPER, TORRIE MEISTER, SETH MONIZ ELIMINATETED IN ROUND2Front page image: Josh Kerr of Australia (pictured) advanced to Round Three of the Ballito Pro presented by Billabong, a World Surf League QS10,000 rated event after winning Heat 15 of Round Two at Willard Beach, Ballito, South Africa 

today Wednesday, July 5, 2017.  PHOTO: © WSL / Cestari SOCIAL : @wsl @kc80.
Caption: Michael February (ZAF) scored one of the best waves of the day with an 8.50.


Credit:
 © WSL / Cestari
Location:   
Willard Beach, Ballito, KwaZulu-Natal / South-Africa
Event window:
July 3-

9, 2017

Today's call:
Rd, Rd3 H1-2 Completed. Next Call 

6:45 a.m

 

Thursday
WILLARD BEACH, Ballito, KwaZulu-Natal / South-Africa (Wednesday, July 5, 2017) — Brazilian surfers posted impressive performances on Day 3 of the Ballito Pro pres. by Billabong, winning seven of the 13 heats contested and filling another five runner-up spots to stay in contention in the first QS10,000 rated event of the year.
Organizers completed the remaining 11 heats in Round 2 and the first two heats of Round 3 before putting the event on hold, and then calling it off for the day as the onshore sea-breeze freshened early in the afternoon.
Former World Surf League (WSL) Championship Tour (CT) member Heitor Alves (BRA) delivered the day's highest heat total, and the third highest of the event so far, with 15.50 points out of a possible 20 in his Round 2 match-up.
Starting with a 6.03, Alves consolidated his lead by adding a 6.67 and then waited down the beach from his rivals where he snagged an excellent 8.83, powering off the bottom and smashing the lip with the most powerful backhand maneuver of the day.
"It's good, I've been here for a month and I've been training a lot in this wave so I'm confident and just try to enjoy it out there," said Alves. "I sat away from the other competitors by myself and got the waves that won the heat, so it worked!
"This event is very important. I'm not sponsored and I try to pick the best contests to go to that cost the least money. So I came to South Africa and now I've made my first heat and I'm happy. For me the tour starts right now and I'm focussed on getting a good result that will push me to the top of the rankings for qualifying."
Other Brazilians who won their heats and joined Alves in Round 3 include Tomas Hermes, Michael Rodriques, Victor Bernardo and Willian Cardoso.
Nat Young (USA), who narrowly missed out on requalifying for the CT at the end of last year, is another for whom the first QS10,000 rated event of the year is vitally important for his aims of getting back on the elite tour.
"The Ballito Pro is really important, it's the first QS10,000 of the year so it would be great to do well here, " Young explained. "Last time I was here I got third so I I've had some success and the waves are fun so I'm just looking forward to it and I'll be trying to make us many heats as possible."
The 26-year-old from Santa Cruz caught his two counting rides early in the heat and used the priority system to good effect to ensure that his opponents couldn't overtake him.
"I got a couple of scores at the start, two sixes or something like that. Those aren't great scores but even though there are a lot of waves it's kind of hard to find the ones with a lot of potential. After that, I had priority so I was just making sure that if a good wave came that I was going to catch it."
Round 3 started with a high scoring encounter featuring local favourite Michael February (ZAF) , Charles Martin (GLP), former US Open of Surfing winner Hiroto Ohhara (JPN) and 2014 Ballito Pro winner Alejo Muniz (BRA).
Muniz got off to a great start with a near excellent 7.83 and Ohhara followed suit with a 7.0, and then briefly took the lead with a 1.93. Martin moved down the beach and caught two waves that bumped him into second spot while February's first four rides were all throwaway scores.
The South African then bounced back into contention with an excellent 8.83, matching the third-highest ride of the event for a high-flying aerial rotation in the power pocket and powerful closing maneuver that had the partisan crowd on their feet applauding.
February then took the lead with a 5.77, but Muniz fought back with a 7.03 to reclaim the lead. The packed beach was on tenterhooks throughout the last three minutes as first Martin and then Ohhara challenged for second place,  but February hung onto to his advancing position and is through to the last 24 in the event.
"It would've been nice to get a better wave earlier on in the heat, but in the beginning I was kind of up and down the whole time. I knew there were a lot of waves all over the beach so I went and sat a little deeper and that worked out for my best wave," February explained.
"After that I felt a little more comfortable and decided to sit with everyone else to get a backup, but Alejo and Hiroto can get scores on any waves so I'm definitely happy to make my heat. I've been coming here for a few years and just the support and having everyone backing you means a lot. You surf for yourself but it's really nice to have everyone here and you want to do it for them as well."
Organizers will meet at first light on Thursday morning and make a call at 06.45 am on when to get the remaining Round 3 heats underway
When competition resumes 2016 runner-up Joan Duru (FRA) will be up against Keanu Asing(HAW), Griffin Colapinto (USA) and Ezekiel Lau (HAW) in Heat 3 of Round 3.
Top seed and current World No. 3 Jordy Smith (ZAF) will be in Heat 5 of Round 3.
The Ballito Pro pres. by Billabong is proudly supported by the KwaDukuza Municipality, Billabong, 5FM, Capitec Bank, Casio, North Coast Courier, Monster Energy, Zigzag Surfing Magazine, World Surf League (WSL) and Surfing South Africa (SSA).
REMAINING BALLITO PRO PRES. BY BILLABONG ROUND 3 MATCHUPS:
Heat 3: Joan Duru (FRA), Keanu Asing (HAW), Griffin Colapinto (USA), Ezekiel Lau (HAW)
Heat 4: Joshua Moniz (HAW), Tanner Gudauskas (USA), David Van Zyl (ZAF), Marco Giorgi (URY)
Heat 5: Miguel Pupo (BRA), Vicente Romero (ESP), Adam Melling (AUS), Jordy Smith (ZAF)
Heat 6: Ramzi Boukhiam (MAR), Ryan Callinan (AUS), Diego Mignot (FRA), Brett Simpson (USA)
Heat 7: Jacob Willcox (AUS), Tomas Hermes (BRA), Mikey Wright (AUS), Leonardo Fioravanti (ITA)
Heat 8: Michael Rodrigues (BRA), Josh Kerr (AUS), Yago Dora (BRA), Dion Atkinson (AUS)
Heat 9: Parker Coffin (USA), Wade Carmichael (AUS), Samuel Pupo (BRA), Yadin Nicol (AUS)
Heat 10: Vasco Ribeiro (PRT), Nat Young (USA), Patrick Gudauskas (USA), Lucas Silveira (BRA)
Heat 11: Nathan Yeomans (USA), Victor Bernardo (BRA), Cooper Chapman (AUS), Flavio Nakagima (BRA)
Heat 12: Willian Cardoso (BRA), Heitor Alves (BRA), Ethan Ewing (AUS), Kilian Garland (USA)
BALLITO PRO PRES. BY BILLABONG ROUND 3 RESULTS:
Heat 1: Alejo Muniz (BRA) 14.86, Michael February (ZAF) 14.60, Charly Martin (GLP) 11.20, Hiroto Ohhara (JPN) 8.93
Heat 2: Krystian Kymerson (BRA) 13.67, Jesse Mendes (BRA) 13.10, Jeremy Flores (FRA) 10.40, Marc Lacomare (FRA) 7.40
REMAINING BALLITO PRO PRES. BY BILLABONG ROUND 2 RESULTS:
Heat 14: Tomas Hermes (BRA) 14.34, Yago Dora (BRA) 12.53, Kiron Jabour (HAW) 10.34, Tom Whitaker (AUS) 9.60
Heat 15: Josh Kerr (AUS) 14.60, Mikey Wright (AUS) 14.43, Torrey Meister (HAW) 11.16, Billy Stairmand (NZL) 9.73
Heat 16: Michael Rodrigues (BRA) 14.73, Leonardo Fioravanti (ITA) 14.33, Aritz Aranburu (ESP) 13.07, Thiago Camarao (BRA) 8.73
Heat 17: Parker Coffin (USA) 12.00, Lucas Silveira (BRA) 11.36, Hizunome Bettero (BRA) 11.30, Jack Freestone (AUS) 9.84
Heat 18: Wade Carmichael (AUS) 13.00, Patrick Gudauskas (USA) 12.66, Reef Heazlewood (AUS) 11.50, Bino Lopes (BRA) 8.80
Heat 19: Nat Young (USA) 12.50, Samuel Pupo (BRA) 12.43, Mitchel Coleborn (AUS) 9.00, Billy Kemper (HAW) 7.23
Heat 20: Vasco Ribeiro (PRT) 11.83, Yadin Nicol (AUS) 10.83, Ricardo Christie (NZL) 9.07, Ian Gouveia (BRA) 8.77
Heat 21: Nathan Yeomans (USA) 12.76, Kilian Garland (USA) 11.63, Alex Ribeiro (BRA) 10.90, Stuart Kennedy (AUS) 10.90
Heat 22: Victor Bernardo (BRA) 12.34, Ethan Ewing (AUS) 11.96, Pedro Henrique (PRT) 10.90, Dimitri Ouvre (FRA) 7.90
Heat 23: Heitor Alves (BRA) 15.50, Cooper Chapman (AUS) 14.30, Seth Moniz (HAW) 10.00, Soli Bailey (AUS) 6.37
Heat 24: Willian Cardoso (BRA) 13.07, Flavio Nakagima (BRA) 10.83, Jackson Baker (AUS) 8.00, Santiago Muniz (ARG) 6.43