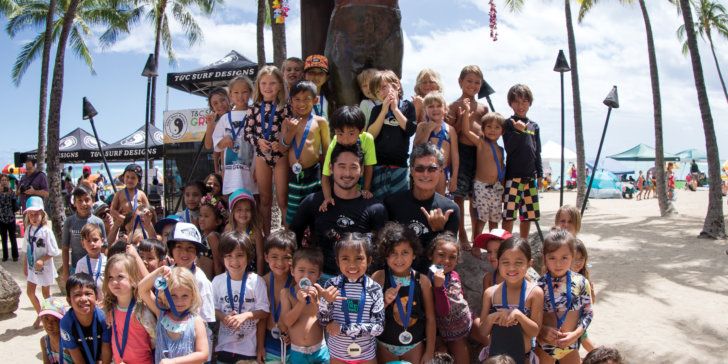 Kokua awards under Duke Kahanamoku Statue.
Image: Tony Heff
Queen's, Waikiki
Surf News Network (May 26, 2017)
In the heart of Waikiki, at one of the most popular surf breaks in the world, T&C Surf kicked off its 20th annual grom competition. Once an area where royalty hung out and played, 327 amateur groms now infiltrated these Waikiki shorelines waiting for their turn to charge the 2-4-foot surf.
Groms, parents, aunties, and uncles left home before the sun came up to make their yearly trek to the shores of Waikiki to set up camp. Digging in the sand with overflowing coolers, beach chairs and towels shaded by a canopy for the weekend all for the groms. Yes, hundreds of groms ready to embrace the stoke of surfing in this contest for the umpteenth time is a wholesome family ritual for many of these natives. Those who are here for their first time, learn quickly why this contest is so popular. Who can deny the spirit of aloha, the welcoming Ohanas, and excitement geared toward the Keiki that this event has been built upon?
The T&C Surf Grom Contest includes a weekend of surfing where groms compete without the weight on their shoulders of rated surf contests. They aren't competing in HASA or NSSA just yet; they don't have sponsor stickers all over their boards.  So, this contest is special because it's just for the fun of it. These kids ages 3-12 showcase their amateur skills in front of a large crowd of parents, friends, family and visitors or anyone else who has wandered down the beach.  Not be intimidated by the competitive surfer, it allows the novice surfers, who are just learning to surf, a chance to enter a contest.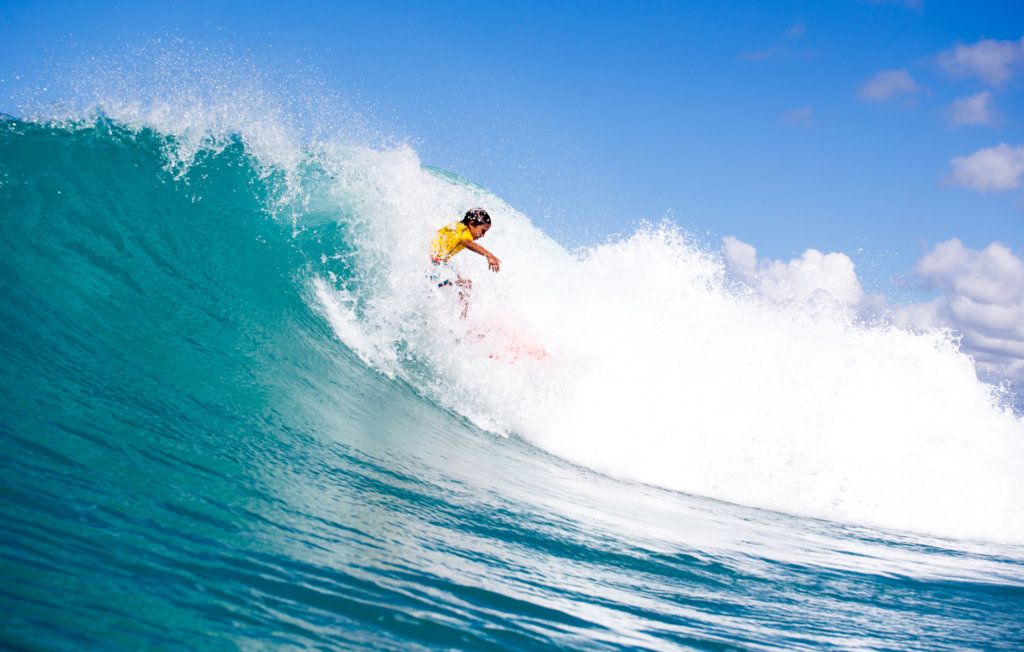 Boys Shortboard Div.: late drop into Queens Surf Perfection
Image: Keoki Saguibo
With clean 2-4 foot surf rolling in at Queens, Saturday kicked off with the boy's shortboard 9-10-year-olds paddling out into the lineup. With visions of moving up through the day, contestants were fully loaded with excitement and energy putting forth a nothing less than all-out effort. And just like their surfing idols, these mini wave riders dug deep, caught many great waves and had the opportunities to show off their abilities in the great surf.  Elated parents crowded the water's edge as their young ones surfed their hearts out, competing to place in the final six.
Pint size groms entered in the Kokua division for 3-6-year-olds had their turn to showcase their skills at Baby Queens. Taking a wobbly stance with arms stretched out wider than the grins on their faces, each one accomplished what they came for… the pure stoke of catching a wave. With the parental support of tandem style surfing or just offering a push into the frothy surf, these groms were delighted in catching the bug of surfing.  All 90 participants in the Kokua Division were awarded a medal and goodie bag.
2-3 foot waves broke across the line-up on Sunday as the first heat of 6-8-year-old shortboard boys paddled out at 7 am trailed by the girls longboard ages 10-12 soon after. Amongst heats, the kids were challenged in entertaining beach games like chicken katsu, Simon says, and stack the wax. There was even a design your own surfboard contest where the first place winner, Angelina Facchini will receive a custom skateboard from Aluminati with her artwork featured on the deck of a new board. Chili's Grill & Bar delivered hearty lunches for all the competitors along with chilled coconut water from Naked Juice.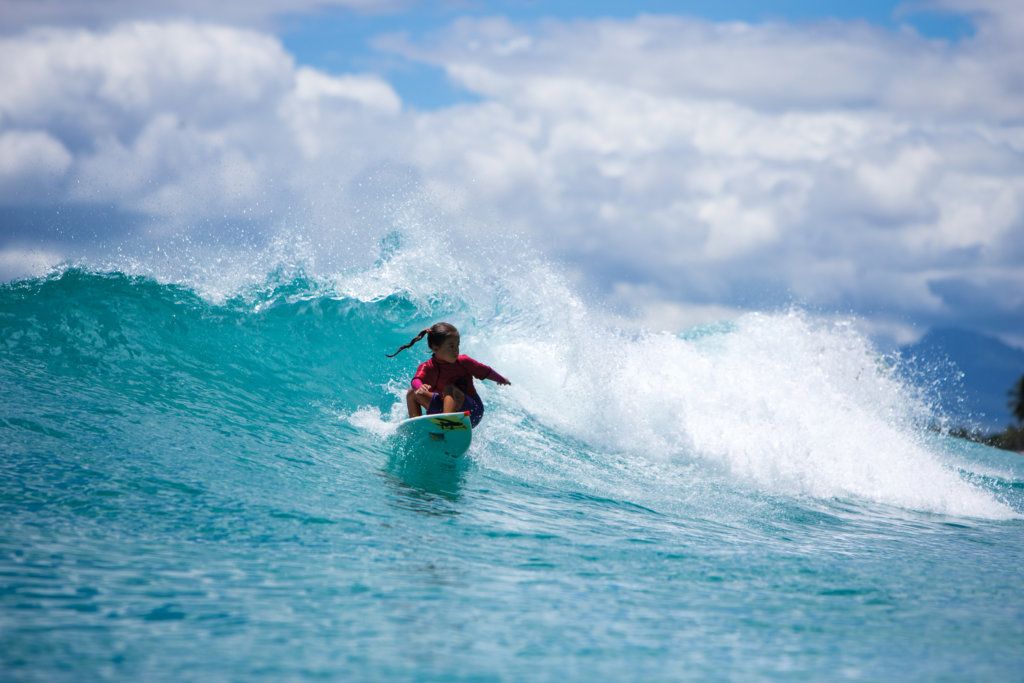 Girls Shortboard Div. ripping into a cut back
Image: Tony Heff
On Sunday, Kaleo Realtor took down the 11-12 boys shortboard division, impressing the judges and winning the finals. Brayden Padilla landed a close second, and Joseph Rudd in third. With pressure on in the finals, Sydney Doi took first in the 11-12 girls division beating out Lin Iiniuma, Luluhia Kane, Marina Fonseca, Hokulani Topping and Emma Pascua Mitchell who took 2nd through 6th place, respectively. Evan Padilla claimed the boys shortboard in the 9-10 age group and Isla Sexton claimed the girls division. Taking home the first-place trophy in the boys shortboard 6-8 was Bruno Ferri and in the girls division it was Skai Suitt after placing 6th last year. Top six surfers in the boys and girls coed bodyboard divisions in the 6-9 and 10-12 age groups all claimed medals and awesome prize packs.
In the girls longboard 6-9 division, some fantastic performances showed by Haven Ingbino Francisco taking first, followed by Gemma Gause in second and Celina Rizzo Murray taking third. Nailing the final, winning first place honors in 10-12 was Sophia Culhane beating her competition Journey Regelbrugge and DeJonne Mars. In the boys Longboard 6-9 division, Mala'e Mcelheny a fiery competitor, claimed first place moving up from second place last year, followed by Jeremiah Dale.  Andy Sisam took 3rd place honors again this year. In the 10-12 division, some fantastic performances showed once again that there is some great up and coming longboarders.  Jack Ho came out on top claiming first place, in electric form throughout the day's competition was second place Ezra Clark, and taking third was Tristian Rizzo-Murray for boys division. Nevertheless, everyone who competed came away winning, with goodie bags for all, great surf, a few memorable wipe-outs and bragging rights.
The whole weekend was run in great spirits.  Two female competitors were each awarded a custom T&C shortboard, both who have never had a brand-new surfboard. Other groms gripped their lucky numbers eager for their ticket to be called as they ached to win a magnificent prize. Prizes included Go Pro Hero sessions cameras, Aluminati, Penny, and Sector 9 skate decks, Oakley and Von Zipper sunglasses, Triad bodyboards, Nixon watches and more. When all was said and done, every grom enjoyed a weekend full of stoke and cherished memories.
T&C Surf along with the support of Chili's Grill & Bar, FreeSurf Magazine, Vans, Dakine, Go Pro, Boardstories, Vertra and the Boys & Girls Club of Hawaii hosted the 20th annual competition held in this legendary surf break beneath the welcoming arms of "the father of surfing".
ABOUT THAT CONTEST
"We moved to Oahu a year and a half ago and our daughter Chesney was entered in the Kokua division in 2016. That experience lit her passion for surfing. She came back this year and placed 5th in the girl's short board 6-8 division! Thank you for such a fun, well-organized event! I had to show you this pic of her chalk art the morning of the contest…hard to read but it says, "I am going to win the surf contest". She definitely won in the fun category!" Jennifer Crawford, parent.
"We love that our children get to surf in a fun environment with the children of the pro surfers we grew up looking up to!" Joseph Megill, parent.
"An awesome event that our family enjoys coming to! T&C Surf and their supporters go all out for this one!" Palakiko Family
"Thanks for putting on an amazing contest for our Keiki! We came over from Kauai and loved how organized and well run it was. Thank you T&C!" Kasey Hill Buick, parent.
RESULTS for the 20th ANNUAL T&C SURF SURFER MAGAZINE GROM CONTEST
@ QUEEN'S – WAIKIKI MAY 20-21, 2017
SHORTBOARD GIRLS  (6-8)

1. Skai Suitt

2. Kaya Pestana

3. Elliana Schiffner

4. Olivia Mullen

5. Chesney Guinotte

6. Ulia Goldsman

SHORTBOARD BOYS (6-8)

1. Bruno Ferri

2. Olan Kokoro Johnson

3. Kielan Jardini

4. Ethan Simran

5. Po'i Tomas

6. Seizo Sexton

SHORTBOARD GIRLS (9-10)

1. Isla Sexton

2. Vaihitimahai Inso

3. Paikea Tejada

4. Coco Hakikawa

5. Kaipo'i Koa

6. Kainoa Tejada

SHORTBOARD BOYS (9-10)

1. Evan Padilla

2. Kai Fernandez

3. Kenny Nishimoto

4. Avi Kikitasis

5. Stone Suitt

6. Kalani Norton

SHORTBOARD GIRLS (11-12)

1. Sydney Doi

2. Lin Iiniuma

3. Luluhia Kane

4. Marina Fonseca

5. Hokulani Topping

6. Emma Pascua Mitchell

SHORTBOARD BOYS (11-12)

1. Kaleo Realtor

2. Brayden Padilla

3. Joseph Rudd

4. Pheonix Padaca

5. Kalai Delaroe

6. Sean Wilbur

LONGBOARD GIRLS (6-9)

1. Haven Ingbino Francisco

2. Gemma Gause

3. Celina Rizzo Murray

4. Kula Blomfield

5. Evelyn Cody

6. Cash Hover

LONGBOARD BOYS (6-9)

1. Mala'e Mcelheny

2. Jeremiah Dale

3. Andy Sisiam

4. Moses Kaleopaa

5. Enzo Rose

LONGBOARD GIRLS (10-12)                                                                                                  

1. Sophia Culhane

2. Journey Regelbrugge

3. DeJonne Mars

4. Lucy Rust

5. Adri Borello

6. Josephine Kopasz

LONGBOARD BOYS (10-12)

1. Jack Ho

2. Ezra Clark

3. Tristian Rizzo-Murray

4. Friday Slobado

5. Tevaiari Blomfield Foster

6. Kekoa Lufurano

BODYBOARD COED (6-9)

1. Leighann Hashimoto

2. Heaven Palakiko

3. Audriana Leedy Maldonado

4. Lawwakua Inso

5. Kaienna Fuentes-Arellano

6. Dax Mooreman

BODYBOARD COED (10-12)

1. Evan Vaughs

2. Cole Wolcott

3. Zardin Kulia

4. Parker Gawiran

5. Princeton Wilhelm-Salvido

6. Benji Peterson

 
About T&C Surf
Founded in 1971 by surfboard shaper Craig Sugihara, T&C Surf operates three divisions: surfboards, retail and licensing. The surfboard division operates from a state-of-the-art shaping facility in Wahiawa. It provides our highly skilled board shapers with the best tools for designing and producing some of the world's most sought-after boards. The retail division includes eight locations on Oahu; Ala Moana Center, Haleiwa Store Lots, Kahala Mall, Ka Makana Ali'i,  Pearlridge Center, Ward Centre, Ward Warehouse, and Windward Mall. The licensing division has agreements around the world, including Japan, and Brazil. Visit us online at TCSurf.com