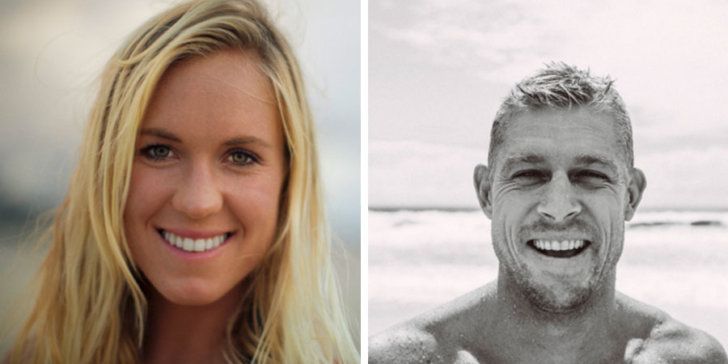 "We are honored and excited to induct Mick and Bethany into the Surfers' Hall of Fame this coming August," said Surfers' Hall of Fame founder Aaron Pai in a press release. "They are the King and the Queen of Surfing!"
Mick Fanning and Bethany Hamilton are two surfers who've crossed the bridge from famous-in-surfing to famous-in-real-life. Ask a non-surfer which surfer comes to mind first, and chances are good it'll be either Mick Fanning, Bethany Hamilton, Kelly Slater, or Laird Hamilton. Go on. Try it.
By now, you know both of their stories. Bethany, who lost an arm to a 14-foot tiger shark back in 2003, went on to become one of the most inspirational people in the world. Fanning, of course, was attacked by a shark on live tv. But their stories are much longer.
"Bethany, who survived a vicious shark attack in 2003, went on to become an inspiration to millions of surfers and non-surfers alike across the globe through her story of determination, faith, and hope," explains the press release. "Mick overcame a career-threatening injury and one of the sport's greatest competitive dynasties, in the form of American Kelly Slater, to reach surfing's highest echelon three times to date."
Here's a quick run-down of the amazing amount of hardships Fanning and Hamilton have overcome. Bethany, after losing her arm at the age of thirteen, returned to surfing just a month later. Two years later, she'd somehow won herself an amateur title. Just last year, in fact, she took third place at the Fiji Women's Pro, besting a field of hyper-talented full-time tour surfers. Her story was a best-selling book and consequently turned into a Hollywood film, Soul Surfer. On top of all that, she's involved in more than a few charities, most notably Friends of Bethany. In 2014, she wrote a book called Body and Soul, and now she's working on a documentary called Unstoppable… so named for obvious reasons.
Mick, although well-known in surfing for years, wasn't exactly a household name until that shark happened in J-Bay. Then, of course, everyone from Time Magazine to TMZ wanted a slice of White Lighting. But that wasn't all he had to overcome–far from it. You might remember back in 2003, one year after becoming rookie of the year, when Fanning ripped his hamstring. For many, it looked to be the end of a career that could have been extraordinary. After months of painful rehab, Fanning returned to the WCT at Snapper Rocks… and won. By 2007, he won his first world title, then went on to win two more in 2009 and 2013.
"Mick has overcome some major hurdles in his life while working his way to the top of the sport, said Aaron Pai. "Throughout it all, Mick has always shown the heart of a champion and representing surfing in the most positive way. We are honored to be able to thank Mick for his achievements and contributions to our sport of surfing!"
Bethany Hamilton and Mick Fanning will have their hand and footprints in cement this August in Huntington Beach. The ceremony is open to the public.
Find more information HERE.