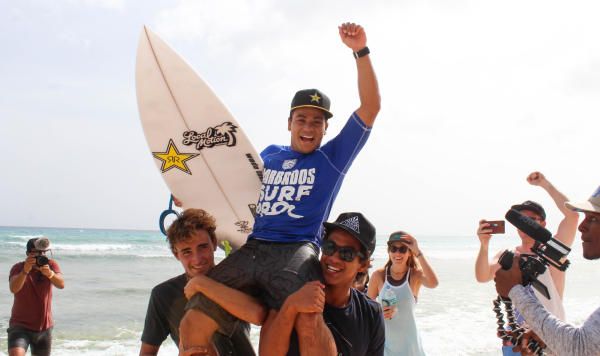 Keanu Asing & Bevo victorious at the Barbados Surf Pro
Alessa Quizon comes in behind Bevilacqua in women's final
Barbados Surf Pro
World Surf League Men's QS3000
Drill Hall Beach, Barbados
11 – 16 April, 2017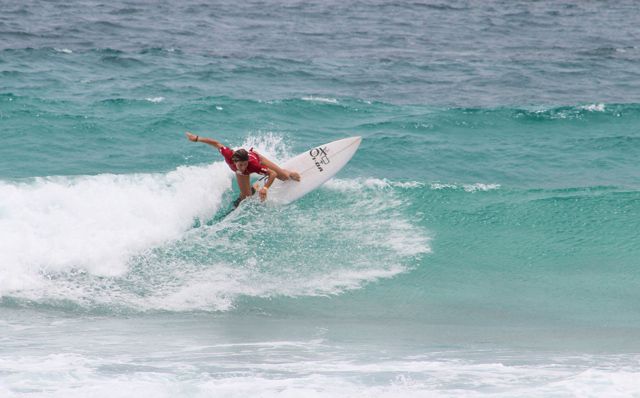 WSL / Andrew Nichols
Surf News Network, 17 April, 2017 – Drill Hall Beach, Barbados – The first-ever World Surf League Barbados Surf Pro Qualifying Series 3,000 crowned former Championship Tour competitors Keanu Asing and Claire Bevilacqua its inaugural champions on the shores of Drill Hall Beach.
An incredible finish to a historic event witnessed a near-perfect heat from Asing over an in-form Shane Campbell (AUS), after Bevilacqua took down fellow former CT surfer Alessa Quizon (HAW). With its first-ever QS event in the books, the island of Barbados has joined the ranks of the professional surfing world in terrific fashion.
Men's Champion Asing unleashed his deadly backhand attack to fend off event standout Campbell in an incredible Final that came down to the final exchange. Though the Hawaiian had a secure lead that required a 9.77 (out of a possible 10) from the Australian, Campbell's persistence was relentless. But, Asing found a Perfect 10 on the final exchange which ended the heat, adding to his 9.50, and Campbell was left in a combination situation regardless of his final score.
"I was just fortunate to have God on my side all day and I have to dedicate this win to him, it's Easter Sunday and it's for him so that makes this day even that much more special for me," Asing said. "I knew it was going to be a long day and I just had to finish what I came here to do. The waves got better each and every heat throughout the day and couldn't be happier to keep surfing — I just absolutely enjoyed this day. Shane [Campbell] is an extremely talented surfer and he just kept coming at me until I finally got that 10 for the knockout punch, but he's going to be one to watch moving forward."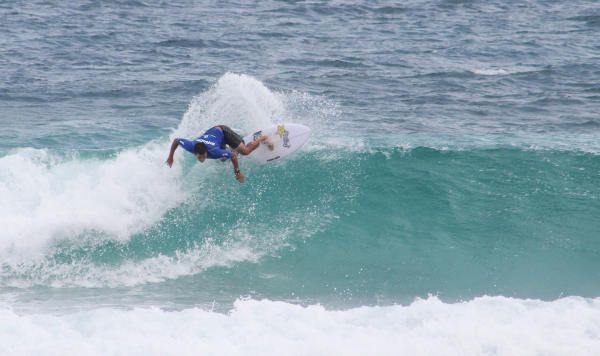 WSL / Andrew Nichols
This marks Asing's second win of the year with the event's highest heat total in the final, a 19.50 (out of a possible 20), but a much more important 3,000 earned. After falling off the Dream Tour last year, the 23-year-old has his eyes set on making a return to the Top 34 — but on his own accord.
"I'm not even thinking about the Tour that much and just want to enjoy surfing heats," Asing added. "The pressure's not me, it's on everybody else. I just want to keep working on my surfing and I go back to the drawing board each and every event to see what I can do better. I made a lot of mistakes throughout the week, but today I feel like I corrected many of those which really led me to a win over a guy like Shane [Campbell] who would capitalize on them so easily."
Runner-up Campbell has made himself a known threat to the QS elite with massive performances at Drill Hall Beach all week. The Sydney, Australia-native posted five scores over the excellent range in the Final alone, and finished on a 9.37 to end his Barbadian campaign. While it may just be a second-place finish, it gives Campbell a big push he needs to stay in the Top 50 come re-seeding time and a chance at the QS10,000s later this year for the first time in his career.
"I felt really confident going into that Final, but know Keanu [Asing]'s backhand is ridiculous — he's won a Tour event on that thing so I was just trying to get on the best waves," Campbell said. "It was great to go at it with him, especially in the Final where I got my highest heat score. I've felt like I won even though I got second so I'm really happy. Now I'm just going to have a go at the bigger events and after that just reassess my goals to see what I can do next year. It's massive to get a higher ranking and skip a few rounds, because that's where it bears down on you is starting early and having to surf all the way through."
Claire Bevilacqua (AUS) had her taste of the CT seven years ago for a two-year stint and, at 34-years-old, still retains the passion for her return. Bevilacqua needed an 8.10 going into the final exchange with Alessa Quizon (HAW) and emerged victorious with an 8.40. The Australian battled through sickness and discomfort to claim the ultimate prize of 3,000 points — and now sits in the Top 5 leaving the island of Barbados.
"What just happened is pretty much going through my head right now, getting those waves in the last few seconds never happens to me," Bevilacqua said. "They either don't come or I choke on them, but just breathing and pulling everything together really helped — I kept telling myself it's not over and it's incredible to come out of that with a win. I was almost a little too comfortable out there with Alessa [Quizon], she's one of my good mates and I just had to get my focus on. I felt like I deserved it on that last wave, but you never know and I can't believe it."
Bevilacqua had to make it through other Hawaiian threat Brisa Hennessy (HAW) earlier in the Quarterfinals and an in-form Tessa Thyssen (BLM) for her Semfinal bout en route to the final. With all the momentum on her side, Bevilacqua sealed the win and now has her year laid before her.
"I'm so grateful to have stayed with a local family and gotten the whole Bajan vibe here," Bevilacqua added. "I just soaked that all up and kept it close to my chest. It's felt like a hundred years since I won a big event so I'm just happy to be amongst it and pushing myself against the younger generation. They make me want to be better everyday and I'm just going to keep doing that until my back gives out or I'm back on Tour."
Quizon had to overcome some obstacles of her own, including local Barbadian Chelsea Roett (BRB) in the Quarterfinals and Caroline Marks (USA) in the Semifinals — while suffering a knee injury during the day's action. But, the Hawaiian did not show any vulnerability and had the Final all but won until the final exchange. Quizon left the Barbados Surf Pro QS3,000 with the same mentality she came in with and has a great year ahead of her.
"It feels good to make a Final, I just had little things in my head bugging me with my knee and just kept telling myself to power through," Quizon said. "It was difficult picking the good waves and at the end she got the better one so it was a great match up. I came here with no expectations and just to be in the jersey so to leave here with a second, which is equal to almost a Quarters in a QS6,000, feels really nice."
Barbados Surf Pro QS3,000 Men's Final Results:
1 – Keanu Asing (HAW) 19.50        3,000 points   $12,000
2 – Shane Campbell (AUS) 18.17   2,250 points   $6,000
Barbados Surf Pro QS3,000 Women's Final Results:
1 – Claire Bevilacqua (AUS) 16.07  3,000 points    $12,000
2 – Alessa Quizon (HAW)     15.93  2,250 points    $5,000
Barbados Surf Pro QS3,000 Men's Semifinal Results:
SF 1: Shane Campbell (AUS) 16.27 def. Rafael Teixeira (BRA) 16.06
SF 2: Keanu Asing (HAW) 19.30 def. Josh Burke (BRB) 15.70
Barbados Surf Pro QS3,000 Women's Semifinal Results:
SF 1: Alessa Quizon (HAW) 14.57 def. Caroline Marks (USA) 8.13
SF 2: Claire Bevilacqua (AUS) 17.04 def. Brisa Hennessy (HAW) 13.50
Barbados Surf Pro QS3,000 Men's Quarterfinal Results:
QF 1: Shane Campbell (AUS) 15.90 def. Santiago Muniz (ARG) 15.00
QF 2: Rafael Teixeira (BRA) 14.80 def. Bino Lopes (BRA) 11.70
QF 3: Josh Burke (BRB) 17.00 def. Evan Geiselman (USA) 13.83
QF 4: Keanu Asing (HAW) 14.57 def. Nomme Mignot (FRA) 14.16
Barbados Surf Pro QS3,000 Women's Quarterfinal Results:
QF 1: Alessa Quizon (HAW) 13.57 def. Chelsea Roett (BRB) 10.43
QF 2: Caroline Marks (USA) 12.50 def. Holly Wawn (AUS) 11.63
QF 3: Claire Bevilacqua (AUS) 11.53 def. Tessa Thyssen (BLM) 10.17
QF 4: Brisa Hennessy (HAW) 13.84 def. Chelsea Tuach (BRB) 9.93