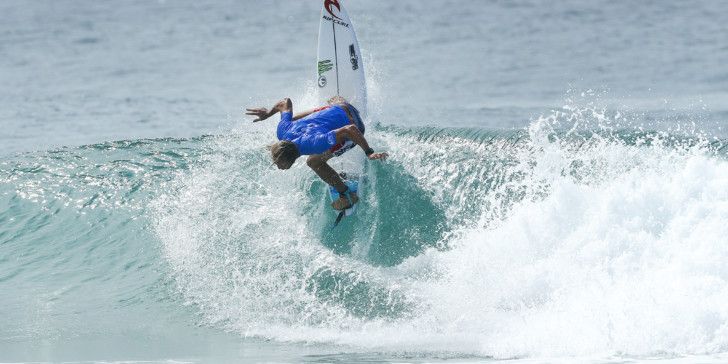 – OWEN WRIGHT FIRES IN FIRST CT EVENT FOLLOWING 2015 HEAD INJURY AT PIPE
-BEDE DURBIDGE LOOKING BETTER THAN EVER FOLLOWING HIS 2015 PELVIS INJURY AT PIPE
– FREDERICO MORAIS REPRESENTS ROOKIE CLASS WITH ROUND 1 HEAT WIN
– LAKEY PETERSON SETS THE BAR AT SNAPPER WITH NEAR-PERFECT 19.27
– SIBLINGS MIKEY, OWEN AND TYLER WRIGHT THROUGH TO ROUND 3
-SURF'S GOING TO BE FIRING THROUGH WEEKEND WITH GOOD WINDS
Owen Wright (AUS) made a stunning return to the elite Championship Tour today with an excellent heat total of 16.83 to overcome 2017 WSL Rookie Ethan Ewing (AUS) and Sebastian Zeitz (HAW).
Credit: © WSL / Sloane
COOLANGATTA, Queensland/AUS (Thursday, March 16, 2017) –  The Quiksilver and Roxy Pro Gold Coast resumed today with the remaining heat of women's Round 1, men's Round 1, women's Round 2, and the opening 2 heats of men's Round 2. The competition saw the world's best surfers take on the first event of the Australian leg in clean three-to-five foot (1 – 1.5 metre) conditions.
The WSL Champions put on a clinic today at Snapper Rocks with Round 1 heat wins by John John Florence (HAW), Gabriel Medina (BRA), Mick Fanning (AUS), Joel Parkinson (AUS), Adriano de Souza (BRA) and Stephanie Gilmore (AUS), and Round 2 victories by Tyler Wright (AUS) and Kelly Slater (USA).
Florence demonstrated why he is the reigning WSL Champion as he posted an excellent 16.83 two-wave score to defeat event wildcard Mikey Wright (AUS) and 2017 WSL Rookie Connor O'Leary (AUS) in Heat 5. Wright secured a strong 7.67, but was not able to lock in the near-perfect 9.16 required to overthrow Florence. O'Leary struggled to find the scores to escape the combination and will surf again in elimination Round 2.
"I feel a lot better without the pressure of winning a World Title," Florence said. "The waves were so fun during that heat. They really allow you to open up and surf the way you want, which is sick. It looks like the waves are going to pick up more over the next few days so it could be really amazing."

 Reigning WSL Champion John John Florence (HAW) kicked off his 2017 CT campaign with a bang, posting an excellent 16.83 heat total to defeat rookie Conor O'Leary (AUS) and event wildcard Mikey Wright (AUS).
Credit: © WSL / Sloane
Medina blazed through opening heat of the year with a commanding 16.50 combined score, putting compatriot Wiggolly Dantas (BRA) and 2017 WSL Rookie Ezekiel Lau (HAW) in a difficult combination situation. The 2014 WSL Champion unleashed a variety of powerful maneuvers to set the tone of his 2017 World Title campaign, but an air on his ride led to Medina tweaking his knee. He continued to surf the heat and even posted his highest score after sustaining the injury, but sought treatment upon returning to shore.
"We've checked in with Gabriel (Medina), who is icing his knee and resting," Renato Hickel, WSL Deputy Commissioner, said. "He intends to compete in Round 3 when competition recommences."

2014 WSL Champion Gabriel Medina (BRA) on his way to a Round 1 heat win over rookie Ezekiel Lau (HAW) and Wiggoly Dantas (BRA).
Credit: © WSL / Sloane
Heat 7 witnessed a heavyweight match-up between three-time WSL Champion Fanning, 11-time WSL Champion Slater, and CT veteran Jeremy Flores (FRA). Flores held the lead for a majority of the heat, requiring the World Champions to answer back with stronger second-wave scores. With time running out, Slater attempted to combat Flores, but could not earn the required score, while Fanning waited patiently with priority. Under pressure, Fanning's local knowledge paid off as he was able to catch a wave in the dying seconds of the heat to earn a 7.14, defeating Flores by only 0.14.
"I was sitting out there with priority for a while, but it's so hard in these conditions because sometimes priority's a curse," Fanning said. "It's a confidence booster that I could keep my cool there at the end and that's how I want to go the whole year. I don't want to worry about the consequences, but want to just keep going."

Three-time WSL Champion Mick Fanning (AUS) returned to Snapper after committing a full year on the CT in 2017. Fanning started things perfectly with a heat win in Round 1 over 11-time WSL Champion Kelly Slater (USA) and CT veteran Jeremy Flores (FRA).
Credit: © WSL / Sloane
Following a year-long absence from competition after suffering a serious head injury, Owen Wright (AUS) made a stunning return to the elite tour with two excellent 8-point rides for the heat win against rookie Ethan Ewing (AUS) and Sebastian Zietz (HAW). Ewing made a big statement with his opening ride, a near-perfect 9.10, but could not find the second wave score to challenge Wright's 16.83 combined score.
"This is pretty emotional for me and winning today feels great," Wright said. "It's been a tough journey getting here, so I really enjoyed the moment of being out there. Winning my first heat back and my first heat as a dad is the best thing ever. Being a father is giving me dad energy and the buzz of life."
Defending Quiksilver Pro Gold Coast event winner Matt Wilkinson (AUS) picked up where he left off at Snapper with a dominating performance in Heat 2 of Round 1. Wilkinson's rivals Stuart Kennedy (AUS) and rookie Ian Gouveia (BRA) struggled to find any scores of consequence, leaving Wilkinson to take the heat with a two-wave total of 13.67.
"I'm excited to be surfing back at Snapper Rocks," Wilkinson said. "Last year was massive for me. Last week was the first time I have surfed Snapper since my win last year, and it feels good to be back. There is some good swell coming in the next few day and I'm hoping to get seven more heats under my belt and go all the way."
Current World No. 2 Jordy Smith (ZAF) opened up his 2017 World Title campaign with a win against Miguel Pupo (BRA) and wildcard Nat Young (USA) in Round 1 Heat 5. The South African fended off the Brazilian's excellent 8.10 by a slight 0.16 lead to capture the win and advance straight to Round 3.
"It was the first heat of the year for me, so it was a little nerve racking," Smith said. "In the last five years I've been wave starved in the first heats, so I wanted to catch waves today. I was stoked the swell turned on for us this year at Snapper. There's going to be a lot of opportunities for Round 3."
2017 WSL Rookie Frederico Morais (PRT) was the only rookie to advance out of Round 1 after taking down World Title contender Filipe Toledo (BRA) and Adrian Buchan (AUS) in Heat 10. Filipe and Morais exchanged control of the heat, but it was the Portuguese standout who took the win with a 15.70 combined score over Toledo's 15.10.
"Being the only rookie who has won a heat is a great achievement for me," Morais said. "I knew it was going to be a hard heat. The waves were pumping so I knew I just had to worry about my wave choice and focus on myself. There wasn't much time left, so I took my last chance on the last wave and it worked. It's going to be a big year. I have worked my whole life for this and I am going to make the most of it."
World Title contenders Julian Wilson (AUS) and Kolohe Andino (USA) will advance to Round 3 after defeating rookie Leonardo Fioravanti (ITA), 2016 Rookie of the Year Caio Ibelli (BRA), Jack Freestone (AUS) and Kanoa Igarashi (USA), respectively.
The Quiksilver Pro also ran through the first two heats of elimination Round 2, which saw event wildcard Mikey Wright (AUS) upset the competition with his dispatch of top-seed Michel Bourez (PYF). Slater also punched his ticket to Round 3 after eliminating Trials winner Nat Young (USA). With Slater advancing through, Round 3 will see all nine World Champions on the CT still in the running for the event win.
Competition kicked off with the remaining heat of women's Round 1 of the Roxy Pro Gold Coast, which saw six-time WSL Champion and five-time Roxy Pro winner Stephanie Gilmore (AUS) steal the win from an in-form Lakey Peterson (USA) and Malia Manuel (HAW) with some last-minute heroics.
"This event is so important for a good start to the year," Gilmore said. "A lot of people that win here go on to win the title so a good start is super important. It means a lot to make that heat at the end like that, this is my home break and I'd like to do well here. I'd love to win the contest."

 Six-time WSL Champion Stephanie Gilmore (AUS) kicked off the the day with a win at her home break of Snapper Rocks at the Roxy Pro Gold Coast.
Credit: © WSL / SloaneIn the first elimination round of the year, Round 2 saw intense match-ups as the women fought to avoid an early exit from the event.
2016 WSL Champion Tyler Wright (AUS) delivered one of the biggest performances of the day with a near-perfect 9.50 on her opening ride and an excellent 8.00 back-up score. Stuck under Wright's 17.50 combined score, Trials winner Alyssa Lock (AUS) was not able to turn in the scores required to best the defending event winner.
"I took a very calculated approach after yesterday's heat," Wright said. "Surfing in Round 2 is no different to any other round, I just focused on not making crucial errors like I did in Round 1. This has been such an emotional day. Seeing Owen (Wright) go out and win his heat was super emotional. When the heat was over i cried for about fifteen minutes. The fact that he won wasn't a surprise at all, I know what he is capable of, so it was awesome to see him get back to that sort of form."
Lakey Peterson (USA) found perfection at Snapper Rocks with the event's first Perfect 10 against CT veteran Silvana Lima (BRA) in the final heat of Round 2. Peterson showcased a variety of maneuvers to earn the highest heat score of the day, a near-perfect 19.27. Lima will be eliminated from the event in 13th place, her worst result at the Roxy Pro Gold Coast.
"I haven't had a 10 in who knows how long," Peterson said. "After last season with the ankle injury and the hard work put in during the offseason, I just felt like it all finally came together. After the 10 I looked at my watch and realized there was still fifteen minutes left with just me, perfect waves at Snapper and one other person. I was having a blast. I am so thankful to be here happy and healthy."

 Lakey Peterson (USA) found perfection on the Gold Coast to eliminate CT veteran Silvana Lima (BRA).
Credit: © WSL / Sloane
Current World No. 5 Johanne Defay (FRA) survived her Round 2 match-up against compatriot Pauline Ado (FRA) with a strong buzzer-beater finish. Ado held the lead heading into the final minutes of the heat, but it was Defay who solidified the win with an excellent 8.07 and 7.83. Ado fell off tour in 2014 but rejoins the CT this season after two years of hard work on the QS. Ado's run at the Roxy Pro Gold Coast will end with an Equal 13th place finish.
"It's been hard to warm-up this week as there are always so many people out at Snapper," Defay said. "I'm not super happy with my performance in that heat, my wave choice wasn't great. I feel like I was lucky to get through that one but am feeling good. I'm excited for my next heat and hope I can build from Round 3."
Heat 2 saw a tight battle between 2017 WSL Rookie Bronte Macaulay (AUS) and Sage Erickson (AUS). Both surfers exhibited clean maneuvers, but it was the rookie who survived the elimination with a 15.40 two-wave score over Erickson's 13.17. Erickson will leave this event with an Equal 13th place result.
2016 Rookie of the Year Keely Andrew (AUS) and Coco Ho (HAW) will also advance through to the next round after dispatching Laura Enever (AUS) and Malia Manuel (HAW), respectively.
Event organizers will reconvene tomorrow at 7:00 a.m. local time to assess the conditions and make the next call.
For more information, check out WorldSurfLeague.com.
Roxy Pro Gold Coast Round 1 Results:
Heat 6: Stephanie Gilmore (AUS) 14.24,  Lakey Peterson (USA) 13.33, Malia Manuel (HAW) 7.50
Roxy Pro Gold Coast Round 2 Results:
Heat 1: Keely Andrew (AUS) 12.67 def. Laura Enever (AUS) 9.13
Heat 2: Sage Erickson (USA) vs. Bronte Macaulay (AUS)
Heat 3: Tyler Wright (AUS) vs. Alyssa Lock (AUS)
Heat 4: Johanne Defay (FRA) 15.90 def. Pauline Ado (FRA) 13.93
Heat 5: Coco Ho (HAW) 14.50 def. Malia Manuel (HAW) 14.36
Heat 6: Lakey Peterson (USA) 19.27 def. Silvana Lima (BRA) 13.40
Roxy Pro Gold Coast Round 3 Match-Ups:
Heat 1: Tatiana Weston-Webb (HAW), Johanne Defay (FRA), Coco Ho (HAW)
Heat 2: Tyler Wright (AUS), Nikki Van Dijk (AUS), Lakey Peterson (USA)
Heat 3: Courtney Conlogue (USA), Sally Fitzgibbons (AUS), Keely Andrew (AUS)
Heat 4: Carissa Moore (HAW), Stephanie Gilmore (AUS), Bronte Macaulay (AUS)
Quiksilver Pro Gold Coast Round 1 Results:
Heat 1: Jadson Andre (BRA) 11.46, Michel Bourez (PYF) 10.27, Conner Coffin (USA) 9.40
Heat 2: Matt Wilkinson (AUS) 13.67, Stuart Kennedy (AUS) 8.83, Ian Gouveia (BRA) 8.13
Heat 3: Kolohe Andino (USA) 11.33, Jack Freestone (AUS) 10.67, Kanoa Igarashi (USA) 3.10
Heat 4: Gabriel Medina (BRA) 16.50, Wiggolly Dantas (BRA) 6.07, Ezekiel Lau (HAW) 10.70
Heat 5: Jordy Smith (ZAF) 11.93, Miguel Pupo (BRA) 11.77, Nat Young (USA) 10.66
Heat 6: John John Florence (HAW) 16.83, Mikey Wright (AUS) 13.50, Connor O'Leary (AUS) 8.20
Heat 7: Mick Fanning (AUS), 13.27, Jeremy Flores (FRA) 13.13, Kelly Slater (USA) 11.20
Heat 8: Julian Wilson (AUS) 16.80, Leonardo Fioravanti (ITL) 12.07, Caio Ibelli (BRA) 10.90
Heat 9: Joel Parkinson (AUS) 16.86, Joan Duru (FRA) 16.40, Italo Ferreira (BRA) 11.66
Heat 10: Frederico Morais (PRT) 15.70, Filipe Toledo (BRA) 15.10, Adrian Buchan (AUS) 13.43
Heat 11: Adriano de Souza (BRA) 16.17, Bede Durbidge (AUS) 15.44, Josh Kerr (AUS) 11.33
Heat 12: Owen Wright (AUS) 16.83, Ethan Ewing (AUS) 15.27, Sebastian Zietz (HAW) 12.20
Quiksilver Pro Gold Coast Round 2 Results:
Heat 1: Mikey Wright (AUS) 14.17 def. Michel Bourez (PYF) 13.20
Heat 2: Kelly Slater (USA) 14.03 def. Nat Young (USA) 12.94
Quiksilver Pro Gold Coast Remaining Round 2 Match-Ups:
Heat 3: Filipe Toledo (BRA) vs. Ezekiel Lau (HAW)
Heat 4: Sebastian Zietz (HAW) vs. Jack Freestone (AUS)
Heat 5: Josh Kerr (AUS) vs. Ian Gouveia (BRA)
Heat 6: Adrian Buchan (AUS) vs. Jeremy Flores (FRA).
Heat 7: Italo Ferreira (BRA) vs. Leonardo Fioravanti (ITA)
Heat 8: Caio Ibelli (BRA) vs. Joan Duru (FRA)
Heat 9: Conner Coffin (USA) vs. Bede Durbidge (AUS)
Heat 10: Stuart Kennedy (AUS) vs. Ethan Ewing (AUS)
Heat 11: Kanoa Igarashi (USA) vs. Connor O'Leary (AUS)
Heat 12: Wiggolly Dantas (BRA) vs. Miguel Pupo (BRA)