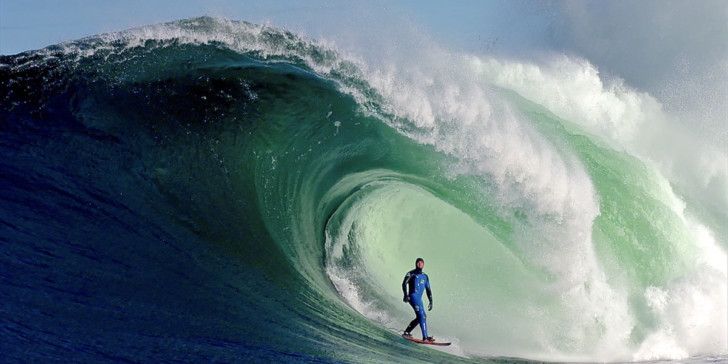 Creator Tim Bonython: Decades Chasing Giants
Front image: Danny Griffith at Shipsterns Bluff © The Big Wave Project
Film includes some of the world's most memorable big wave sessions
Surf News Network, 20 February, 2017 – Tim Bonython is an Australian filmmaker who has earned quite the reputation for placing himself in harm's way to get the shot. His job is to follow the earth's biggest swells to the world's most dangerous breaks.
All that time weaving and bobbing on a boat, dodging sets that swing wide and generaly just being gnarly, have reaped rewards in the form of terabytes and terabytes of jaw-dropping footage.
But along the way Bonython discovered that the men and women who chase these massive swells have formed a unique bond not found in many other surfing circles. Sure, a lot of CT surfers are friends, but seldom has their friendship stemmed from saving one another's life like it does for the big wave brotherhood.
Most recently Bonython has departed from the solely spills'n'chills script of film making to get at something deeper. Through interviews and rare footage Bonython explores the rich bond these surfers share with one another. The film, "The Big Wave Project, A Band of Brothers," launches globally in the near future.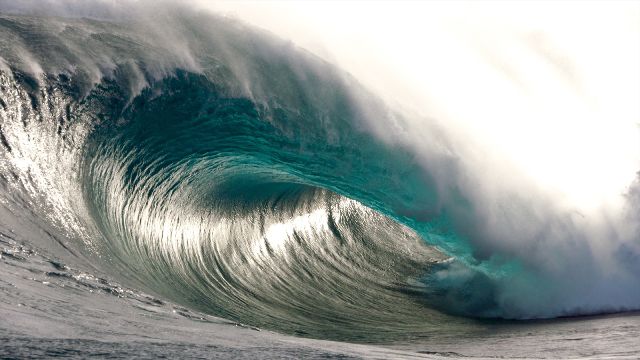 The Right @ Tim Bonython
Tell us why you chose "The Big Wave Project, A Band of Brothers" for the title of this film.
The fact is, this is a film I had to make. For over 40 years I have been chasing swells. From my first trip to Hawaii in 1978, and even more so now during the last 20 years. My niche has been showing films on the big screen, simply by selling tickets. This is what keeps us ahead as a business. So if you asked me what the audience would prefer, that's a simple answer. BIG WAVES & wipeouts!
The BIG WAVE PROJECT has been in the making for five years. The interviews started with the idea of how the genre of big wave surfing has evolved. Over the past 10 years the sport has been moving so fast, so much has changed.
10 years ago tow surfing was cool now its frowned upon. (except if your riding 100 foot waves at Nazare) As I built up the interviews and documented great swell events the ideas for a story line started to appear more clearly. This sport is so reliant on friends/brothers that when they surf monsters they watch over each other. This sport doesn't come with referees. You can't tap out. It's about catching the biggest wave and been ready for the worst-case scenario. So this is when the band of brothers situation becomes so clear. They all watch over each other.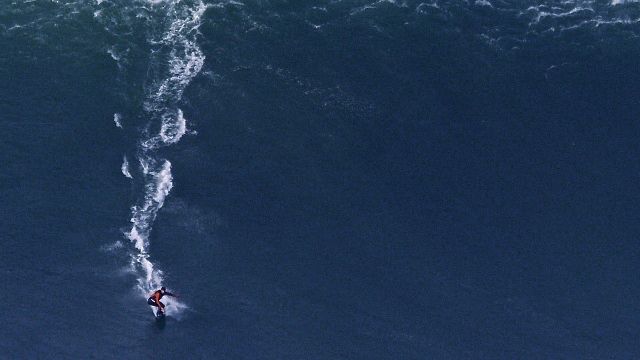 Maya Gabeira @ Tim Bonython
You've done other big-wave projects like "Immersion", why film big wave surfing as opposed to planting yourself on the beach at Snapper and recording the latest small-wave performance surfing?
Dead set, filming normal surfing is so boring compared watching/documenting nature unloading with a big wave athlete enhancing that moment. There's nothing more exciting.
Share with us the gnarliest thing you saw during the making of this project. 
Aaron Gold drowning in-front of me. The outcome could of been the absolute worst. But really when you see/document a serious wipeout, and I've seen many of them, I am surprised that there are not more deaths. I recon if it was me, I'd die before that moment of impact.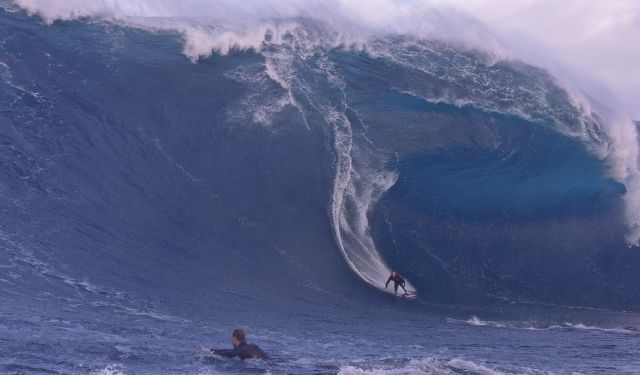 Rudy Schwartz @ Tim Bonython
Tell us about the one time you felt your life was threatened during your career as a big wave film maker.
Last year working on a Jeep commercial down at Jarosite Beach next to Bells Beach in Victoria. The boat I was in got hit by a 10-foot wave, flipped and I was caught underneath it. When I finally came up the boat driver had hit his head on the back of the engine when jumping, blood was all over him & then I proceeded to get three, 10-foot waves on the head. I was that close to drowning. Three days later I was still processing it. Like I'd been in a car accident. The boat driver was 69 years of age, got 45 stitches in his head and got three broken ribs.

Nazare @ Tim Bonython
Anything else you'd like to share with the audience Tim?
I am lucky man as I have the best job on the planet but its not all having fun. I am desperate not to miss a swell event and now living in Sydney, Nazare has thrown a spanner into the works. I missed last week's swell event there as I am on a schedule to finish the movie plus to travel to Nazare is an expensive exercise plus the worst part is it takes two days to get there. So when you see the images coming out I suffer for days. So my plan is to live there from October till February each year. But when I can do that might not be for another year or two but its definitely on my radar. All I can say is I am in absolute LOVE with that place. The people, the town and that wave, wow, it excites me to just to think about it.