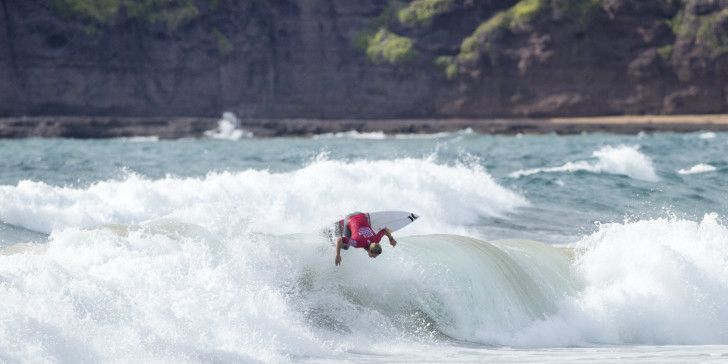 Jake Marshall of the USA is holding the highest heat total of the event so far. Will it be beaten today? Pic: WSL/Cestari
| | |
| --- | --- |
| Location:    | Kiama, NSW, Australia  |
| Event: | World Junior Championship |
| Conditions: | 2-3 Foot, light winds |
Bombo Beach Kiama, NSW/AUS (Thursday, January 4, 2017) – It's Day 2 of the waiting period at the World Junior Championship and competition is set to continue. Conditions are looking fun, with waves in the 2-to-3 foot range and light variable winds. WSL Deputy commissioner Travis Logie has put Men's Round 2 in the water first with Women's Round 2 expected to follow meaning today will see the first lot of competitors bow out of the event.
"The waves have cleaned up from yesterday," Logie said. "The wind is super light and there are still plenty of waves on offer so the choice was easy. We will run 18 heats again, completing all of Men's and Women's Round 2.  It is all-on-the-line today with the first Round of sudden death heats. All of the competitors have worked all year to get here and today we will see the first casualties. It's going to be a massively important day of competition."
Heat 1 of Men's Round 2 is in the water now with Hawaii's Finn McGill taking on Arran Strong from Great Britain.
WEDNESDAY, JANUARY 4, 2017
Fresh off his huge win at the Pipe Masters Trials a few weeks back, many were expecting Finn McGill to blitz the field at the World Junior Championship. But these days, it doesn't matter if it's the junior series or the Samsung Galaxy Championship Tour — there are no easy heats.
So after his disappointing Round One loss yesterday, McGill upped the ante in his do-or-die heat against British surfer Arran Strong. The Hawaiian went to work on the Bombo beach lefts, flowing his way to a pair of seven-point rides to advance through Round Two.