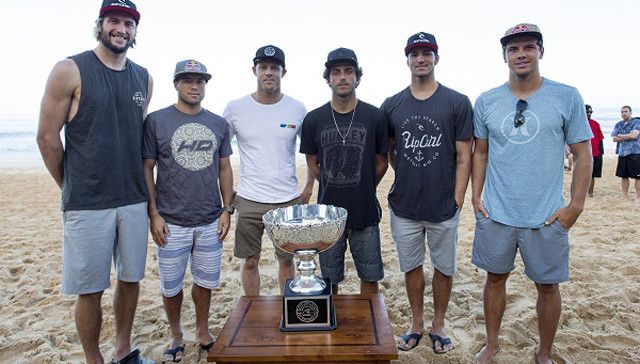 Owen, Adriano, Mick, Filipe, Gabriel and Julian discuss
 Surf News Network, 9 December, 2015 – North Shore – A special press conference was held with all six contenders vying for the WSL Title discussing one of the most dramatic Title races in history.
Current WSL Jeep Rankings' Leader Mick Fanning (AUS), Filipe Toledo (BRA), Adriano De Souza (BRA), reigning WSL Champion Gabriel Medina (BRA), Owen Wright (AUS) and defending Pipe Master Julian Wilson (AUS) discussed their respective seasons, opportunities missed and ambitions to claim the prestigious title.
You can check the full WSL world title scenarios here and below
Coming into the final CT event of the year, the Billabong Pipe Masters in Memory of Andy Irons, Mick Fanning (AUS) had the opportunity to claim the 2015 World Title at the Rip Curl Moche Pro in Portugal. However, losing in Round 3 to local wildcard sensation Frederico Morais (PRT),  it wasn't to be and Fanning is now locked into the heaviest title fight of his career.
"In France I just felt like I was starting heats slow so in Portugal I tried to fix that and just made one quick mistake and that was it," Fanning said. "I knew at the start of the year who was going to be a the title race and that it was going to be a close one. The level on tour is just incredible. You can't sit there and walk into Quarterfinals these days – there's so many ups and downs. I've never been in a race with so many people and there's so many eyes to watch so it's exciting."
The dangers of this infamous wave were witnessed in shocking fashion on Sunday as Qualifying Series (QS) competitor Evan Geiselman (USA) nearly drowned, something that Fanning was on hand for and helped assist South African Andre Botha attempting to save Geiselman. Fanning already encountered a life-threatening situation this year with the terrifying shark attack at Jeffreys Bay and is fortunate to be on the shores of Oahu.
"I consider myself extremely lucky – I was lucky beforehand and now I'm even more lucky to walk away from something like that, there're other people who haven't," Fanning said. "I'm super happy to be here and to have a chance to continue doing what I love. I was just walking down the beach and saw Evan pull into one but didn't really think about it. . It was extremely fortunate that something bad didn't become worse. I think we always know it's dangerous and it's a fifty-fifty chance. You know you have to put yourself over the ledge and do that to get the best scores. In the same sentence though you just have to have a calculated risk about it."
No stranger to throwing himself over the ledge at Pipeline, current WSL No. 7 and defending Pipe Master and Vans Triple Crown champion, Julian Wilson (AUS) finds himself in the mix this season with a mathematical chance of winning his first World Title and defending his Triple Crown title.
"I know exactly what I have to do in terms of making a few heats if someone doesn't," Wilson said. "For me it's going out there and winning the event. To still have a shot at it is a special thing and I'm looking forward to giving it everything I have – hopefully take care of what I need to do and get a bit lucky. The Triple Crown isn't out of the question for me again this year so it's going to be a really fun event."
Ushering in the Brazilian Storm that currently dominates the CT, Adriano De Souza (BRA) finds himself sitting at No. 3 and has a strong shot at taking his first-ever World Title. De Souza has set himself up for this moment throughout the year, never dropping out of the Top 3 and holding onto the Jeep Leader yellow jersey for the majority of the season – only to lose the top spot at the Hurley Trestles Pro.
"For the last ten years this has been a dream just to sit here at Pipe and have a chance to win a World Title," De Souza said. "All through the years I've watched the champs from the beach screaming and crying, and thinking someday I'll be here. It's really special with three Brazilians and three Aussies as well, it's going to be very exciting and can't wait to get started."
"It was great to start the year off strong but now you have to finish it at the end," De Souza added. "I'm looking forward to do my best out here and try to grab my first World Title. I know it's going to be so competitive with a three-time World Champion, last year's champion Gabriel, and last year's Pipemaster Julian here. So many things are going to happen with massive barrels and having Filipe as a young guy in the mix, I know he'll be charging so everyone who's here deserves it."
Current World No. 2, Filipe Toledo (BRA), has the best possible chance for thwarting Fanning's dream achievement of four World Titles – sitting just 200 points behind the Australian. Before 2015, Toledo had never won a CT event let alone been in a title race. Now, the fleet-footed Brazilian has a significant shot at the world surfing crown.
"To be a world title contender is totally different than being in a 20 spot but I feel good," Toledo said. "It's been amazing for me with three Finals and three perfect scores throughout the year. I've just been having a lot of fun. With this contest there's just so many guys fighting for a World Title and it's so amazing to see their level of surfing. I'm really happy to see all these guys fighting with me to win it. Hoping to get some big barrels out here and just wishing the best to everyone."
Posting a history-making event at the Fiji Pro, WSL No. 5 Owen Wright (AUS) has found the backup finishes to earn a spot into this year's Title race and is more prepared than ever  for the upcoming battle at Pipeline.
"I got the best wave I've ever had out here at Pipe two days ago which I'm really stoked on," Wright said. "I think you can take a carefree approach and at the same time you still have the goal, you still have the vision and when those losses come in the early rounds – you just have to learn from them. With the level of talent on this tour there's not going to be one dominator and I think that's why there's six of us standing here now. Coming in as No.5 I know I've got some work to do."
Rounding out the Top 6 fighting for this year's prestigious WSL Title trophy, No. 4 Gabriel Medina (BRA) finds himself back in the ultimate arena to defend his crown. However, it's a significantly different scenario this time around.
"I've been training since the beginning of the year and I don't know what really happened at those first few events – it's the life we have," Medina said. "You will have your lows and some you're going to win. I was training and surfing everyday then something just clicked after Jeffery's Bay – I started getting results and I feel good in my surfing as a whole. Last year I had a lot of pressure because I was leading and everyone was talking about it – being the first Brazilian World Champ and just felt the pressure but this year I don't feel it at all."
The Pipe Invitational will determine the final two spots to see who could play Round 1 spoilers against Mick Fanning (AUS) and Filipe Toledo (BRA) in their respective heats.
Tune in LIVE tomorrow at 7:30am for Dawn Patrol at WorldSurfLeague.com for a possible 8am start.
If Mick Fanning finishes 25th/13th
Owen Wright & Julian Wilson will need a 1st;
Gabriel Medina will need a 3rd or better;
Adriano de Souza will need a 9th or better;
Filipe Toledo will need a 13th or better to clinch the World Title;
If Mick finishes 9th
Gabriel will need a 1st;
Adriano will need a 5th;
Filipe will need a 9th;
If Mick finishes 5th
Gabriel will need a 1st;
Adriano will need a 3rd;
Filipe will need a 5th;
If Mick finishes 3rd
Adriano will need a 2nd;
Filipe will need a 3rd;
If Mick finishes 2nd
Adriano will need a 1st;
Filipe will need a 1st;
If Mick wins the event he will clinch the World Title.
Rankings – Top 26:
Mick Fanning (AUS) 1 49900
Filipe Toledo (BRA) 2 49700
Adriano De Souza (BRA) 3 49450
Gabriel Medina (BRA) 4 45350
Ow en Wright (AUS) 5 43600
Italo Ferreira (BRA) 6 41600
Julian Wilson (AUS) 7 41450
Jeremy Flores (FRA) 8 37700
Kelly Slater (USA) 9 34150
Nat Young (USA) 10 33200
Bede Durbidge (AUS) 11 30450
Josh Kerr (AUS) 12 29650
Joel Parkinson (AUS) 13 27100
Wiggolly Dantas (BRA) 14 26850
John John Florence (HAW) 15 25200
Taj Burrow (AUS) 16 24450
Matt Wilkinson (AUS) 17 23750
Kai Otton (AUS) 18 23600
Adrian Buchan (AUS) 19 21450
Jadson Andre (BRA) 20 19950
Keanu Asing (HAW) 21 18750
Michel Bourez (PYF) 22 18700
Kolohe Andino (USA) 23 17750
Sebastian Zietz (HAW) 24 15500
Miguel Pupo (BRA) 25 15250
Adam Melling (AUS) 26 14250
Brett Simpson (USA) 26 14250