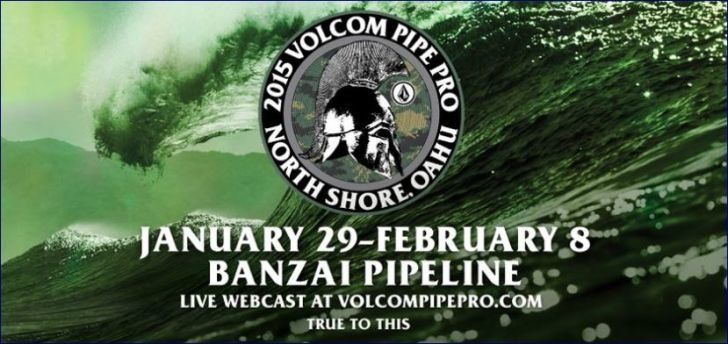 Day one of the waiting period and we're on for the 2015 Volcom Pipe Pro! This is a 3 day WSL QS 3000 rated event set to begin Thursday, January 29th at the World Famous Banzai Pipeline. 112 world-class surfing "Warriors" from all over the globe will be fighting for a $100,000 prize purse and up to 3,000 QS points to kick off their season. To ensure that these Warriors are able to do battle in optimum wave and weather conditions, the competition will only run on the best days within the 11-day waiting period, which ends February 8th. This has been a very exciting winter on the North Shore!
The Volcom Pipe Pro is always a special event for the local Hawaiian competitors with the contest being held at one of their most treasured surf spots, not to mention it being a gateway event for non-World Tour surfers to compete in the prestigious Pipe Masters. The top 16 Hawaiians from the Volcom Pipe Pro will be sent into the $100,000 Pipe Invitational, which serves as the trials for the Pipe Masters, held on the first day of contestable surf within the event window.
.
SNN forecast for all shores.
NPAC: 1/27/15
The Jet stream hovers 30-40N latitude (600-1200 miles north of us) and has a decent consolidation from 170E to 150W longitude or 1800 miles West of Hawaii to 600 miles East of us. By Thursday the Jet breaks up with a split off to our West with flows of the trough pointing our way… thus, the front/weather and Konas.  By the weekend this feature lifts and NE trades return as the Jet once again begins to extend off Japan and reaching longitudes of Hawaii by Tuesday. This leads to higher chances of storm formation and closer proximity to Hawaii for more wintery WNW-NW surf.
Currently, Surf went fro 2-4' to 4-6' and juicy between 7am and 10am. We have a rising WNW building to 10' by Wednesday from an East bound hurricane force Low last Friday off N. Japan (Hokkaido). The fetch was in the 300-320 band and lifted seas to 25' tho' nearly 2000 miles away. It hit the buoys with 20 second forerunners after midnight with the Bay seeing 22 sec. We expect the WNW to take over the recent event with 5-7+' by the evening session and peak Wednesday at 6-8 maybe 10' solid at spots like Sunset and drop to 5-8′ Thursday with Pipe being a notch smaller but easy double+ over head on top sets. Winds a factor due to Front.
Next:  the storm weakened as it neared the 180 dateline Sunday the 25th crossing it Monday. Since this portion was closer by 600-800 miles to us we will see significant heights Wed. afternoon maybe over 10' tho' with shorter 15 seconds.
Next: A low comes down off the Aleutians on our side of the dateline Thursday-Saturday and hover its fetch for a long lasting NNW swell of 8-12' for top reefs. It could feather on the 2nd reefs.
Next:  by this weekend a large gyre sets up in the Gulf with Lows spinning within for a series of NNW-N swells. The first fetch moves down Sunday and veers East. Surf at 5-7' from the NNW to N fills late morning Tuesday the 3rd with 14 seconds.
Last:  early next week a gyre spins up off Japan with 2 Lows spawning within for a 4-6+ W-WNW swell Friday-Saturday the 6 and 7th of Feb. Shadowing will occur on this up to 295 from Ni'ihau and Kauai.
We may also see some 6' NNW surf from a nearby source later Saturday the 7th and well keep an eye on this long ranger.
SPAC:
The zonal or west to east flowing Jet in far down off the Ross Ice shelf and tho' Lows move along its track they're too distant with fetches too short for anymore than background pulses of 14 seconds. Tho' we see an equator bound flow Friday 1/30 the Low has marginal winds thus seas are too small to make more than 1' in Hawaii after 5000 miles. There are a couple Lows early next week from Samoa but they track SE away from us and thus no surf is expected.
One low possibility comes Feb 4th as a storm comes up into NZ but it needs to move farther east if we're to see surf. We'll keep an eye out as models can change.
Windward:
Tiny 2' trade swells into early Feb thanks to all the storm activity in the NPAC weakening and pushing Highs East. We have off and on small NE swell post all these frontal passages.