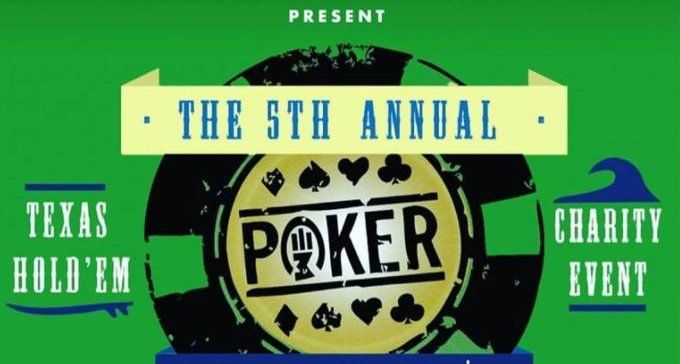 AN EPIC EVENING. YOU CAN BET ON IT!
Tuesday, December 5th
Aloha!
For quite some time now Chance'em, Turtle Bay Foundation, and Surfer [The Bar] have been joining hands with a large group of gracious individuals within the professional surfing community in order to raise money for Oahu's High School Surf Teams. We are proud to announce that this year, our partnership will be organizing the "5th Annual Poker with the Pros" Texas Hold'Em Charity Event and we would like to cordially invite you and your friends to be a part it all!
Our Poker with the Pros event provides a fun and interactive way for you to help raise a substantial amount of support for Oahu's High School Surf teams. 100% of your charitable donation will go towards funding our league's never-ending expenses. All money raised through this event will help to pay for our league's contest fees, JR lifeguard training for team members, Ocean Safety Management certification for our volunteer surf-coaches, team uniforms for the kids, travel expenses for the national surf competition in California and so much more!
In case you didn't know, there are currently 8 schools with established surf teams on the island of Oahu with over 450 kids involved. However, surfing as a team sport is actually not being recognized by a majority of schools throughout the state of Hawaii and there is currently no funding being produced within the schools themselves. Keeping these surf teams alive is so important for the community because the teams provide a foundation for our surfing youth to succeed in so many different ways. The importance of this event and the need for receiving your continued support is profound and we hope that you will highly consider being a participant in our cause.
It is our mission to expand the sport of high school surfing in Hawaii. We hope to see surf teams in every high school around the state someday soon, but we really need your help in doing so. Therefore we are humbly asking that you make a commitment to support this event, by contributing your time and donation, which can be made in the form of a cash or surfboard donation (certain terms and conditions will apply so please see game details for more information) as an entry fee to play in this year's tournament on Tuesday, December 5th 2017. Your generosity will surely make a difference in our community and allow us to keep these high school surf teams alive for future generations.
Thank you in advance for supporting this event and we really hope to see you there!
Sincerely,
Justin P Lambert
Chance'em Foundation
Executive Director
2017 POKER WITH THE PROS TOURNAMENT DETAILS UNDER POSTER, TOO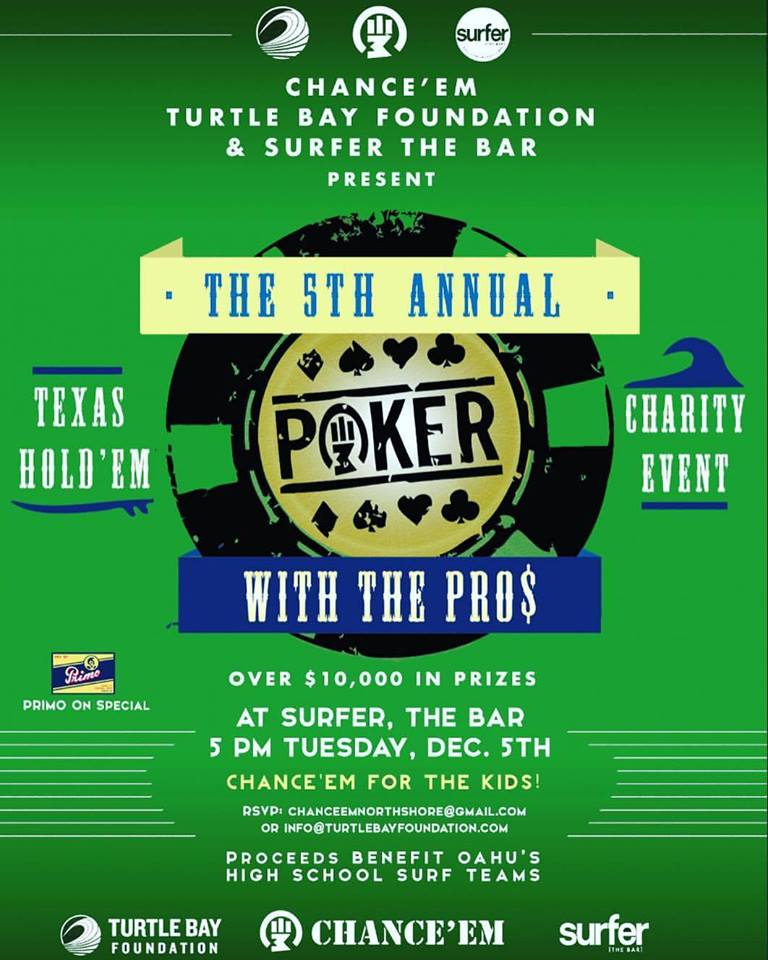 Cause: Fundraiser for Hawaii High School Surf Teams
Game: Texas Hold-Em Poker
 Date: Tuesday, December 5th, 2017.
Time: Sign-in at 5:00pm. Pupus/Drinks served at 5:30pm. Game starts at 6:00pm.
 Location: Surfer [The Bar] at Turtle Bay Resort
 Tournament Cost: $250 donation entry ($200 for Pre-payment entry, but payment must be received in-hand prior to 5:00pm on Dec 4th, 2017) *Surfboard Donation Option Available (conditions will apply, please see Surfboard Donation details below)
Tournament structure: $5000 starting Chips ($1000 on time chip bonus), $100 Re-Buys until 8:00pm. Tournament ends at 10:00pm. If at 10:00pm there are multiple players left, prizes will be given out according to chip sizes (Example: The biggest chip stack gets 1st place prize, 2nd biggest chip stack receives 2nd place prize and so on.)
RSVP: chanceemnorthshore@gmail.com or info@turtlebayfoundation.com
 Option for Surfboard Donation: Your surfboard donation must be a well-known professional surfer's personal surfboard. It must be in good condition without injury (Absolutely no dings, no repaired/broken/buckled boards, no broken fins, no yellow-sun-damaged boards). Your surfboard must also be designed by any well-known brand/shaper. The surfboard must also include the surfer's current sponsorship stickers and should be autographed by the surfer.
Pre-Payment Option: Please send $200.00 check or money order payable to adrees listed below. To pay by credit card you will need to print and fill out the credit card authorization form and return via mail, fax or email:
Mailing Address:       Turtle Bay Foundation
57-091 Kamehameha Highway
Kahuku, HI  96731
Fax Number:             808-293-1286
Email:                         info@turtlebayfoundation.com
 Other Details: This is a public event. We are asking for a $5.00 donation at the door for all non-players, which includes, one raffle ticket for a chance to win prizes given away throughout the night.
 Tournament Prizes: (TOP 10 PLAYERS will receive the following prizes)
1st Place: 2 night stay at Turtle Bay Resort, 4 rounds of golf at the Arnold Palmer golf course, Mahea B Sportfishing five-hour fishing charter for six people, "Magnum Experience" Helicopter Tour for 2 people from Paradise Helicopters Hawaii, Clark Little Photography Artwork, skate-deck from Bret Boards, $100 Lei Lei's gift card, $100 Oahu Party Bus gift card (Total Value $5,000).
2nd Place: 1 night stay at Turtle Bay Resort, 4 rounds of golf at Arnold Palmer golf course, shark tours for 6 people with Hawaii Adventures Diving, Sean Davey Canvas Print, $100 Lei Lei's gift card, $100 Oahu Party Bus gift card (Total Value $2,500).
3rd Place: 2 night stay at Hilton Waikiki Beach Resort, two rounds of golf at Arnold Palmer golf course, Hawaii Wave Images Photography Artwork, 2 admissions to Wet n Wild, $100 Lei Lei's gift card, $100 Oahu Party Bus Gift Card (Total Value $1,500).
4th Place: 2 rounds of golf at Arnold Palmer golf course, zip-line adventure for two people at Climb Works Kaena Farms, Hilton Alves Artwork, Haleiwa Joe's Gift card, $100 Oahu Party Bus Gift Card (Total Value $1000).
5th Place: Sean Davey Artwork, 5 free classes to Open Space Yoga, Primo Gift Bag, Haleiwa Beach House Gift Card, $100 Oahu Party Bus Gift Card (Total Value $500).
6th – 10th place: Restaurant gift cards, T-Shirts, Sean Davey Artwork, and other goodies from: Chance'em, Primo, Tiare Hawaii, Oahu Party Bus, Banzai Sushi, Jerry's Pizza, Aoki's Shave Ice, Killer Tacos, Cholos Mexican Food, Maui Mike's Fire Roasted Chicken and many more!!! (Total Value $200)
First ones out: We hope to have enough to go around! First ones out will receive a special condolence surprise gift as a token of their generosity! (Total Value $100)
*please note that we are very fortunate to be receiving more and more gift donations everyday, so the allocation of prizes may change as we get closer to the event start date, however the monetary value of the prizes will not decrease, regardless of the changes being made.
 MANY MAHALOS TO ALL OUR CONTRIBUTING DONORS!!!