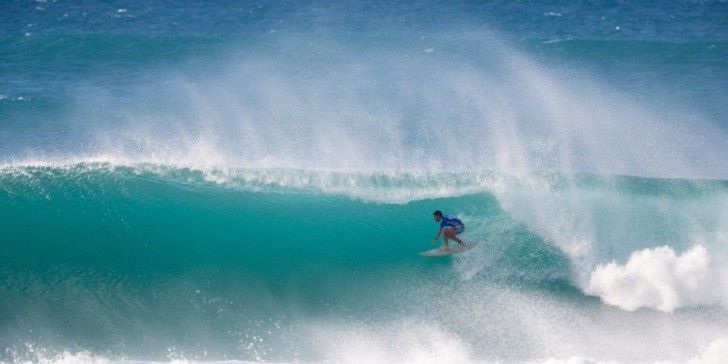 Mason Ho on the winning wave. Image: WSL / Freesurf / Heff
| | |
| --- | --- |
| Location:    |      Sunset Beach, North Shore, Oahu                                                 |
| Event window: |      October 27 – November 9   |
| Ratings: |      Men's QS3,000   |
| | |
SUNSET BEACH, Oahu/Hawaii – (Saturday, November 5, 2016) —
North Shore's
Mason Ho
added a second HIC Pro title to his list of winnings today after he delivered a clutch 9.0 barrel that catapulted him into first place in the closing minutes of the Final heat. Ho went up against the in-form Australian,
Jack Robinson
, 18, former big wave world champion
Makuakai Rothman (HAW)
, 32, and sixteen-year-old
Finn McGill (HAW)
.Ho, 28, comes from a lineage of Sunset-savvy athletes, including his father Michael Ho who won the HIC Pro a total of four times ('88, '90, '91 and '96). It was this key insight that allowed Mason to navigate the 12ft. faces and stay busy throughout the heat for a combined two-wave total of 14.37.
"I thought it was really cool to have a stacked final because the more stacked they are the better," said Ho. "Everyone's the same out at Sunset, all the champions on the list they all have all this knowledge, but when you go out to Sunset, it's almost like a lot of it is put aside… Out there I instantly feel vulnerable. As soon as I'm out there I feel like I could lose."
But the athlete demonstrated a sharpened set of skills as he found a hollow gem of a wave with less than five minutes left on the clock.
"That nine was really fun because I've been trying to get a wave like that for the last couple weeks," said Ho. "I got it in the Final and I was so stoked, it came at the perfect time."
Also crowned today was Eli Olson (HAW), who took home the Hawaii Regional Champion trophy and a $5,000 travel award presented by Vans. Olson earned a slot into the top World Surf League (WSL) Qualifying Series (QS) events in 2017 and a seed into all international QS10,000 rated events for the first half of the year.
"I'm really excited," said Olson. "This was a really good mental boost and it's getting me a better seed in the Vans Triple Crown and I'm just really looking forward to it.  I feel good physically and mentally and my boards are working incredible and I'm ready."
McGill was in line to take the Regional Champion title from Olson should he have placed third or better in the competition, but he was unable to find a backup score after securing a 7.50 on his opening ride.
"That was one of the longest days of my life because Finn was surfing so good the whole time," continued Olson. "He was the only one who could take this number one spot and it all came down to this Final."
Robinson opened the heat with a beautiful ride that judges rewarded with a 6.17. His second wave, a 4.17 put him in the lead, but it was a back and forth battle between the local Hawaii surfers and sole Australian. This is the second consecutive year that Jack has stood atop the podium at the HIC Pro, and now he moves onto the first leg of the Vans Triple Crown, the Hawaiian Pro.
Credit is also due to the highest placing Tahitian, O'Neill Massin, who made it from Round 2 all the way to the Semifinals where he met Robinson, Ho and Koa Smith (HAW). Massin was inform throughout the entire event but was unable to find decent waves or scores in the heat. Onto the Hawaiian Pro as well, Massin will be competing in the Vans Triple Crown for his first time this year.
The Hawaii big wave season has just warmed up and the Vans Triple Crown is expected to get underway in solid surf on opening day of the holding period for the Hawaiian Pro, which is November 12 -23. Catch live action online at worldsurfleague.com and vanstriplecrownofsurfing.com or on the WSL app.
An updated list of surfers who have qualified for the Vans Triple Crown from the HIC Pro will follow.
RESULTS
Surfers shown in order of 1st through 4th. All surfers from Hawaii unless otherwise noted.
1st – Mason Ho, 14.37
2nd – Jack Robinson (AUS), 10.67
3rd – Makuakai Rothman, 8.53
4th – Finn McGill, 8.50
Semifinal, 1st and 2nd advance, 3rd = 5th place, 4th = 7th place
SF1: Jack Robinson (AUS), Mason Ho, Koa Smith, O'Neill Massin (PYF)
SF2: Makuakai Rothman, Finn McGill, Benji Brand, Nathan Hedge (AUS)
Quarterfinals, 1st and 2nd advance, 3rd = 9th place, 4th = 13th place
QF1: Jack Robinson (AUS), O'Neill Massin (PYF), Leonardo Fioravanti (ITA), Brian Toth (PRI)
QF2: Koa Smith, Mason Ho, Tanner Hendrickson, Ian Walsh
QF3: Benji Brand, Makuakai Rothman, Ethan Ewing (AUS), Wade Carmichael (AUS)
QF4: Finn McGill, Nathan Hedge (AUS), Kaito Kino, Joel Centeio
Round of 32, 1st and 2nd advance, 3rd = 17th place, 4th = 25th place
H1: Brian Toth (PRI), Tanner Hendrickson, Sunny Garcia, Mitchell James (AUS)
H2: Jack Robinson (AUS), Mason Ho, Elliot Paerata-Reid (NZL), Cody Young
H3: Koa Smith, O'Neill Massin (PYF), Noa Mizuno, Alex Smith
H4: Ian Walsh, Leonardo Fioravanti (ITA), Frasier Dovell (AUS), Kekoa Cazimero
H5: Wade Carmichael (AUS), Finn McGill, Tim Reyes (USA), Jacome Correia (PRT)
H6: Makuakai Rothman, Joel Centeio, Shane Holmes (AUS), Chris Foster
H7: Nathan Hedge (AUS), Ethan Ewing (AUS), Seth Moniz, Eala Stewart
H8: Kaito Kino, Benji Brand, Riley Laing (AUS), Cole Houshman (USA)
Round of 64, 1st and 2nd advance, 3rd = 33rd place, 4th = 49th place
H14: Eala Stewart, Kaito Kino, Olamana Eleogram, Matthew McGillivray (ZAF)
H15: Benji Brand, Seth Moniz, Makai McNamara, Tereva David (PYF)
H16: Riley Laing (AUS), Ethan Ewing (AUS), Eli Olson, Louis Gillick (AUS)
Aloha!