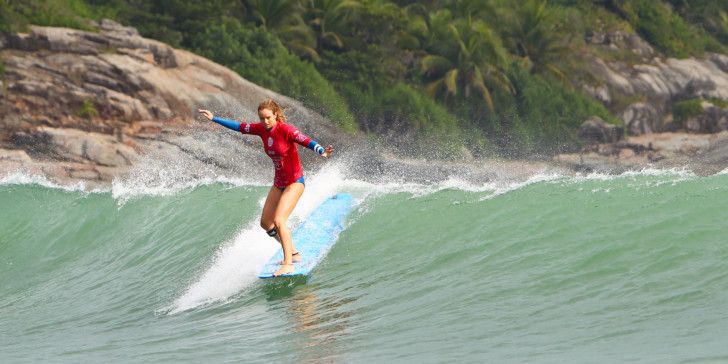 Can Rachael Tilly make it two-from-two at the Jeep World Longboard Championship in 2016. WSL/Will-HS
| | |
| --- | --- |
| Location:    | Riyue Bay, Hainan Island, China  |
| Event: | Jeep World Longboard Championship  |
| Conditions: | Upcoming |
Wanning China to Host 2016 WSL Jeep World Longboard Championships
Coolangatta, QLD/AUS (Wednesday, October 5, 2016) – The World Surf League (WSL) Jeep World Longboard Championships (WLC) is set to return to Wanning Province on the Island of Hainan in the South China Sea for a sixth consecutive year this December.
The long reeling lefthanders of Riyue Bay will yet again play host to the world's best longboarders, 36 men and 18 women, who will battle it out to become the 2016 World Longboard Champions. The long walls and consistency of Riyue Bay makes it an ideal location for the WLC.
Winning the 2015 title of Women's World Longboard Champion at only 17-years-old, San Clemente's Rachael Tilly (USA) can't wait to get back to China, the site of her biggest achievement and one that she hopes to repeat this year.
"All my surf sessions and contests throughout the year have the same end goal: to prepare for the WLC in China," Tilly said. "Some of my best friends are the girls I compete with. Fortunately, this year I have been able to travel more after graduating high school, so I was able to see some of them in different countries, but we all have a lot of fun in China and I look forward to that every year."
The feeling of winning the World Title has only made Tilly hungrier in the lead up to the 2016 event, which was obvious at some of the WSL Longboard Qualifying Series events this year where Tilly was a standout, even taking out the Pro A Coruna in Spain.
"I'm feeling confident about China this year," Tilly said. "My goal was always to win a World Title. Now I've done that and I can approach this contest with more confidence knowing I can do it again and be more relaxed. Another World Title would be an awesome bonus. However, winning a World Title is such a satisfying feeling that it has only made me hungrier to work hard and get that again."
Riyue Bay is a world-class left hand point break that offers long waves and consistent swells for the world's best Longboarders to perform on. WSL Australasia Tour Manager Will Hayden-Smith is confident that 2016 will be no different.
"People don't generally think of China as being a place that offers up consistent surf," Hayden-Smith said. "But in my experience, we have rarely seen flat spells and have even had some awesome typhoon swells which offer competitors well over-head waves. We are hoping our fortune continues this year as there is nothing better than seeing the world's best being able to show their full repertoire."
The Jeep Asia Cup specialty event will run during the first weekend of the event with Asia's fast developing surfing region invited to send elite teams to decide the Asia Cup teams champion, who will walk away with not only bragging rights but also the major share of the $15,000 prize pool.
The 2016 Jeep World Longboard Championships hosted by Wanning Provice waiting period runs from Dec 3-13 and will be broadcast live at http://worldsurfleague.us9.list-manage1.com/track/click?u=9c75f4cf1e19118d57c2f963e&id=26a4cef6d2&e=feaa17d5da. Visit the site or theWSL app in the lead up to the event for more information.