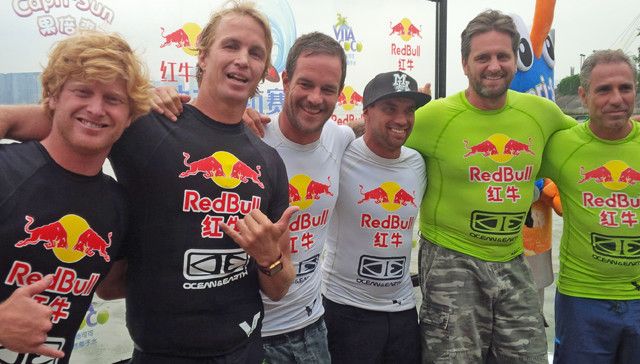 Hangzhou, China
1 – 4 October, 2016
Australia's Dean Morrison scored the highest wave of the event so far with a 9.75
Surf News Network, 3 October, 2016 – After two days of Qualifying Rounds, it has come down to the team on team final between Team Hawaii with Jamie O'Brien and Cheyne Magnussen and Team Australia with Dean "Dingo" Morrison and Koby Abberton.
In today's Qualifying Day Two the the Hawaiian's and Aussies went at it, with the Hawaiian's top scoring, whilst Morrison scored the highest wave of the event so far, a 9.75 which he described as "I thought I was out at Snapper at home in Coolangatta" as he snagged a beautiful offshore lined up right on the river.
Tomorrow afternoon's final will be web-cast "Live"
The Red Bull Qiantang Shootout is the first of its kind surf contest that pits four two-man teams of surfers equipped with their boards and a jet-ski against each other for a $31,000 purse, on the most unusual wave in the world.
The phenomena that is known as the "Silver Dragon" comes from the tidal surge that comes from the East China Sea into the Hangzhou Bay down the Qiantang river.
It presents numerous challenges as the Qiantang "river bore" wave is unusual in its size (recorded at 9m), its variety of workable wave faces on its path through the middle of the city of Hangzhou."
It is a unique venue that brings with it Chinese mainstream media that wouldn't normally cover surfing or for that matter any "Action Sports".