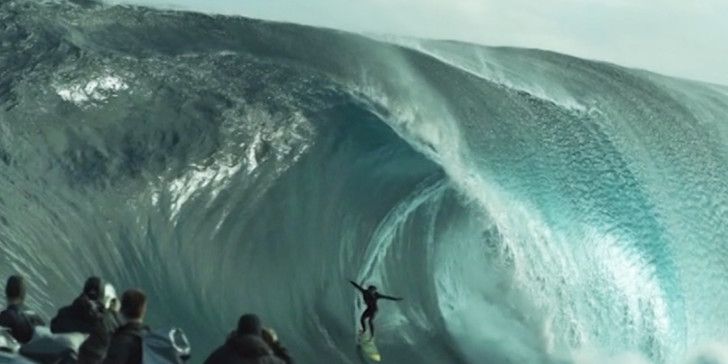 It's just not right. How do they survive?

Dan Ryan: Framegrab from video © Chris Bryan
 Dan Ryan's slow-motion over-the-falls wave at The Right
Surf News Network, Oct 1, 2016 – For every perfect wave, there are a dozen stolen chances; the swell missed by a day, the one paddle too few – or the ride that went horribly wrong.
The global surfing community held its breath and winced in unison this week as filmmaker Chris Bryan's spectacular, 1000 fps footage emerged of a nauseating wipeout at Western Australia's notorious big wave spot, The Right. Collectively we wondered what happened next, whether he was injured, whether, even, he had survived.
But for the man behind the wave, Dan Ryan, it was all part of the fun of the session.
"I've had so many people message me this week asking if I'm okay," Dan says jovially of the days since the clip's release. "It was a really violent hold-down, thrashing me around like a violent washing machine. Every time I thought I was going one way, it would rip me back the other way. It was like being caught in an excavator scoop and just being flung around."
Growing up as a bodyboarder, Dan has taken to tow-in surfing to gain a greater experience of riding big waves. Paddling and towing into the monster waves of WA, he's happiest alone in the ocean, embraced by the elements, but on the day of this session, the circus was in town.
"It was busy that day," he recalls. "I was watching the charts and realised it was going to be a good one. I paddled Cow Bombie (another famed West Coast big wave spot) the day before, and by the evening I knew it would be on.
"It was really hectic in the water – a lot of skis, a lot of cameramen. When it gets busy down there, the vibe can be really different. I suppose everyone is trying to get the shots and please their sponsors but, without any major sponsors of my own, I just get into my zone, be in my own space and not get caught up in all the hype.
"I got a couple of waves before this one, but no real big ones. I saw this wave coming and a couple of other guys were trying to go it as well. I told my driver, who hadn't had much experience before, that, if I feel that it's my turn to go, to just go for it."
But what began as the wave of the day, at least for him, soon turned ugly. The warping, morphing nature of The Right, as it draws thousands of litres of water off the reef, makes guarantees a pipedream impossibility, and it wasn't until Dan had passed the point of no return that the beast showed its true face:
"I popped up to my feet and just started smiling – I thought it was going to be a ripper! But as I was coming down into it, looking down the line I could see this big step and thought I was going to nosedive. As it was getting closer, I started to lean back, but because I didn't have straps or anything and because of the suckiness of it, it just flipped me back.
"I didn't get a very good penetration – I just bumped onto my back – and over I went with it.
"I've had a good few wipeouts there before and it was the same feeling: you just come up buzzing, glad to be alive. I didn't get another one on the head or anything, so I was pretty lucky. I even got a few more after that."
But, while some might have gone home to lick their wounds, Dan went back for more. "The next day, everyone had left and I surfed it again with Mark Mathews."
Whether lying down or standing up, paddling in or dragged behind a ski, Dan Ryan continues to search out and charge massive swells around the world.
Visit Chris Vimeo channel for the full, 6-minute movie in spectacular 1,000fps