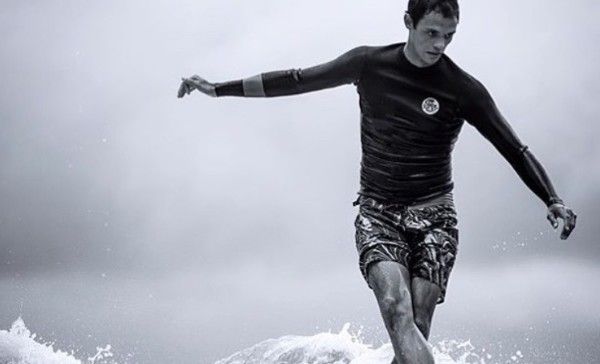 KEOKI SAGUIBO
"Traveling to remote destinations in search of perfect waves is part of my job as a surfer/photographer. Nias is one of my all-time dream destinations, but it could've been my last.
What started as a 60-hour pilgrimage from Hawaii to Sumatra with big-wave aficionado Trevor Carlson turned into the worst three days of my short existence. The first four days of the trip were mind-blowing.
We were doing three sessions a day at the famous break, with a few sessions at an undisclosed spot. Baffled by circumstances, we both agreed that we had never scored so hard on a surf trip. We needed a down day. I put the camera down and thought that with all the amazing content we had gathered so far, I could get my piece of my dream wave. I caught a few waves, got barreled on two of them, and started to feel hunger taking over. After talking with a fellow surfer and saying I was getting one more wave in, I waited for a set.
A few minutes later, a three-foot (Hawaiian size) double-up popped on the horizon and I knew it was mine. I caught the wave, stood up, and positioned myself for a lengthy drainer. Dragging both hands to stay in the barrel as long as possible, I found myself too deep. As I fell in the barrel, I expected the same thrashing that you'd always—the typical up and over followed by a tumble.
Then, BAM! With full force, I fell on my back on the board. It felt like I had just jumped from a two-story building onto cement. The pain was so unbearable that my vision went out and my body went into shock. The first thing I noticed was the air being forcefully pushed out my lungs and the most excruciating pain in my lower back. The pain was so unbearable that my vision went out and my body went into shock. I quickly lost consciousness and took on water. From that moment on, and for the next 20 minutes, I would be fighting to stay alive. I can't recall anything within those twenty minutes. Luck at this point seemed non-existent.
I came back to reality to find numerous people surrounding me and yelling. I struggled to figure out where I was as I stared at the ceiling of a grass hut. Stinging pain was running down my back as my body went into shock. I had a sense of being unable to control my limbs that were shaking like fish out of water, and I went into a panic. Not knowing the state of my injuries, I struggled to make sense of it all.
I came too again and calmed down a little bit. There was no sensation in my legs. My first thought was, "I'm paralyzed." I went into shock again. I listened to a voice coming from the crowd telling me to breathe. I felt bubbles in my lungs and realized that taking a full breath was not an option. I struggled to remain calm.
After a few minutes, I figured out my breathing. Half breaths was all I could do, so I took what I could get. I calmed down enough to regain my composure. Under the care of Trevor Carlson, Diego Santos, a chiropractor named Luke Gales and Carlos, a gynecologist from Brazil, I felt I was stable enough to grasp the situation.I felt as if I was going to be OK. I was totally wrong. Luck was still searching for me The ambulance showed up an hour and a half after the incident, and I felt as if I was going to be OK. I was totally wrong. Luck was still searching for me.
Coming from a first world country, we take for granted that an ambulance is a safe haven for those who need medical help. In Sumatra, the definition of an ambulance is a taxi driver with cool-looking lights on his ride. No training, no experience, an oxygen tank but no tubes or mask to give me oxygen."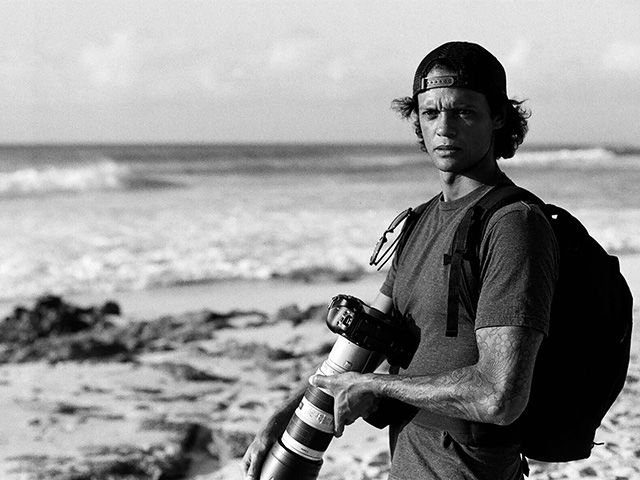 "The overwhelming support from friends and family through the hardest time of my life is giving me the confidence I need to get thru this. Words can't express how much this means to me and I can't wait to see you all again" Photo: Matt Catalano
Talented photographer Keoki life is saved but medical bills are staggering.
Keoki Saguibo by Tiana Fore – GoFundMe  HERE
My brother Keoki Saguibo needs your help!
Although all the details are still coming in … photographer and top Hawaii waverider Keoki Saguibo was badly injured while surfing in Indonesia. After being found floating face down and unconcious he was revived. He is in danger of secondary drowing due to an extreme amount of water in his lungs and is being transported/rushed from his remote location to Singapore for medical treatment . Simply put – insurance does not cover a lot of these extreme emergency medical costs and its big bank. We have been informed that emergency transport and care could be as much as $50,000 back to Hawaii and then some! All the funds will be used for medical emergency care, transport and re-hab. Keoki needs your help now and the entire surfing community will thank you for your generous support!!
Donations can also be made at any Bank of Hawaii Branches: The Friends of Keoki Saguibo
The latest update on Keoki's Instagram account shows a video of the young Hawaiian strapped to a gurney, sharing his immense gratitude to those who have donated.
Keoki Saguibo by Tiana Fore – GoFundMe
 HERE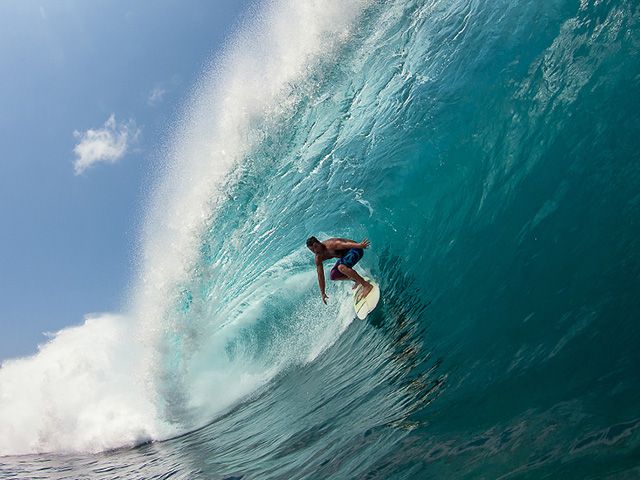 Legendary Hawaiian Photographer Keoki Saguibograbs Tom Dosland moment at Pipe 2013.