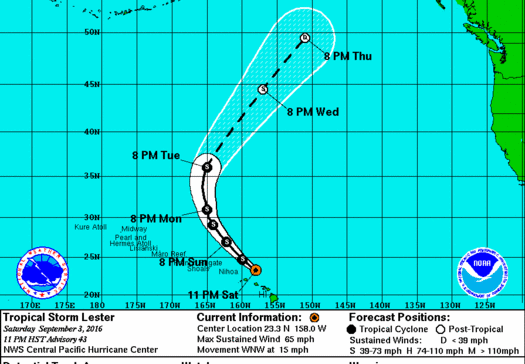 BIG PICTURE 9/4
Tropical storm Lester, centered around 100  miles north of Kauai, will continue to weaken as it pulls away from the region Sunday. Moderate to fresh trade winds associated with high pressure will return through the week
The biggest risk from Lester was the Above Warning level surf along Windward shores. The NW buoy 270 NW of us is getting it now with 15′ 14 seconds. Huge. Surf was bigger than Madeline's with consistent, powerful long period surf breaking up to a mile out…with severe currents. Normal spots washed out. NE trades replaced earlier forecast for NW winds.  The episode is down and dropping but is still dangerous for select areas esp Kauai even for big wave warriors.  SNN.
Bottom line: Lingering large and damaging surf.  Maybe locally higher sets along east facing shores today and  diminish late tonight through Sunday.
Tropical Storm Lester Advisory 43
Issued at 1100 PM Sat
SUMMARY
———————————————–
ABOUT 140 MI… N OF HONOLULU HAWAII
ABOUT 125 MI… NE OF LIHUE HAWAII
Maximum sustained winds: 65 MPH…
Present movement: WNW or 295 degrees AT 15 MPH..
Minimum central pressure: 998 MB…29.47 INCHES
For more info (probabilities, graphs, discussions…) GO HERE
BIG PICTURE for SSW and WNW ground swells
Both the South and North Pacs are packing more SSW and NW punch than August with the exception of NE swells which have been in abundance even into September.
 The 2 fun SSW swell popping up Monday and Tuesday will keep surf head to just overhead the majority of the week.
 Back to back winter Lows moved off the coast of NZL end of August.
 The first storm grabbed some 35' seas so solid 3' sets are certain and we can hope for some near 4' sets at top spots by Monday afternoon; this is after the 18 sec forerunners hit Sunday eve and fill through the night into Monday noon.
 The next Low had a better NE track (partial captured fetch) so we should see bigger SSW
surf than swell #1. 18sec forerunners come Tuesday and should be all filled in at 2-4' Wednesday noonish peaking at night.
 After this we see some great potential for more above average head high to 2' overhead SSW surf by the 14th. The source is a Big broad Low that scoots off the south Island of NZL into our window around Sept 7-9th. Lets get closer to nail more confidence. But at any rate Sept is putting Aug to shame.
 The current WNW is fun and gets to title 'first WNW ground swell of the season'.
It also gets the 'Best Name' title as this typhoon was called Lionrock. The storm started SE of Japan 8/22-8/26 and started super West. It tracked North getting an open shot to us (less shadowing) later in it's life's track. It peaked Saturday early with most spots seeing some 4' sets with more 3' waves.
 After our break from the current fun WNW (that DID hit 5' solid at Sunset Saturday AM 9/3) we get our second event of the new month/season 9/14. The probility is low however as the long range GFS (Global Forecast System) doesn't show it as of yet only select models. Plus, it's a loooong way out. We need to make a call a week out so 9/7 or 9/8.
Surf Advisory and Warning Criteria
Location/shoreline Advisory Warning
North-Facing Shores- 15 Feet faces (8′ Local) 25 Feet faces (15′ local)
West-Facing Shores – 12 Feet (7′ local) 20 Feet (12′ local)
West-Facing- Big Is. – 8 Feet (4'+ local) 12 Feet (7′ local)
East-Facing Shores- 8 Feet (4+ local) 15 Feet (8' local)
Tropical Storm – winds 39-73 mph (34-63 kt)
Category 1 – winds 74-95 mph (64-82 kt)
Category 2 – winds 96-110 mph (83-95 kt)
Category 3 – winds 111-130 mph (96-113 kt)
Category 4 – winds 131-155 mph (114-135 kt)
Category 5 – winds 156 mph and up (135+ kt)