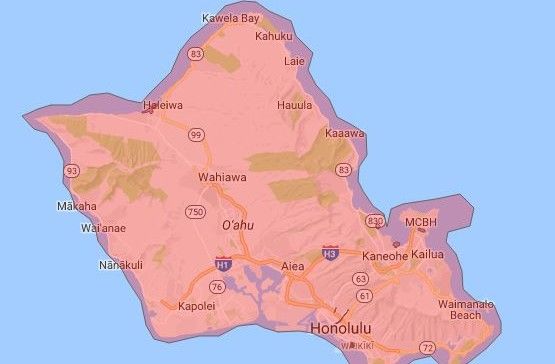 Brown Water Advisory – Brown Water Advisory: Island of Oahu…rare to see line ups so empty. Surfer's playing it smart. With Sunshine and trades the water will slowly clean up. Obey the warning signs and pray for clean surf.
Start Date: SUNDAY 2016-07-24
Cause: Heavy rains
Detail: A Brown Water Advisory is being issued for the island of Oahu due to heavy rains. The public is advised to stay out of flood waters and storm water runoff due to possible overflowing cesspools, sewer manholes, pesticides, animal fecal matter, dead animals, pathogens, chemicals, and associated flood debris. Not all waters may be affected, however if the water is brown stay out and continue to practice good personal hygiene and follow up with your primary care physician if you have any health concerns.
The public is reminded that after any storm event, storm water runoff may contain sewage, harmful micro-organisms, and chemicals from commercial and industrial sources.
Sewage and Chemical Spills
The public should avoid contact with surface waters, such as the ocean or streams, that may be contaminated by a sewage spill or chemical spill. Sewage can contain harmful micro-organisms (pathogens) that can cause illness. Chemicals can cause various illnesses that can be fatal.
Usually coastal waters are safe to enter due to tidal flushing after 48 hours. However, the public should wait for further instructions from the Department of Health through media releases as to when the stream or coastal water is safe to enter.
Storm Water
The public should stay out of beaches or streams that are contaminated by storm (brown) water. Storm water can contain harmful micro-organisms (pathogens) and other harmful pollutants from overflowing sewage systems, such as cesspools or septic tanks, and animal feces flowing into storm drains.
Excessive storm water can also contain sewage from overflowing manholes or chemicals from polluted runoff from comercial and industrial facilities.
Standing water from heavy rains can also contain pathogens from cesspools in unsewered areas, such as the North Shore Oahu, Kauai, Maui and the Big Island.
Questions regarding the safety or cleaning of standing water or "brown water" in the coastal and inland areas of the State should be directed to the Department of Health, Clean Water Branch on Oahu at (808) 586-4309 during normal business hours.
Reporting Spills
The Department of Health monitors for spills, works with Counties, and invites the public to report spills to (808) 586-4309 during normal business hours.
On Oahu, sewage spills should be reported to the City and County of Honolulu at (808) 523-4423.
Chemical spills should be reported to the Department of Health, Hazard Evaluation & Emergency Response Office at (808) 586-4249 during normal business hours and (808)247-2191 after normal business hours.