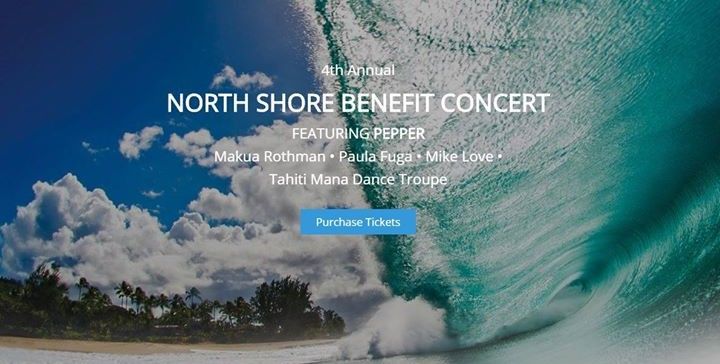 December 12, 2015
Turtle Bay Resort/Surfer, the Bar
Join a host of the world's greatest surfers, personalities, humanitarians and industry leaders at the 4th Annual Mauli Ola Foundation Benefit Concert presented by Ambry Genetics. Set to take place December 12th, at the North Shore's only resort destination The Turtle Bay Resort. Come enjoy a gourmet dinner and headliner entertainment by PEPPER. This event is to raise awareness and funds to support Mauli Ola's mission of introducing surfing as a natural therapy of those facing the challenges of genetic disorder Who: Pepper, Makua Rothman, Mike Love, Paula Fuga, the Tahiti Mana Dance Troupe & more Where: Turtle Bay Resort, North Shore, Hawaii When: Saturday, December 12, 2015 6PM-PAU Why: Raise funds and awareness to support natural treatments that have a direct and immediate impact on individuals suffering from genetic diseases.
The Mauli Ola Foundation began as a group of surfers who banded together to introduce surfing as a natural treatment to people with cystic fibrosis.
A Story of Support
GoPro and Mauli Ola have been friends since of the original HERO days, when Mauli Ola began using GoPros to capture their Surf Experience Days, hospital visits, community outreaches and more. In this story, we follow Breana, a teenager living with cystic fibrosis, as she heads to the North Shore for the Jamie O'Brien Surf Experience Day at Haleiwa Beach. The first pro Breana ever surfed with was GoPro athlete Kala Alexander, whom she built a relationship with as she continued to attend MOF events.
Surf Experience Days gets kids living with CF into the ocean so they can experience what natural therapies can do for their lungs. The salt in the air and water helps to break down congestion in their airways. With salt water treatments, many require fewer hospital visits—leading to healthier lives that are filled with the joy of surfing.
Kala and the MOF team worked with Hawaiian Airlines and Surf Break Rentals to sponsor Breana's trip to Hawaii. GoPro outfitted Breana and her mom with all the requisite gear and training, and sent our production team along to capture her experience with the Mauli Ola family.
Big love to all the GoPro athletes who took part in the Surf Experience Day with Breana—Kala Alexander, Jamie O'Brien and Sunny Garcia—and to friends Gavin Beschen and Hans Hagen for their support. And of course, big love to Breana and her mom, Caryn. GoPro is proud to be the official camera of the Mauli Ola Foundation.
May the wave heal us all.
You can GO HERE to help. Mahalo.