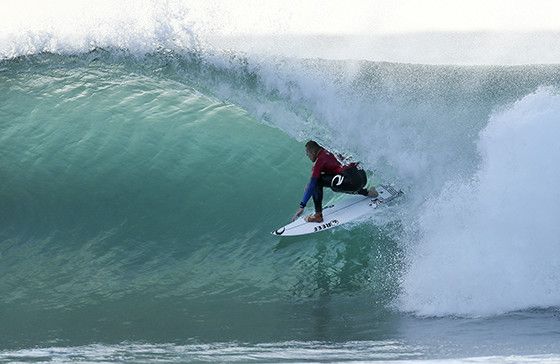 – WILSON, ZIETZ, MEDINA AND SMITH SHINE IN PUMPING SURF AT JEFFREYS BAY
– FLORENCE AND WSL FRONTRUNNER WILKINSON RECOVER FROM
OPENING-ROUND LOSSES TO WIN THROUGH ROUND 2
– WSL CHAMPIONS DE SOUZA, FANNING AND SLATER ADVANCE TO ROUND 3
Caption: Mick Fanning (AUS) takes the win in the first heat of day at the J-Bay Open.
Image: WSL / Kelly Cestari
| | |
| --- | --- |
| Location:    | Jeffreys Bay, South Africa |
| Event window: | July 6 – 17, 2016 |
| Today's call: | Round 1 and Heats 1 – 4 of Round 2 complete |
| | |
| --- | --- |
| Conditions: | 3-to-5 foot plus (1 – 1.5 metre) |
JEFFREYS BAY, South Africa (Wednesday, July 6, 2016) – The J-Bay Open, Stop No. 6 on the 2016 Samsung Galaxy World Surf League (WSL) Championship Tour (CT), commenced today and the world's best surfers took to the water for a full day of exciting action at Jeffreys Bay. Competition ran through Round 1 and the opening four heats of Round 2, and the WSL Top 34 battled for a place in Round 3 in building three-to-five foot (1 – 1.5 metre) surf.
All eyes were on three-time WSL Champion Mick Fanning (AUS) who surfed in the opening heat of the day — his first heat at Jeffreys Bay since the dramatic J-Bay Open Final last year where he was attacked on live television by what is believed to be a 12-to-15-foot Great White Shark. Despite suffering an ankle injury during a freesurf last week, Fanning looked confident and claimed a solid victory over Alejo Muniz (BRA) andConner Coffin (USA). Fanning found a classic Jeffreys Bay wave, one of the longest rides of the day, for a 7.50 to secure his win, while his opponents were unable to find the back-up scores required to challenge the Australian.
"It's been a big week actually," said Fanning. "I got here early but then hurt my ankle so had to sit on the sidelines and watch the amazing waves go through. The medical staff have worked wonders and I've got it taped up. I feel good when I'm up and riding and each day my ankle gets better and better. It's great to get back out there."
Julian Wilson (AUS) looked untouchable in the penultimate heat of Round 1 and delivered the day's biggest scores. Wilson showed skillful wave selection and earned two excellent nine-point rides for a combination of barrels and carves. His near-perfect 18.77 heat total sees him move directly to Round 3, while his opponents Nat Young (USA)and Jack Freestone (AUS) will surf again in elimination Round 2 when competition resumes.
"It's so nice out there today, there's plenty of swell on the opening day and it's incredible to be back," said Wilson. "It's one of the best heats I've had all year and the conditions are really nice. I'm just enjoying the waves here and it feels good to have a strong heat."

Julian Wilson (AUS) netted the day's highest scores in Round 1 Heat 11.
Image: WSL / Kelly Cestari
Another of the day's top performances came from replacement surfer Sebastian Zietz (HAW). A huge opening score (a 9.17) from Zietz gave him an early lead over Stuart Kennedy (AUS) and Michel Bourez (PYF) in the final heat of Round 1. The Hawaiian quickly found an excellent back-up score for an impressive combination of attacking carves and left his opponents searching for opportunities.
"I am excited to be here in J-Bay and make it out of that heat," said Zietz. "My boards were feeling good and after Fiji I got down here early to get my feet in the wax. I'm stoked to advance to Round 3 and excited to catch more waves."
2016 CT Rookies Davey Cathels (AUS) and Kanoa Igarashi (USA) delivered big upsets today, both winning through their Round 1 heats and advancing directly to Round 3.
Cathels defeated No. 1 on the Jeep Leaderboard Matt Wilkinson (AUS) in Round 1 Heat 6, sending him to elimination Round 2. Cathels managed to manufacture an 11.33 two-wave heat total to edge out Wilkinson and wildcard Steven Sawyer (ZAF) and claim an important Round 1 win.
"This is an event that I've always watched and wanted to come and compete at," said Cathels. "It's great to be here and really fun. Wilkinson is always so good out here and he's having a hell of year so it feels good to get that win."
Wilkinson went on to win through Round 2, defeating Sawyer in a close-fought battle. The South African finishes the event in equal 25th place and Wilkinson will advance on to Round 3. Wilkinson's victory will see him retain the Jeep Leader Jersey heading into the next event on the CT, the Billabong Pro Tahiti.
"That was a super tricky heat," said Wilkinson. "I'm lucky I can keep this jersey. I was so excited out there but I kept falling, so luckily I got through it. I'm excited to keep that jersey and excited to make it through."
"It's definitely a setback being ill, but it wouldn't have changed the end result I don't think," Sawyer said. "I was falling and doing silly things out there. I was just waiting for that bomb but was uncomfortable on the waves I got. It's bit of a bummer because I know I could have done it but I'll have to come back next year."
Igarashi caused another upset, defeating John John Florence (HAW) and Keanu Asing (HAW) in Round 1 Heat 3. It was a polished performance from the rookie who asserted himself early on in the heat with an excellent 8.17 for multiple tube rides. Igarashi, who showed no nerves taking on Florence, backed up his score with 7.47, leaving his Hawaiian opponents searching for scores.
"I've been here for six days now and I've just been surfing as much as I can," Igarashi said. "I have a lot of experience around me, which probably helps me get more experience that I was lacking before. I feel like I haven't been able to do my best surfing this year yet and I want to show what I can do in good waves like this. I've been having a good time, my boards are feeling good and I'm learning a lot so I'm excited for the rest of the season."
Florence recovered from his Round 1 loss by storming to victory in Round 2 Heat 2 against Alex Ribeiro (BRA). Just two waves from the Hawaiian were enough for him to build a 17.27 heat total and advance to Round 3.
"The first time I came to J-Bay I think I was 12 or 13-years old," Florence said. "I've been coming here every year since. This is one of my favorite places in the world. Going into Round 2 is always pretty stressful, but I am stoked because the waves are firing right now. It is a little less windy than it was this morning and I am excited that there are waves. It is fun to get some nice, open-faced waves."
Current World No. 2 Gabriel Medina (BRA) was in top form, winning through his Round 1 heat with a 17.27 heat total. Medina kept busy throughout the 35 minute bout and dominated from start to finish. A combination of powerful turns and high-risk maneuvers earned the 2014 WSL Champion an excellent 9.10 and the win. Dusty Payne (HAW)and Ribeiro were both left in a combination situation and sent to Round 2.
"I like J-Bay. It is a tricky wave, but at the same time it is good," Medina said. "I found a good board and tried to go for the set waves. I am feeling good. After Fiji I have not been surfing and that was my second surf, so it feels good to surf well and make the heat."

2014 WSL Champion Gabriel Medina (BRA) stormed through Round 1 with a 17.27 heat total.
Image: WSL / Kelly Cestari
Jordy Smith (ZAF) looked fired up for his first heat at Jeffreys Bay. The two-time event winner and lone South African on the men's CT pulled together an impressive combination of maneuvers to find two excellent scores – an 8.10 and 8.33. Despite a near-perfect 9.27 from opponent Wiggolly Dantas (BRA), Smith took the win, sending Dantas and Adam Melling (AUS) to Round 2.
"You really have to surf out of your skin at J-Bay to get good scores," said Smith. "It was a great heat and there were lot of opportunities. Last year I didn't really get the opportunity to surf my best so it feels good to be back. It's incredible to be home and have the crowd behind me. Every time you do a big turn you hear the crowd erupt and it feels great — it's good to be home."
11-time WSL Champion Kelly Slater (USA) defeated Filipe Toledo (BRA) and Matt Banting (AUS) in Round 1 Heat 7 and will advance directly to Round 3.
"Jeffreys Bay is so special because there aren't many pointbreaks that barrel like here," said Slater. "In that heat, I was just trying to find anything to give me a score. I did have a couple of good waves early, but it is tough out there with the bump on the face and the high wind gusts. I probably could have maximized a couple of other waves earlier in the heat and not put the stress on myself. I am super happy to win that heat and have another day to get acclimated and used to my boards and the waves."
Toledo went on to storm through his Round 2 heat by taking to the air and netting an impressive 16.54 heat total to eliminate Kai Otton (AUS) from the competition.
"I've really been working a lot and trying to improve at places like J-Bay," said Toledo. "I'm super excited to be here and surfing in perfect waves like this. I'm really happy. Surfers like me love to do airs and crazy maneuvers, but I know if I want to be a world champ I have to improve my other types of surfing like barrels."
Reigning WSL Champion Adriano de Souza (BRA) also won through Round 1 to secure his place in Round 3. De Souza defeated Otton and Josh Kerr (AUS) in Heat 4.
"Before the event started, I saw the forecast and I've surfed this wave so much over the past ten days," De Souza said. "I've been learning a lot here and know I need to apply what I've been doing in the last few weeks. I am happy to move on. It was a tricky heat against Kai and Josh, as they both have an amazing history here at J-Bay."
Medium size SW swell mix prevails Wednesday along with very strong offshore flow, before trending down Thursday and into Friday morning as wind eases significantly. A potentially larger SW swell could move in for the weekend of the 9th-10th, although wind conditions do look more problematic with at least some periods of onshore flow. At this point the early to middle part of next week looks pretty slow, with some fun to possibly mid size SW swell around the last three days of the waiting period. Surfline.
The event is also being carried by the WSL's LIVE broadcast partners Fox Sports Australia, CBS Sports in the United States, ESPN Brasil, Globosat, Edgesport, Sky NZ, Sport TV, Canal + Deportes, Channel Nine, MCS, Starhub, and Oceanic Time Warner Cable 250 & 1250 in Hawaii.
Event organizers will reconvene tomorrow at 7 a.m. local time for a possible 7:30 a.m. start.
For more information, check out WorldSurfLeague.com
J-Bay Open Round 1 Results:
Heat 1: Mick Fanning (AUS) 13.67, Alejo Muniz (BRA) 10.80, Conner Coffin (USA) 9.97
Heat 2: Italo Ferreira (BRA) 13.33, Miguel Pupo (BRA) 12.06, Ryan Callinan (AUS) 8.43
Heat 3: Kanoa Igarashi (USA) 15.64, John John Florence (HAW) 13.24, Keanu Asing (HAW) 12.60
Heat 4: Adriano de Souza (BRA) 14.76, Kai Otton (AUS) 10.80, Josh Kerr (AUS) 7.00
Heat 5: Gabriel Medina (BRA) 17.27, Dusty Payne (HAW) 12.77, Alex Ribeiro (BRA) 12.27
Heat 6: Davey Cathels (AUS) 11.33, Matt Wilkinson (AUS) 10.33, Steven Sawyer (ZAF) 7.43
Heat 7: Kelly Slater (USA) 12.26, Filipe Toledo (BRA) 12.00, Matt Banting (AUS) 9.43
Heat 8: Kolohe Andino (USA) 14.16, Jadson Andre (BRA) 12.66, Adrian Buchan (AUS) 12.50
Heat 9: Jordy Smith (ZAF) 16.43, Wiggolly Dantas (BRA) 15.10, Adam Melling (AUS) 9.40
Heat 10: Caio Ibelli (BRA) 15.26, Joel Parkinson (AUS) 13.60, Jeremy Flores (FRA) 12.90
Heat 11: Julian Wilson (AUS) 18.77, Jack Freestone (AUS) 10.17, Nat Young (USA) 7.50
Heat 12: Sebastian Zietz (HAW) 17.90, Michel Bourez (PYF) 9.90, Stuart Kennedy (AUS) 9.74
J-Bay Open Round 2 Results:
Heat 1: Matt Wilkinson (AUS) 8.47 def. Steven Sawyer (ZAF) 7.93
Heat 2: John John Florence (HAW) 17.27 def. Alex Ribeiro (BRA) 11.77
Heat 3: Filipe Toledo (BRA) 16.54 def. Kai Otton (AUS) 14.34
Heat 4: Adrian Buchan (AUS) 10.50 def. Keanu Asing (HAW) 3.87
J-Bay Open Round 2 Upcoming Match-Ups:
Heat 5: Michel Bourez (PYF) vs. Ryan Callinan (AUS)
Heat 6: Nat Young (USA) vs. Alejo Muniz (BRA)
Heat 7: Joel Parkinson (AUS) vs. Matt Banting (AUS)
Heat 8: Wiggolly Dantas (BRA) vs. Jadson Andre (BRA)
Heat 9: Conner Coffin (USA) vs. Adam Melling (AUS)
Heat 10: Miguel Pupo (BRA) vs. Jeremy Flores (FRA)
Heat 11: Josh Kerr (AUS) vs. Jack Freestone (AUS)
Heat 12: Dusty Payne (HAW) vs. Stuart Kennedy (AUS)