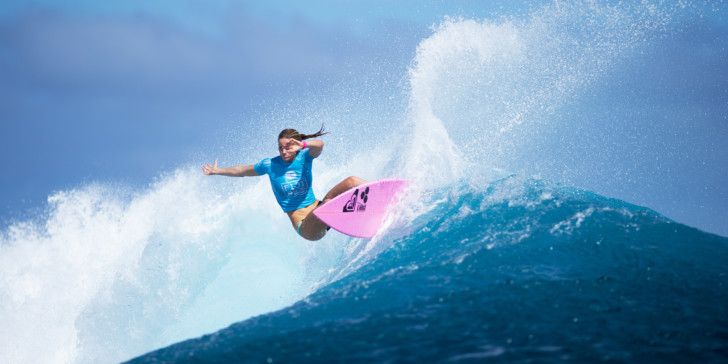 Bianca Buitendag (ZAF) will battle defending event Champion Sally Fitzgibbons (AUS) and 2016 WSL Rookie Keely Andrew (AUS) in Round 1 Heat 2.Image: WSL / Kirstin
| | |
| --- | --- |
| Location:    | Tavarua, Fiji |
| Event window: | May 29 – June 3, 2016 |
| Today's call: | Round 1 called ON |
| | |
| --- | --- |
| Conditions: | 3 – 4 foot (1 metre) |
TAVARUA, Fiji (Sunday, May 29, 2016) – The Fiji Women's Pro kicked off today 10am HI Time (8am Sunday Fiji Time) with Round 1  with Rounds 2 and 3 on standby.
Stop No. 5 of 10 on the 2016 Samsung Galaxy WSL Championship Tour, the Fiji Women's Pro, will see the world's best compete in building three-to-four foot (1 metre) waves at Cloudbreak.
"We are going to run Round 1 at 8:00 am," said WSL Deputy Commissioner Jessi Miley-Dyer. "I am going to leave Rounds 2 and 3 on standby. The forecast and this morning's conditions tell us that this will be one of the better days. It is looking fun out there and this will be a great day."
Carissa Moore (HAW), reigning World Champion, will combat Sage Erickson (USA)and 2016 WSL Rookie Chelsea Tuach (BRB) in Round 1 Heat 5.
Bethany Hamilton (HAW), global sporting icon and shark attack survivor, has been allocated the WSL Wildcard for the Fiji Women's Pro. Hamilton will take on current frontrunner Tyler Wright (AUS) and Nikki Van Dijk (AUS) in Round 1 Heat 3.
Sally Fitzgibbons (AUS), defending event Champion, will battle Bianca Buitendag (ZAF) and 2016 WSL Rookie Keely Andrew (AUS) in Heat 2.
Up first will be Tatiana Weston-Webb (HAW), Malia Manuel (HAW) and Alessa Quizon (HAW) in the opening heat of Round 1.
The event is also being carried by the WSL's LIVE broadcast partners Fox Sports Australia, CBS Sports in the United States, ESPN Brasil, Globosat, Edgesport, Sky NZ, Sport TV, Canal + Deportes, Channel Nine, MCS, Starhub, and Oceanic Time Warner Cable 250 & 1250 in Hawaii.
Fiji Women's Pro Round 1 Match-Ups:
Heat 1: Tatiana Weston-Webb (HAW), Malia Manuel (HAW), Alessa Quizon (HAW)
Heat 2: Sally Fitzgibbons (AUS), Bianca Buitendag (ZAF), Keely Andrew (AUS)
Heat 3: Tyler Wright (AUS), Nikki Van Dijk (AUS), Bethany Hamilton (HAW)
Heat 4: Courtney Conlogue (USA), Bronte Macaulay (AUS), Coco Ho (HAW)
Heat 5: Carissa Moore (HAW), Sage Erickson (USA), Chelsea Tuach (BRB)
Heat 6: Stephanie Gilmore (AUS), Johanne Defay (FRA), Laura Enever (AUS)
For more information, check out WorldSurfLeague.com