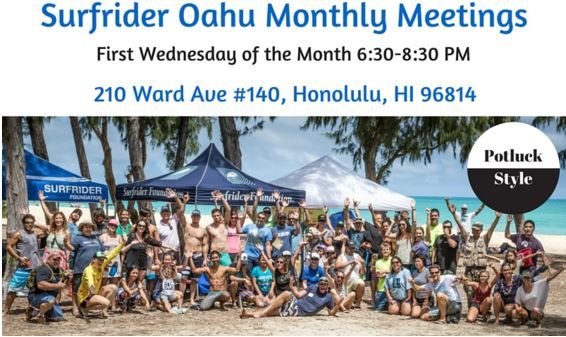 Here are some upcoming events to keep in mind, followed by flyers and details.
May 4th-6:30-8:30 PM: Surfrider O'ahu Monthly Meeting
May 7th: 9:00AM-3PM: Surfblitz #4
May 21st: Hands Across the Sand
November 12th: The Annual John Kelly Awards @ Waimea Valley
Get involved with Ocean Friendly Restaurants
Join us May 4th at the RevoluSun Headquarters on Ward for our monthly Surfrider O'ahu meeting and find out how you can get involved and let us know where your strengths and interests lie.
Bring a potluck dish to share.
Some things on the agenda this month will be:
1) Guest Speaker on energy in Hawai'i: Jeff Mikulina, Executive Director of Blue Planet Foundation
2) Hands Across the Sand
3) The possibilities of the largest marine national monument on the planet
4) Our next Surfblitz
5) Water Quality Updates
See you all on Wednesday.
On Saturday, May 21st, groups all over the world will be joining hands at 12 noon local time to draw a line in the sand against dirty fossil fuels and stand in support of a clean energy future.
Surfrider O'ahu will be hosting a Hand Across the Sand event at Makapu'u Beach Park that includes a beach cleanup (microsplastic sifters on hand), talks by local leaders in the energy sector, and a bbq lunch.
Come down to one of the most beautiful beaches on our island and help clean up the beach, get more information on our State's move to a renewable energy future, and understand the impacts of the potential NextEra take over of our utilities. Find out what you can do to help move us towards a more sustainable future.
At 12PM after cleaning the beach we will be taking a massive group picture (we'll have photographers at the lookout, in the water, on the rocks, and above from the lifeguard tower) where we all join hands in support of a cleaner, healthier future… so bring a friend and lets cover the whole beach.
Go by bike, ride the bus, or carpool to get there and we'll see you on the beach!
Please join us for our next #Surfblitz on May 7th.
RSVP with and email to permablitzhi@gmail.com. When you RSVP you'll be given directions to the event. Space is limited to sign up now.In 2014 Surfrider Oahu joined forces with Permablitz Hawai'i to join our volunteer networks in creating sustainable gardens. The effort uses the principles of Surfrider's Ocean Friendly Garden campaign and combines the sustainable techniques and reciprocal volunteer network of Permablitz Hawai'i.  This partnership between Surfrider Foundation – Oahu Chapter and Permablitz Hawai'i is making magic happen. Thank you to Allen, Mike, and the whole team who are leading an amazing charge in coordination for these events and teaching volunteers with their extensive foodscaping knowledge. There is always such a great array of permablitz veterans and complete new-comers – which translates to a broader community educated and empowered to make a healthier and more sustainable island life. Spread your knowledge, make the movement move, build your own Surfrider Foundation: Ocean Friendly Gardens!Saturday, May 7, 2016.
9:00am: Arrive and sign-in
9:15am: Circle up, introductions, design review
9:30am: Work session #1
12:30pm: Potluck lunch! BYO plate and utensils!
1:30pm: Work session #2
3:00pm: Pau work day!
Our Ocean Friendly Restaurant team has been hard at work connecting with the community and beginning our certification process for restaurants in Hawai'i who are taking the lead in reducing their footprint. This is an island wide campaign that partners with  Kōkua Hawaiʻi Foundation, Maui Huliau Foundation, Styrophobia, Sierra Club of Hawaiʻi, Conservation Council for Hawaiʻi and Sustainable Coastlines Hawaiʻi.
Make sure to check out the webpage (linked above and on the image) for details of what makes a restaurant ocean friendly. It's about changing our producer/consumer behaviour to be less wasteful by using no styrofoam, plastic utensils, straws, and plastic bags.
Just a few of the early certifications have gone to Juicy Brew, Wahoo's, Cholo's,The Nook, Beet Box Cafe, Sprout, Ke Nui Kitchen, Morning Glass, Ai Love Nalo and many more. We'll have them all up on the website as we continue to certify.
We are already preparing for this year's John Kelly Awards on November 12th at Waimea Valley and need your help. We are looking for volunteers with event planning, silent auction setup, and marketing experience to lead a team to make this year's event the best ever. Please email Rafael at rbergstrom@surfrider.org if you are interested. Mahalo!
2016 Earth Month In Review
Surfrider O'ahu is always busy during Earth Month, but 2016 was one of our most productive and busy yet. Here are a few of the things that happened this last month.
Mānoa Stream Cleanup
We kicked off the month of April with a cleanup of Mānoa Stream on the University of Hawai'i lower campus thanks to the dedicated help of our Surfrider UH chapter and the Ka Papa Lo'i o Kanewai. The setting of the lo'i was an extraordinary treat to have as a staging ground and educational setting for the cleanup. A huge mahalo to their whole team for hosting us. The cleanup was an eye-opener for the more than 75 volunteers who helped attend as we collected approximately 3000 lbs of trash
 from a small section of the stream's slopes near the dorms. Some of our volunteers used tally sheets to record what they found and amidst the debris was over 1500 pieces of hard and soft plastics that were diverted from entering the stream which leads to the ocean. This was just a fraction of the debris we found and we will work with UH on some sustainability and waste diversion tactics in the coming months.
Kona Coast Cleanup with Sales Force
Surfrider O'ahu joined forced with the Kona & Hilo Chapters to lead cleanups up and down the Kona Coast (12 beaches) for over 850 employees of the Sales Force team. The event was a great education opportunity as many of the Sales Force team from all over the world was introduced to Surfrider and the issues of plastic pollution for the first time.
Ocean Friendly Restaurants
Surfrider O'ahu in conjunction with our Rise Above Plastics Coalition helped launch Hawai'i's Ocean Friendly Restaurant Campaign this month, with over 30 restaurants being certified all over the state. You can find details about the program on the
website here
– This project would not be moving as it has without the dedicated efforts of many volunteers, but a huge mahalo to Malia, the Maui Huliau Foundation and her students for creating the website and being leaders on this wonderful project.
Dennis Mathewson Art and Wy's Gallery Donations
We were given an incredibly generous donation from
Dennis Mathewson Art
&
Wy's Galleries
. Dennis created "Blind Date" to bring awareness to the issue of plastics in our oceans. The artwork depicts a plastic bag mimicking a jellyfish side by side in a sea of debris. Dennis and Wy's Galleries are donating 20% of sales on this image to Surfrider O'ahu to help our mission. They sold the original to a Surfrider supporter out here from Seattle this past week. Mahalo you guys for this support, we deeply appreciate it and will put it to good use protecting the ocean!
Kahuku Point Earth Day Cleanup w/ Turtle Bay & The North Shore Community Land Trust

We had a great crew from all over the world spending a morning on their vacation learning about and cleaning up microplastic and marine debris at Kahuku Point. Our small group made a big difference by removing about 400 lbs of plastic debris from the beach in 2 hours. The other half of the group was removing invasive species and planting natives with the North Shore Community Land Trust.
Cheers to Turtle Bay Resort for setting up an educational earth day morning for your guests!