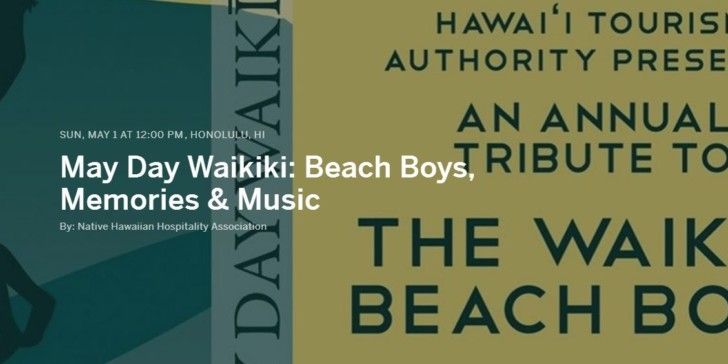 Aloha!
We are pleased to invite you to join us for the 3rd Annual "May Day Waikīkī: Beach Boys, Memories & Music" on Sunday, May 1, 2016 from 12:00pm to 4:45pm on the beach front of the The Royal Hawaiian Waikīkī. This wonderful event pays tribute to the Waikīkī Beach Boys and brings together visitors and locals for a music-filled afternoon of celebration and reflection.
The Waikīkī Beach Boys were known as the first line ambassadors of Aloha, and are attributed with exposing a global audience to the Hawaiian sports of surfing and canoe paddling. It was these jovial and expert watermen who helped to also shape the early tourism landscape and economy in Hawaii.
Each year, the Hawaii Tourism Authority recognizes Waikīkī Beach Boys, past and present, whom have made significant contributions in the tourism industry, either thru their conservancy of the beach, their display of exceptional water-skills in surfing, canoe paddling and/or catamaran handling, or thru their stewardship of the Beach Boy culture. This year, we are honored to recognize the following Waikīkī Beach Boys:
Albert "Rabbit Kekai

Richard "Buffalo" Keaulana

James Lord "Tally Ho" Blears

Harry S Robello

Edward "Blackout" Whaley

George Downing
This event is FREE and open to the public however we are humbly asking for sponsorship in the form of monetary or in-kind donations to allow us to continue producing this yearly event. Funds will also be used to begin the erection of a Waikīkī Beach Boy Memorial Wall, which will display the names of the Beach Boys who have passed away and gone "beyond the reef".
How to Donate:
The Native Hawaiian Hospitality Association (NaHHA)* is the fiscal sponsor for this year's event and will be accepting donations on behalf of the May Day Waikīkī celebration as well as sponsorship opportunities. For more information about ways you can support this year's celebration, please visit our sponsorship and donations page at http://mayday-waikiki.eventbrite.com
We hope that you will be able to attend the celebration and we look forward to hearing back from you!
Mahalo,
Pohai Ryan – Executive Director of the Native Hawaiian Hospitality Association
Ted Bush – Owner of Waikiki Beach Services
*NaHHA is a 501(c)3 non-profit organization that advocates for the development and advancement of Native Hawaiians in tourism and the perpetuation of authentic Native Hawaiian culture in Hawaii's visitor industry. For more information about NaHHA and our mission please visit our website at http://www.nahha.com