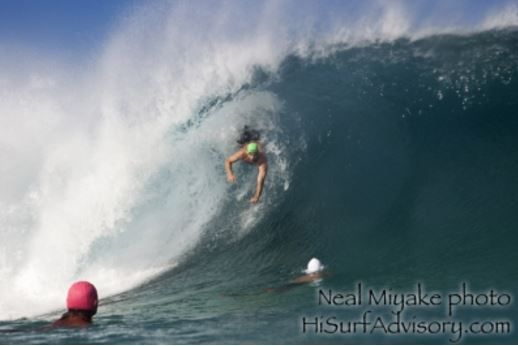 The Pipe Pro Juniors likely to go Monday-Tuesday with the Pipe Body Surfing Contest to shoot for Wednesday.
Surf is just too G-Narly side offshore 6-10′ solid with out of control, crossed up thick WNW and NNE. This would be too dangerous. SNN.
Quiksilver and the North Shore Lifeguard Association present the 2016 Pipeline Bodysurf Contest!
Holding period: March 15-28, 2016.
49 spots available.
Everyone bodysurfs 2 rounds with the top 12 advancing to the semi to determine the top 6 in the final.
Our Mission
The North Shore Lifeguard Association was founded in 1996 by the Honolulu City and County Lifeguards who work and live in district three (North Shore, Oahu Beaches). The club was organized to help fulfill the need for ocean safety and lifesaving education within the North Shore community. The NSLA is committed to working with individuals and organizations who share with us the following goals:
1. To develop and provide instructional programs for the public in lifesaving, ocean rescue, cardio pulmonary resuscitation and surf safety skills.

2. To develop and support community recreational activities including swimming and paddleboard races, surf contests, lifeguard competitions, as well as other ocean oriented events.

3. To support youth programs, such as the Junior Lifeguard Program.

Mahalo to our supporters: Banzai Bowls, Da Fin & Hawaiian Water Patrol