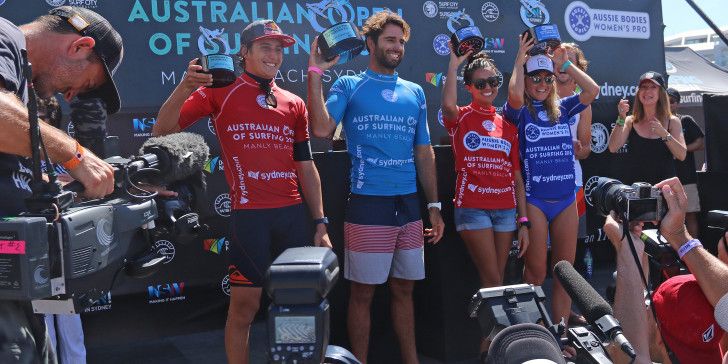 Aussie Duo Rule at the Australian Open of Surfing and Aussie Bodies Women's Pro
MANLY BEACH, SYDNEY (Sunday, 6 March 2015): Dion Atkinson (Seaford, SA) and Nikki Van Dijk (Phillip Island, VIC) have taken out the Australian Open of Surfing and the Aussie Bodies Women's Pro respectively at Manly Beach. After a couple of days with gruelling conditions, mother nature turned it on for a thrilling finals day with clean three foot waves on offer for competitors.
Manuel's Performance was strong all event posting some massive scores but was unable continue this in the final against her fellow CT competitor Van Dijk.
Hawaii's Malia Manuel was the only local representing in the final round. "I'm really happy to make the final," Manuel said. "Posting some good scores and making some heats is a great way to relieve some stress before the next three CT events. Making the podium is always a good feeling so hopefully I can keep this going."

CAPTION: Malia Manuel busting the fins during her Quarterfinal: WSL/Smith
Winner Atkinson was on fire all event posting excellent wave scores in each of his heats. The former Championship Tour (CT) competitor found himself in the Final against young Italian sensation Leonardo Fioravanti, another standout at Manly. It was Atkinson's experience that prevailed in the peaky beach break waves posting a solid heat total of 14.66 (out of a possible 20) with some solid power surfing, digging his rails hard on every turn. Atkinson is thrilled to get his 2016 campaign off to a great start as he aims to requalify for the elite CT.
"If someone told me that I would win this comp a few weeks ago I probably wouldn't have believed them," Atkinson said. "I feel like I put together a good comp and was able to build momentum through the week – I just can't believe it. This event is always so daunting with the huge crowds, you can hardly think out in the water with everything going on so I'm pretty stoked with myself to keep it together."

 South Australian powerhouse Dion Atkinson was on a tear all week at Manly: WSL/Smith
"Last year I got pretty close to re-qualifying right at the end of the year so getting a win like this early in the year is huge for me."
Fioravanti, although coming just short for the second time this week after a runner-up finish at Newcastle Surfest is also setting a solid foundation for 2016.
"This is a great start to my Qualifying campaign," Fioravanti said. "Two seconds in a row is pretty tough to deal with but it is a good result regardless. The support this week has been amazing, huge crowds and seeing these Italian flags on the beach everyday was really cool."

CAPTION: Italy's Leonardo Fioravanti in his second WSL QS 6000 final in a week: WSL/Smith
Van Dijk built momentum through each of her heats even eliminating local favourite and defending Champion Laura Enever in the Semifinals. The current world No. 10 left her best performance for the final posting two excellent scores a 9.66 and an 8.33, leaving runner-up Malia Manuel needing a combination score of 17.94 for the majority of the heat. Van Dijk posted her scores on lefts and rights going hell for leather on every turn she did.
"I'm so over the moon to win here at Manly," Van Dijk said. "The waves were really fun today I felt like I was surfing a rip-bowl at home. Malia was surfing really well all event so I'm stoked to get the win. There are so many people down here it's such an amazing atmosphere on the beach. I've had the best week!"

CAPTION: Nikki Van Dijk with the perfect start to her competitive season, a win at Manly today : WSL/Smith
Owned and operated by IMG, with the support of the NSW Government through its tourism and major events agency Destination NSW, and Manly Council, the 2016 Australian Open of Surfing is expected to draw crowds in excess of the 255,000 people who flocked to Manly for the event in 2015.
AUSTRALIAN OPEN OF SURFING BACKGROUND
The 2016 Australian Open of Surfing, owned and operated by IMG, will run from 27 February – 6 March.
The nine day, one-of-a-kind festival will bring together some of the world's top athletes in surfing and skateboarding combined with two days of live concerts on the music stage, art/photo installations and interactive sponsor displays – all taking place on iconic Manly Beach, Sydney.
All events are free and open to the public.
Live event coverage of all the competition will be webcast at www.australianopenofsurfing.com and live on Channel Nine on Saturday 5th and Sunday 6th March and Fox Sports 4th – 6th March.
---
About the World Surf League
The mission of the WSL is simple: to inspire positive change for surfing, our fans and the environment. Formerly the Association of Surfing Professionals (ASP), the WSL has been championing the world's best surfing since 1976, running global products across the Samsung Galaxy men's and women's Championship Tours, Big Wave Tour, Qualifying Series, Junior and Longboard Championships, as well as the WSL Big Wave Awards. The League possesses a deep appreciation for the sport's rich heritage while promoting progression, innovation and performance at the highest levels; it strives to put the world's best surfers on the world's best waves.