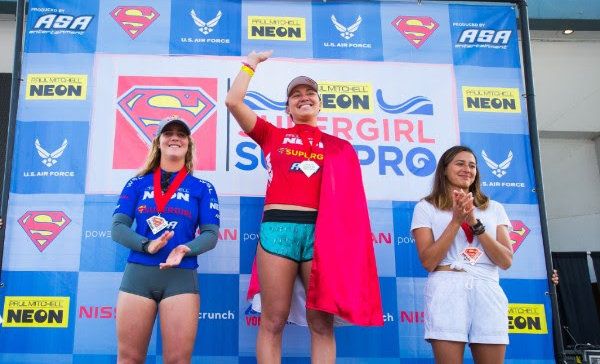 –  MOORE FINISHES BRILLIANTLY OVER 2018 PHENOM CAROLINE MARKS
– COCO HO AND MALIA MANUEL EARN SEMIFINAL FINISHES
Carissa Moore (HAW) (center) broke through for her first win of 2018 and did so in tremendous fashion at the Paul Mitchell Supergirl Pro QS 6,000.
Credit: © WSL / Steinmetz
OCEANSIDE, California/USA (Sunday, July 29, 2018) – The World Surf League (WSL) Women's Qualifying Series (QS) Paul Mitchell Supergirl Pro QS 6,000 caped three-time WSL Champion Carissa Moore (HAW) its newest victor at Oceanside after a captivating finals day performance. Moore took on the clean, inconsistent two-to-three foot swell in brilliant fashion and overcame 16-year-old phenom Caroline Marks (USA) in a gritty Final bout. This notes Moore's first-ever Supergirl Pro victory in her fourth attempt at the coveted cape.
"I'm so excited to have my first cape and this is such a great win which I haven't been able to get all season," Moore said. "This is huge for confidence and I think I've just been over-complicating things in my mind so it's nice to simplify things. I was happy to play the game a little bit better than I have this season. It felt good to keep making heats and I just wanted to keep my head down, and just enjoy the competition. When conditions are tougher like that, it's a more about the game then the performance so I just tried to embrace that."
A slow start to a highly anticipated Final kept spectators anxiously awaiting the opening exchange, but it was fireworks from then on. Moore opened up with her signature power surfing and earned a near-excellent 7.67 (out of a possible 10) to start, which Marks nearly matched with a 7.00 of her own. But, the Hawaiian added a 6.17 and put the pressure on which the young talent was unable to overcome — though getting close with a 6.10 when needing a 6.85.
Moore showed her veteran experience throughout the day, taking down fellow CT competitors Bronte Macaulay (AUS) in Round 5, Johanne Defay (FRA) in the Quarterfinals and, one of Supergirl Pro's most consistent competitors, Malia Manuel (HAW) in the Semifinals. But, the 25-year-old knows the work is just beginning.
"Caroline [Marks] was a stand out that whole event and I knew the judges were liking what she was doing so it was going to be a tough Final," Moore added. "I just needed to do my own thing and hopefully the ocean was on my side — which it was so I was stoked. I think the key is to stay present and know what you're doing. Everything past the first exchange you're surfing against yourself."
Marks' 2018 continues to be the best in women's QS history — already accruing 22,200 points — and still has two more QS 6,000 events left. The San Clemente, California, resident, formerly of Melbourne Beach, Florida, blasted through finals day with incredible performances over former CT competitors Alessa Quizon (HAW) in Round 5 and Dimity Stoyle (AUS) in the Quarterfinals. But, a heavyweight bout with former Supergirl Pro winner Coco Ho (HAW) highlighted her day before the Final and is enjoying every second of time spent in the jersey.
"I have an amazing family behind me, a great coach and some incredible surfboards under my feet right now along with just having fun," Marks said. "That's been the most important thing and being so young, there's no pressure which helps me just want to surf my best. I absolutely love competing and I'm having a blast this year. I was really close in that heat, but sometimes it goes your way and sometimes it doesn't, and I was really happy with the way I surfed so I'll carry that confidence into next week."
"To have a heat with Carissa [Moore] is great, I just had one with her in J-Bay and she's one of my idols, but now I'm trying to beat her which is funny," Marks added. "This whole event's been so much fun and she's an incredible surfer to end it against."
Nearly all the pieces fell together for Ho, former Supergirl Pro QS and two-time junior winner (as amateur event), toward yet another Supergirl cape. A strong start in her Semifinal match was met by an overpowering, in-form Marks who eventually took the win. Ho's impressive run started with a massive win over current CT No. 2 Lakey Peterson (USA) in Round 5 before taking one of the QS's top threats Philippa Anderson (AUS). Now, the North Shore, Oahu, native is ready to keep the momentum going as she now sits at No. 2 on the QS rankings to fall back on.
"It's crazy to think of the history when they say 2008 was my first victory, but I'm settling into being on Tour for eight years nowadays," Ho said. "To have someone like Caroline [Marks] so fresh and exciting, I'm just happy to be amongst it. We were really lucky again with waves this year and it's so blessing to have this event leading up to a big week in Huntington is it's own little secret to success. Every event you enter you want to make sure you're getting something from it and to get those valuable points was really important for me."
"This was a heavy one with a lot of the CT surfers here, more than the norm, with Lakey [Peterson] and Steph [Gilmore] it made everyone surf even harder — makes a third-place feel that much better," Ho added.
Manuel's track record at the Supergirl Pro is one of the event's finest alongside Ho, earning a finals day appearance every year since she's competed — and a win in 2013. It was a Hawaiian battle as Manuel and Moore went wave-for-wave in a tight Semifinal bout, but Manuel found herself on the wrong side of .23 difference. But, the Kauai, Hawaii, native put together a brilliant run to her finish that included big wins over fellow Hawaiian surfer Brisa Hennessy (HAW) and upcoming talent Mahina Maeda (JPN).
"It was nice to get that Semifinal even though the Final would've been great for those extra, much-needed points," Manuel said. "With Carissa's wave, it allowed her to do more of a closeout section hit whereas mine didn't so I think that was the difference there. It's great to see those next surfers and Brisa [Hennessy] comes to mind right away and I think she'll qualify soon which helps keep me motivated. But, I'm happy with this result and hopefully it's good rhythm to bring into Huntington where another positive result there would be great."
For more information, please visit www.worldsurfleague.com
Paul Mitchell Neon Supergirl Pro QS 6,000 Final Results:
1 –  Carissa Moore (HAW) 13.84    6,000 points
2 –  Caroline Marks (USA)  13.10   4,500 points
Paul Mitchell Neon Supergirl Pro QS 6,000 Semifinal Results:
SF 1: Carissa Moore (HAW) 12.23 def. Malia Manuel (HAW) 12.20
SF 2: Caroline Marks (USA) 14.33 def. Coco Ho (HAW) 11.10
Paul Mitchell Neon Supergirl Pro QS 6,000 Quarterfinal Results:
QF 1: Carissa Moore (HAW) 11.66 def. Johanne Defay (FRA) 7.40
QF 2: Malia Manuel (HAW) 8.83 def. Brisa Hennessy (HAW) 6.00
QF 3: Coco Ho (HAW) 12.57 def. Philippa Anderson (AUS) 10.03
QF 4: Caroline Marks (USA) 13.67 def. Dimity Stoyle (AUS) 9.44
Paul Mitchell Neon Supergirl Pro QS 6,000 Round 5 Results:
Heat 1: Johanne Defay (FRA) 11.60 def. Courtney Conlogue (USA) 7.67
Heat 2: Carissa Moore (HAW) 15.33 def. Bronte Macaulay (AUS) 9.67
Heat 3: Brisa Hennessy (HAW) 13.90 def. Keely Andrew (AUS) 6.94
Heat 4: Malia Manuel (HAW) 11.66  def. Mahina Maeda (JPN) 10.80
Heat 5: Coco Ho (HAW) 15.27 def. Lakey Peterson (USA) 9.03
Heat 6: Philippa Anderson (AUS) 14.17 def. Nikki Van Dijk (AUS) 13.14
Heat 7: Caroline Marks (USA) 17.37 def. Alessa Quizon (HAW) 12.03
Heat 8: Dimity Stoyle (AUS) 15.27 def. Tatiana Weston-Webb (BRA) 0.13
Updated Women's Qualifying Series Rankings:
1. Caroline Marks (USA) 22,200
2. Coco Ho (HAW) 13,700
3. Keely Andrew (AUS) 12,850
3. Tatiana Weston-Webb (BRA) 12,850
5. Malia Manuel (HAW) 12,300
6. Silvana Lima (BRA) 11,580