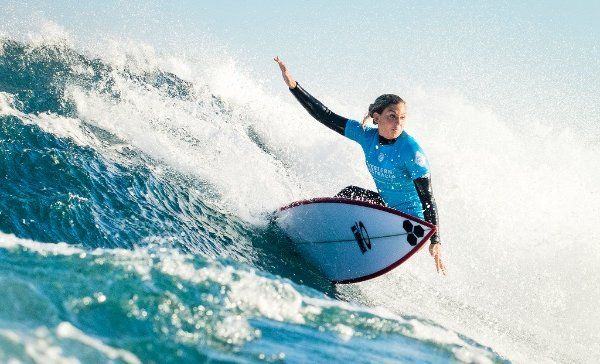 ….AS UPSETS CONTINUE AT DRUG AWARE MARGARET RIVER PRO
– DEFENDING EVENT WINNER ZIETZ DISPATCHED BY TOLEDO
– TOP SEED CONLOGUE FALLS TO ERICKSON
Sage Erickson (USA) upset the competition with her win over 2016 event runner-up Courtney Conlogue (USA) in the opening heat of the Quarterfinals at the Drug Aware Margaret River Pro.
Credit: © WSL / Cestari
MARGARET RIVER, Western Australia/AUS (Sunday, April 2, 2017) – The second stop of the World Surf League (WSL) Championship Tour (CT) witnessed intense competition today as the surfers battled for the opportunity to advance through the the final series of The Drug Aware Margaret River Pro. The remaining competitors fought through three-to-five foot (1 – 1.5 metre) conditions at Main Break to determine the women's Semifinalists and men's Quarterfinalists.
Six-time WSL Champion Stephanie Gilmore (AUS) will continue through to the Semifinals after a nail-biting Quarterfinal heat against compatriot Nikki Van Dijk (AUS). Van Dijk came off of a strong lead into the matchup, but the Jeep Ratings Leader regained control halfway through. With time winding down, Van Dijk was able to secure an 11.83 two-wave total to push Gilmore to need a 5.01. With one opportunity left, Gilmore found a set and showcased a powerful frontside hack to meet the requirement and advance to the next round.
"I was just a little wobbly out there," Gilmore said. "The waves were kind of strange, they were coming from these different angles, and you just had to move around a lot. It was a close one, but I got that one in the end. This year I've already had so many heats where I've had that pressure on in the last few minutes and being able to hold on. I sort of go back to those heats and just remind myself to keep my cool and wait for good one."
In a dramatic opening to the Quarterfinals, Sage Erickson (USA) upset the competition with a major win over 2017 World Title contender Courtney Conlogue (USA). Erickson edged out Conlogue with two consistent 6-point rides, leaving  only a 0.57-point difference at the buzzer between her and last year's event runner-up Conlogue. En route to her first Semifinal berth of the season, Erickson took out Coco Ho (HAW) in the opening heat of Round 4.
"I've been competing with Courtney [Conlogue] for so long and take so much inspiration from her — especially at locations like this — so to get the win over her is great," Erickson said. "It was a really stressful heat with big breaks in between the sets. I'm really pleased to get one up on Courtney and now I  will face Tyler Wright, which will be a really hard task, but I'm feeling ready for it."
"Definitely not the results that happened last year, but sometimes you fall down a couple of times and you keep getting back up," Conlogue said. "I've made a few mistakes at this event. It is still a keeper result, even though it is not the result you are looking for. Learning and still moving forward. I am still in positive spirits and I am going to get ready for Bells."
The upsets continued until the last heat of the day, which saw Carissa Moore (HAW), three-time WSL Champion and two-time event winner, eliminated from the event by Sally Fitzgibbons (AUS). Seeing some of the highest heat totals of the day, both surfers powered through sections to score into the excellent-range. Moore put forward a stunning 8.83 and 7.07, but Fitzgibbons stole the show with her 7.87 and near-perfect 9.73. Fitzgibbons will surf against Gilmore in the Semifinals, while Moore leaves with an Equal 5th place finish. Previously, Fitzgibbons took out Tatiana Weston-Webb (HAW) in the final heat of Round 4.
"What a good battle that was," said Fitzgibbons. "That is why we train so hard and are so passionate about the sport. We always have fiery battles, Carissa [Moore] and I. I just had confidence in my surfing and had to put it on the right waves. It feels really nice to push my surfing up towards that perfect score and that's what you dream of. It is good to feel all of those pieces come together for myself."
"The girls are just surfing that good that I cannot make those mistakes with my wave choice," Moore said. "I am definitely bummed, but I think there is a lot to learn from that heat and I'll get fired up for Bells."
Earlier today, Malia Manuel (HAW) took out World No. 3 Johanne Defay (FRA) to earn a place in the Quarterfinals against reigning WSL Champion Tyler Wright (AUS). Unfortunately, Manuel sustained a knee injury during that Round 4  heat and has withdrawn from the event. The result will be a walkthrough for Wright in the second heat of the Quarterfinals.
"We will have a walkthrough now in Heat 2 of the Quarterfinals," said WSL Deputy Commissioner Jessi Miley-Dyer. "Malia Manuel is not going to surf. She has injured her MCL, we think,  in that last heat. Tyler Wright is not going to surf in Quarterfinal heat, so we will only have three Quarters."
Today also saw the men's field narrowed down to eight competitors with the completion of elimination Round 5.
Defending event winner Sebastian Zietz (HAW) was eliminated by Brazilian challenger Filipe Toledo (BRA) in Round 5 Heat 3. Toledo kept busy throughout the heat with nine attempts, turning in in two of those for a 15.43 combined score. Under pressure, Zietz unleashed his signature turns, but it was not enough to win the heat. Zietz's run in Western Australia will end despite his incredible performances at this event.
"The waves have dropped, but there is still plenty of opportunity and lots of fun waves," Toledo said. "Sebastian [Zietz] was always going to be a tough opponent out here. I'm just glad we stayed at Main Break and got some rippable walls. I knew the judges were looking for big first turns, so that's exactly what I went for."
Jack Freestone (AUS) charged through the first heat of Round 5 to dispatch Conner Coffin (USA) from the draw. Freestone set the bar early with an excellent 8.50 on his opening ride and 5.53 backup score. Freestone's strong two-wave total left Coffin searching for a response, but with only a 2.93 on the board, Coffin could not find the near-perfect 9.56 to challenge back. Coffin has already surpassed last season's 25th place finish at this event and will earn a 9th result.
"I was really fortunate to get those early ones," Freestone said. "After I got that one at the start it really slowed down and basically went flat. I was feeling really good on that first one, it really allowed me to open up and get three solid turns in. I'm over here in the West with a few good mates having fun and staying relaxed and it's paying off."
A tough Round 5 match-up saw former event winner Michel Bourez (PYF) overcome 2016 event runner-up and good friend Julian Wilson (AUS) in a tit-for-tat affair at Main Break. Wilson, who had been in searing form through Rounds 3 and 4, was unable to better Bourez's 15.44 heat total and bows out in equal 9th position.
"Once I got the lead in that heat, I  just hung on to priority and nervously waited," Bourez said. "Julian [Wilson] is like a brother to me. He is someone I love to watch surf. It's always tough surfing against friends but it really pushes me to surf at my best. Julian was on fire yesterday so I knew I would have to bring my A-game."
After a string of bad luck in his Round 4 appearance, 2017 World title contender Jordy Smith (ZAF) looked reinvigorated when he hit the water against event standout Jeremy Flores (FRA). Smith put his earlier experiences behind him to post a 16.83 heat total, the highest of Round 5. Flores finishes with a respectable 9th next to his name.
"Anything was going to be an improvement on yesterday afternoon," Smith said. "I was super pumped for that heat. Jeremy [Flores] has been one of my favorite surfers at the last two events. He has been really laying into his turns and has been so good to watch. I felt in much better rhythm today. I was surfing 8 out of 10, which was nice. I hope to keep this momentum building."
Event organizers have called competition OFF tomorrow due to unfavorable winds and improved conditions anticipated in the forecast for later in the week. Event organizers will reconvene on Tuesday, April 4 at 6:45 a.m. local time to reassess the conditions and make the next call.
Much smaller SSW leftovers prevail Mon-Tue. A modest, new swell will build later Tuesday and continue Wednesday. A larger SSW swell looks likely for Thursday, although local wind looks unfavorable Wed-Thur.  We'll continue to watch for a mid size swell for the final day of the waiting period with potential for more favorable wind. Surfline. 
For more information, check out WorldSurfLeague.com
Drug Aware Margaret River Pro Women's Round 4 Results:
Heat 1: Sage Erickson (USA) 14.76 def. Coco Ho (HAW) 10.83
Heat 2: Malia Manuel (HAW) 13.67 def. Johanne Defay (FRA) 9.57
Heat 3: Nikki Van Dijk (AUS) 14.83 def. Keely Andrew (AUS) 12.70
Heat 4: Sally Fitzgibbons (AUS) 16.94 def. Tatiana Weston-Webb (HAW) 13.00
Drug Aware Margaret River Pro Women's Quarterfinal Match-Ups
QF 1: Sage Erickson (USA) 12.60 def. Courtney Conlogue (USA) 12.03
QF 2: Tyler Wright (AUS) def. Malia Manuel (HAW) INJ
QF 3: Stephanie Gilmore (AUS) 12.50 def. Nikki Van Dijk (AUS) 11.83
QF 4: Carissa Moore (HAW) 17.60 def. Sally Fitzgibbons (AUS) 15.90
Drug Aware Margaret River Pro Women's Semifinal Match-Ups:
SF 1: Sage Erickson (USA) vs. Tyler Wright (AUS)
SF 2: Stephanie Gilmore (AUS) vs. Sally Fitzgibbons (AUS)
Drug Aware Margaret River Pro Men's Round 5 Match-Ups:
Heat 1: Jack Freestone (AUS) 14.33 def. Conner Coffin (USA) 7.70
Heat 2: Michel Bourez (PYF) 15.44 def. Julian Wilson (AUS) 14.20
Heat 3: Filipe Toledo (BRA) 15.43 def. Sebastian Zietz (HAW) 14.33
Heat 4: Jordy Smith (ZAF) 16.83  def. Jeremy Flores (FRA) 13.66
Drug Aware Margaret River Pro Men's Quarterfinal Match-Ups:
QF 1: Owen Wright (AUS) vs. Jack Freestone (AUS)
QF 2: John John Florence (HAW) vs. Michel Bourez (PYF)
QF 3: Adriano de Souza (BRA) vs. Filipe Toledo (BRA)
QF 4: Kolohe Andino (USA) vs. Jordy Smith (ZAF)