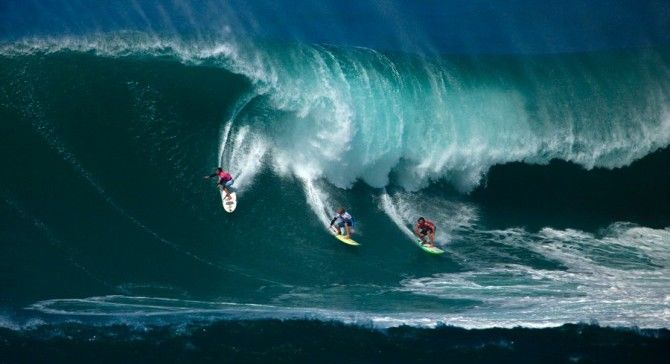 28 Surfers. 7 Surfers in each one hour Heat. Surfers have a 4 Wave Maximum. There will be 2 one hour heats before the points will be added for Winner.
Photo: Surf pumped 2009 for the 8th Eddie Event. Photo: David Gregerson/ Getty Images
One of the Biggest Bay Day's in the events 31 year history.
First light will be just before 630am. It will be dark when they 'make the call' …when the 'Bay Calls the Day'… one things certain, people are pumped and more than a few are nervous. The last time it was too small, this time that's not problem, in fact it could be the opposite. Let's just hope for an EPIC day of near maxed out Glorious Waimea. Gary-gq-Kewley/SNN
The Quiksilver in Memory of Eddie Aikau has been put on Yellow Alert for a possible run this Thursday, February 25. For the second time in this winter's waiting period invited big wave riders and organizers will gather at Waimea Bay in the morning to see if this year's event meets the #EddieWouldGo strict wave height criteria. The call to GO will only be made at the beach on Thursday morning at 6am (local time) for 8am start. Not before.
As noted in an earlier update a lot has changed in 7 years, so this time around we're bringing you The Eddie Psych Spotify playlist and we'll be snapchatting live from the water. Follow username "radicaltimes69" to get your hit of massive swell goodness.
EVENT HEAT DRAW:

Heat 1: Shane Dorian (HAW), Kohl Christensen (HAW), Greg Long (CA), Ramon Navarro (CHI), Sunny Garcia (HAW), Ross Clarke-Jones(AUS), Jamie Mitchell (AUS)
Heat 2: Kelly Slater (FL), David Wassell (HAW), Grant Baker (ZAF), Reef McIntosh (HAW), Jamie O'Brien (HAW), Aaron Gold (HAW), Tom Carroll (AUS)
Heat 3: John John Florence (HAW), Mark Healey (HAW), Clyde Aikau (HAW), Nathan Fletcher (CA), Noah Johnson (HAW), Peter Mel(CA), Takayuki Wakita (JPN)
Heat 4: Bruce Irons (HAW), Makuakai Rothman (HAW), Ian Walsh (HAW), Albee Layer (HAW), Kala Alexander (HAW), Garrett McNamara (HAW), Jeremy Flores (FRA)
Top 5 Alternates: Mason Ho (HAW), Danilo Couto (BRA), Mark Mathews (AUS), Koa Rothman (HAW), Ben Wilkinson (AUS)