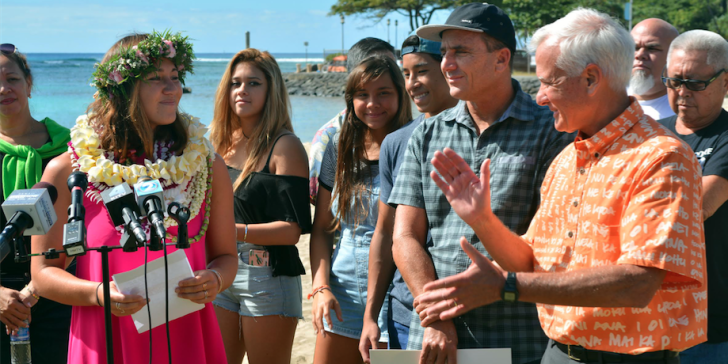 IT'S PROCLAIMED IN HAWAII…
Carissa Moore (HAW) is honored by Mayor Kirk Caldwell while dad, Chris, sister, Cayla, and mom, Carol, are all smiles standing by. Image: City & County of Honolulu
Honolulu, Oahu, HAWAII – (Monday, January 4, 2016) – Three-time world surfing champion and Honolulu native Carissa Moore was honored at Ala Moana Beach Park today by Honolulu Mayor Kirk Caldwell, who officially proclaimed January 4 as Carissa Moore Day in Hawaii.
At only 19 years of age, Moore claimed the title for being the youngest world champion in history in 2011 and is also the youngest surfer to ever compete in the Vans Triple Crown of Surfing at 11 years old. Moore also recently won the World Surf League (WSL) Samsung Galaxy Women's Championship Tour, which concluded on home turf at Honolua Bay on Maui. The now 23-year-old is not only a decorated athlete, but an inspirational mentor to girls and young women around the world.
Caldwell stood before a gathering of Moore's family, friends and local media to present her with a plumeria lei and speak about the leadership, grace and aloha that Carissa exudes as both a champion and role model.
"Carissa walks in the footsteps of folks like Rell Sunn and Duke Kahanamoku, and gives back to the community through her style of leadership," said Caldwell. "They live in our hearts through love and aloha and I believe Carissa carries that same spirit."
Jodi Wilmott, WSL Hawaii General Manager, also congratulated Moore and spoke of the many accomplishments the young surfer has achieved.
"I've had the pleasure of seeing a phenomenon in the making," Wilmott said. "It's amazing to see someone so young realize their destiny."
Moore leads the 2016 WSL Samsung Galaxy Women's Championship Tour with an unprecedented four additional Hawaii athletes competing on tour as well – Tatiana Weston-Webb (Kauai), Malia Manuel (Kauai), Coco Ho (Oahu) and Alessa Quizon (Oahu).
When asked how she would like everyone to spend January 4, Moore responded, "Do something that makes your heart and soul happy." For herself, the surfer said she will spend the day with family and in the ocean.
"I hope to continue to make Hawaii proud and share my aloha," Carissa concluded.
Aloha!
Lauren Rolland
WSL Hawaii Media Manager
lrolland@worldsurfleague.com
worldsurfleague.com